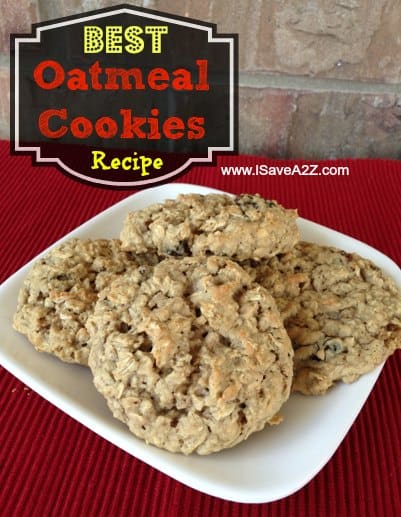 Best Oatmeal Cookies Recipe (Soft and Chewy)
By Jennifer Garza, iSaveA2Z.com,
Once you find a really good recipe for Oatmeal Cookies you won't look anywhere else. This happened to me years ago when I discovered the Quaker Oats Vanishing Oatmeal Cookies Recipe printed on the inside of the container lid. These are the best oatmeal cookies recipe you will ever try! You can make them soft and chewy too! One a scale of 1 to 5 with 5 being the best I would give it a 10!
Ingredients:
– 1/2 cup (1 stick butter) plus 6 tablespoons butter, softened
– 3/4 cup firmly packed brown sugar
– 1/2 cup granulated sugar
– 2 eggs
– 1 teaspoon vanilla
– 1-1/2 cups all-purpose flour
– 1 teaspoon baking soda
– 1 teaspoon ground cinnamon
– 1/2 teaspoon salt (optional)
– 3 cups Quaker® Oats (old fashioned, uncooked)
– 1 cup raisins
Prep Time: 20 minutes
Cook time: 8 to 10 minutes
Yield: 4 dozen
Instructions for the Best Oatmeal Cookies Recipe:
Heat oven to 350°F. In large bowl, beat butter and sugars on medium speed of electric mixer until creamy. Add eggs and vanilla; beat well. Add combined flour, baking soda, cinnamon and salt; mix well. Add oats and raisins; mix well.
Pro Tip: I always use a high grade vanilla. It makes a big difference in all my recipes. I highly recommend using Vanilla from Mexico. It's the best I've ever tasted. Here are a few good ones in this link.
Drop dough by rounded tablespoonfuls onto ungreased cookie sheets. I used the Artisan Metal Works baking mats for the perfect cookie every time.
Bake 8 to 10 minutes or until light golden brown. Cool 1 minute on cookie sheets; remove to wire rack. Cool completely. Store tightly covered. Note the time frame can take a little longer depending on the size of your cookie too. Bake until golden brown.
Here's a quick YouTube video to show you exactly how these cookies look when they are out of the oven. You can see first hand how well the Artisan Metal Works Baking Mats really work!