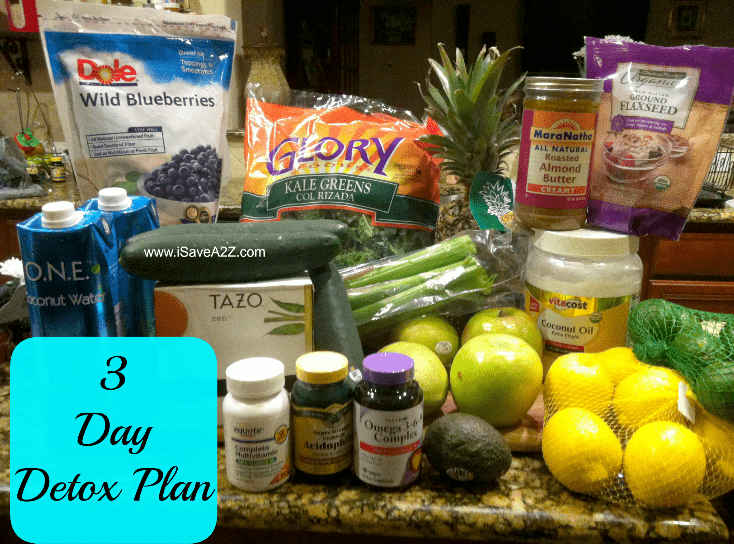 Detox Diet Drink
I've been searching for the best detox diet drink and I found a 3 day detox plan that was featured on the Dr. Oz show.  This is not only just a detox diet drink but a complete 3 day plan!  This plan does require a lot of prep work.  So be prepared.  If it's not something you can handle, be sure to check out our Perfect Liver Cleanse Cocktail recipe here.  It only requires one drink a day.
If you are looking for a really good detox plan this one is amazing!  Day 2 you may tend to think about eating solid foods but this plan definitely keeps you full!  Most people are reporting an 5 lb average weight loss too!
Below is a printable list of this 3 day detox plan and most of the ingredients can be found at your local grocery store.  I have found a few of the ingredients cheaper online.
Tip: If you have a Costco Membership, I have found some really good deals on Almond Butter and the supplements you need there! Be sure to read my post about How to Spot a Bargain at Costco here.
Here's the shopping list of ingredients required for this plan: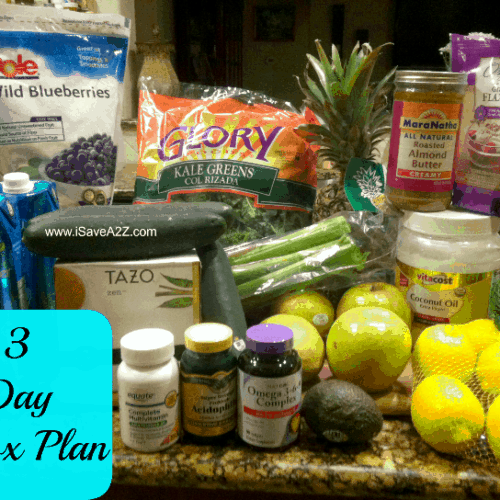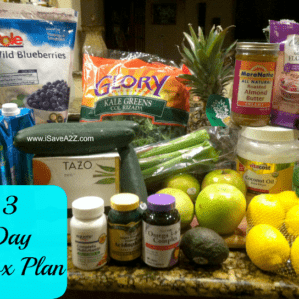 Detox Diet Drink (3 Day Plan)
Ingredients
3

Cups

Raspberries

3

Cups

Blueberries

2

Mangos

1

Pinnapplie

3 cups

2

Green Apples

3

Bananas

6

Lemons

2

Limes

6

Cups

Kale

1

Avacado

3

Cucumbers

1

cup

Spinach

12

Stalks Celery

2

Litters Coconut Water

1.5

cups

Almond Milk

Cayenne Pepper Spice

Ground Flaxseen

6 tbsp

Almond Butter

3 tbsp

Stevia

3 tsp
Instructions
Morning Detox Tea: green tea, 1 slice lemon, 1 tsp stevia (drink this as soon as you wake up)

Breakfast Drink: 1 cup water, 1 tbsp flax seed, 1 cup raspberries, 1 banana, 1/4 cup spinach, 1 tbsp almond butter, 2 tps lemon

Half Multivitamin and Omega 3 supplements

Lunch Drink: celery stalks, 1 cucumber, 1 cup kale, 1/2 green apple, 1/2 lime, 1tbsp coconut oil, 1/2 cup almond milk, 1 cup pinnapple

Afternoon Snack: Repeat drink of your choice (breakfast, lunch or dinner shake)

Dinner Drink: 1/2 cup Mango, 1/2 cup blueberries, 1 1/2 cup coconut water, 1 cup kale, 1 tbsp lemon, 1/4 avocado, 1/4 tsp cayenne pepper, 1 tbsp flax seed

Detox Bath at night: 1/2 cups epsom salt & 10 drops of lavender oil (don't consume anything 3 hours before bedtime)

Repeat above recipes for day 2 and day 3!
If you want to read up a bit more on 3 day detox plans here are a few good reads worth looking at:
The 3-Day Cleanse: Drink Fresh Juice, Eat Real Food, and Get Back into Your Skinny Jeans
Lose 10lbs in 3 Days, The Ultimate 3-day Diet Plan (Diet Plan Series)