Costco Money Saving Strategies & Costco Coupons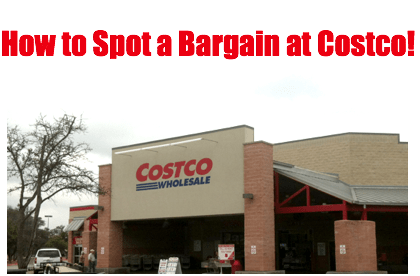 Costco Deals, Money Saving Strategies & Costco Coupons
I am so excited to share some Costco money saving strategies that I learned with you.  I am a newbie to Costco.  My Costco wholesale location is in Austin, Tx.   I just got my membership about a month ago and I am learning the ropes!  I have been welcomed to the Costco wholesale club!  Woot!  I have learned how to save money even if I don't have Costco Coupons!
I happen to befriend a manager that gave me such good information that I just have to share this with you!  When you walk into Costco this will change the way you look at the whole store!!  (Keep reading!  You don't want to miss this!)
It's important to know that Costco Inventory changes often.  If you see an item at Costco one month, you may not see it there another month.  They have each product displayed with a price above or below that item very clearly!   The trick is how to read the signs.
First, I've learned that any price ending with a .99 is a regular price.  You will see other prices ending in .49 or .79 and these are considered Manager's Specials.
If you are lucky enough to find a price ending in a .97 this means is a Closeout Price and it's probably a rock bottom price.
If you find a asterisk on the sign, that's an indicator they will not be reordering that product.
Here's an example of a closeout product I found at the Costco near me today.  The price ends in .97 and it has an asterisk.  This was definitely a closeout product.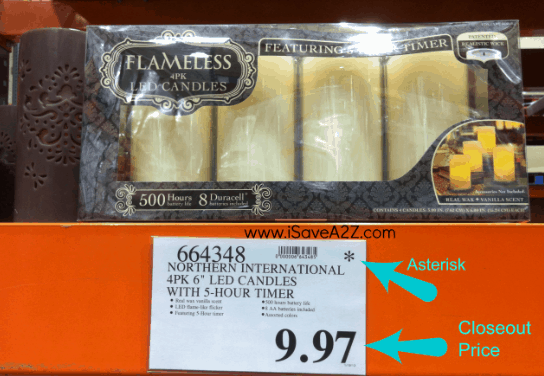 I had to test this theory myself to see just how much of a closeout price this was.  I found the same Flameless LED 4 Pk candles selling at Sears for between $50 and $77.31!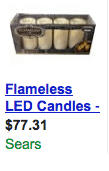 I found the same candle set selling on Amazon right now on sale for $29.95 (reg $59.99)
Here's another example of another closeout product I found today.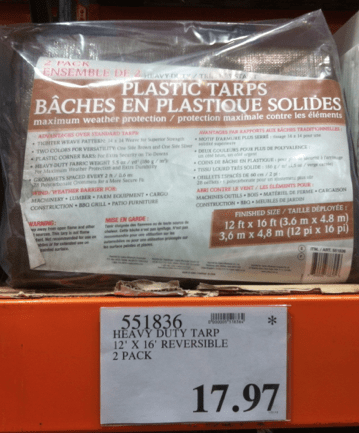 The closest thing I could find to this closeout buy was a similar product on Amazon for the same size, reversible, heavy duty tarp set but it's only a 1 pack (not 2 like photoed above) selling for between $21.71 and $25.99.
Tips for Costco Shopping:  Always show your membership card when you enter the store.  Have your membership card ready when you check out.  Use the customer separator (turn it upside down) and place your card in there in front of your order so the cashier can process your checkout quicker without having to ask you for your card.
Find a Costco near you with the Costco Store Locator and find your Costco Store Hours.
Costco Membership:  Costco has 4 memberships available.
Executive Membership $110 Annual Membership fee (earn 2% rewards & more)
Business Membership $55 Annual Membership fee
Gold Star Membership $55 Annual Membership fee
Gift of Gold Star Membership $55
Costco Coupons:  Once you are a member you will automatically get all sorts of Costco Coupons in the mail.   Some of these are coupons you will have to cut and some are instant rebate coupons that will automatically be deducted at the register.   I really like the instant rebates.  I've never been a fan of waiting for my rebates to come in the mail.   The Manager also informed me that coupons are available for 3 weeks out of the month.  If you didn't get the coupons in the mail you can always go to the Customer Service desk for them.
Costco Produce and Meat Market:  I am highly impressed with the quality of fruits, veggies and meats at Costco.  I've never seen a cleaner, well displayed meat market ever!  The meats are some of the best tasting too!  They win a major award from me and that says A LOT!
Costco Gas Prices:   I have an Executive Membership so I can get a higher cash back amount but even without having that membership I always find the Costco Gas prices cheaper than anywhere in town!
Costco Online Shopping:  Use the Costco Online shopping site at your convenience.  I've yet to shop the site because I am at the store weekly purchasing my fruit.
Costco Auto rentals, Costco Auto Insurance, Costco Auto buying, Costco Tire Center:  I didn't even realize all the opportunities existed for me.  I have to admit though, I do always see the Costco Tire bays filled every single time I go to that store!  That is a sure sign there's a bargain to be had!
Costco Furniture:  I have never seen the same furniture in the store twice!  They always have new furniture but not always the same stuff.   This week it was bunk beds and last week it was a very nice leather sofa set.  I would highly recommend shopping Costco online to find the very best deals on Costco Furniture.
Costco Travel:  I've not had the opportunity to review the Costco Travel options yet but it's nice to know they have discounted travel options for members.  If you have had a chance to take advantage of the Costco Travel please comment below.  I would love to hear your thoughts.  (You would be helping me and other readers as well!)
Costco Seasonal Items:   The seasonal section is located in the middle of the store directly behind the clothing and before the food/meats department.  This is the part of the store that changes the most.
I am really enjoying the Costco experience!  I like them so much I may have to consider purchasing Costco Stock!  HA!  Maybe?!  Or maybe I should look into the Costco Careers!  Who wouldn't want to look into Costco Wholesale jobs, right?!
Please share this post with anyone who shops at Costco!  Pin it!  Tweet it!  Share it!  Like it!  (The share buttons are at the top of this post!)