Eggnog Cinnamon Rolls
Check out our great recipe for our Eggnog Cinnamon Rolls! If you happened to like this recipe, then you should definitely check out some of our other great sweets! Such as our Coconut Cream Cheese Pound Cake, our Pumpkin Pie Cake, our Pumpkin Pie Bites, our Pumpkin Pie Fudge, or even our Baked Apple Chimichangas, and plenty of others! Any of these great recipes would be great as a family dessert when it comes to be the time for the holidays!
If you happened to like any of the recipes I have listed here, then you should definitely try out this neat cookbook for everything sweet and wonderful! You will be sure to find the best dessert recipes with this! With all of these recipes here, you will be sure to find the perfect recipe for any occasion that you could need something sweet!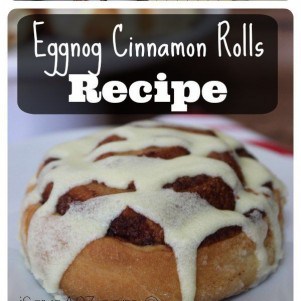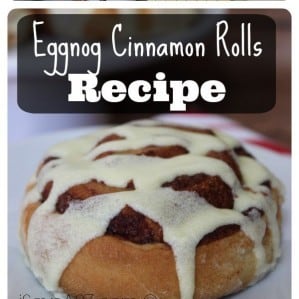 Eggnog Cinnamon Rolls
Instructions
Heat the milk and eggnog just until feels warm (about 100 degrees)

Sprinkle the yeast on top and leave it sit for 10 minutes.

Whisk in the egg, butter and vanilla.

In a stand mixer with whisk attachment, add the flour and sugar and run on low for 3 minutes.

Switch to dough hook attachment.

Add the wet ingredient mixture in the center and mix on low speed dough comes together.

Increase to medium and knead until the dough sticks to the hook (6-8 minutes).

Shape dough into a ball.

Clean mixer bowl and lightly grease with butter.

Return the dough to the bowl and turn to coat.

Cover with towel and allow to rise until doubled (about 1 1/2 hours).

Flour your work surface, and roll

On a lightly floured surface, roll the dough into roughly 12x15" rectangle.

With longer side facing you, spread butter over the the surface, except for 1/2" edge opposite you.

Mix together your sugar and cinnamon and sprinkle mixture evenly over buttered area.

Roll the dough towards the unbuttered edge, trying not to leave gaps.

Gently rub water along the unbuttered edge and continue rolling to seal up the roll.

Cut the roll into 12 even pieces.

Line a 9x13" pan with parchment paper and plae buns in the pan, leaving a little space between each. You can use multiple smaller pans if desired.

Cover with towel and allow to rise about 45 minutes.

Preheat the oven to 325.

Bake until golden brown (20-30 minutes).

Cool for 15 minutes.

Combine powdered sugar, melted butter and eggnog and whisk until well blended.

Transfer the glaze to piping bag and drizzle over rolls.
Nutrition facts are provided as a courtesy.