Spinach Artichoke and Chicken Panini

Spinach Artichoke and Chicken Panini
Check out this great Spinach Artichoke and Chicken Panini recipe! These paninis are perfect for the family, and they can be pretty healthy! I like taking the family out for a picnic when the weather is nice out, and everyone loves to dig in to these delicious paninis while under the nice and warm sun!  If you think your family would like these as much as mine, then try them out! Let me know what they think!
If spinach and artichoke aren't really your thing, then try out this great recipe for our Grilled Cheese Sandwiches with a Secret Ingredient! ANYONE would love these great sandwiches! Want to go panini crazy? Check out this AWESOME Panini Press!!
[bctt tweet="There is no love sincerer than the love of food. -George Bernard Shaw #Quotes #Foodie #Yummy" via="no"]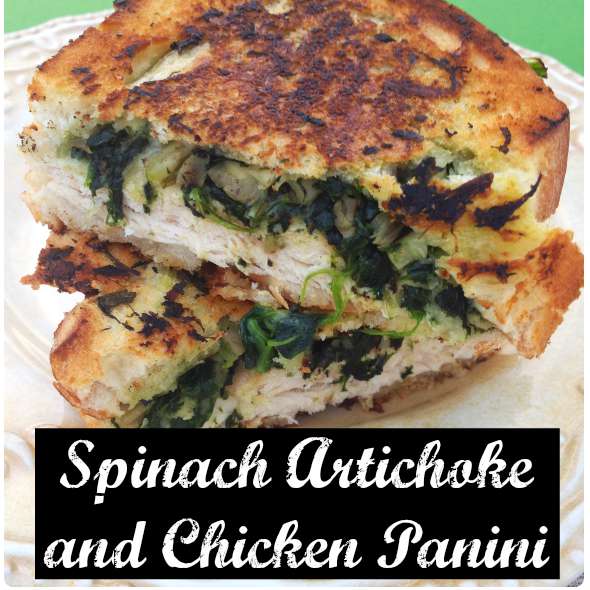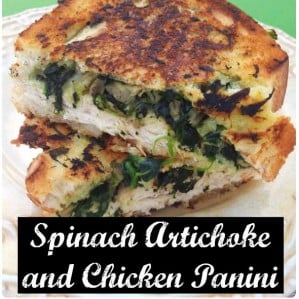 Spinach Artichoke and Chicken Panini
Ingredients
2

Organic Chicken Breasts

• 1 Cup Spinach

• 1 Cup Shredded Mozzarella

• 4 Tbsp. Unsalted Butter

• 4 Slices French Bread
Instructions
Boil 2 inches water in large pan. Add 2 large organic chicken breasts. Cook on high until water is halfway evaporated. Turn heat on medium to low. Brown and remove. Let cool.

(Please note: poaching 2 large breasts of chicken will take approximately 20 minutes.)

Set aside.

If using fresh whole artichokes, cut tips from artichoke petals using shears.

Steam whole artichokes for approximately 20-30 minutes in stovetop pan; water covering at least half of the artichokes and rotating periodically. Remove artichokes from water. Let cool for approximately 5 minutes. Remove petals and choke. Chop hearts into small pieces. Set aside. Chop fresh garlic into tiny pieces.

Sauté spinach & garlic in butter for approximately 8 minutes.

Slice chicken diagonally and place onto one side of each Panini. On the other side, add a spread of butter, cheese & artichoke mixture, and top it off with shredded Mozzarella cheese.

Close Paninis and place onto stovetop pan. Heat at medium, alternating sides every 3 minutes, or until cheese is melted. Serve immediately.
Nutrition facts are provided as a courtesy.