Star Wars Ewok Granola Bars

Star Wars Ewok Granola Bars
How stinkin' cute are these Star Wars Ewok Granola Bars ya'll?  They came out better than expected!  Talk about taking food art to a whole new level.  I've already got my creativity set on making even more Star Wars themed items.  I'm thinking a complete Ewok village in the form of a gingerbread house would be perfect over the holidays, don't you?  Maybe I should attempt some white chocolate storm troopers next?  Or maybe a Chewbacca in dark chocolate?  What about a adding some green food coloring to white chocolate and making Yoda?  Now that would be adorable.  It sounds like I need to create a huge Star Wars themed party with all my ideas.
Now this one was fairly simple to make.  I love the no bake dessert ideas and we have tons of them. Remember the Ice Cream Sandwich Cake dessert idea that you just assemble together?  It's a popular one for sure.  Another popular dessert idea with a healthy twist is our Watermelon Cake too.  We love simple recipes.
All you need is tootsie rolls, chocolate kiss candies or melting chocolate in white and milk chocolate, toothpicks, and your favorite granola bars.
Melting Chocolate Tips
Microwave Method:    Wilton Chocolate melts are the easiest product I've found to melt chocolate if you are a beginner.  I've actually had friends call me in frustration when trying to melt that Almond Bark Chocolate squares they have found at their local grocery store.  I wanna say the Wilton Chocolate melts are easier because they are small dollops of chocolate that melt more evenly in the microwave.  When you have those big blocks of chocolate, you have to melt them in stages.  Almost 15 seconds at a time.  You won't even realize it's melted until you poke it with a fork because they tend to hold their shape for a long time.  Those more experienced will know exactly what I'm talking about.  Either product will work but if you like quick and plan to use a microwave, I would go with the Wilton product first.  My friend ended up burning her chocolate blocks without even realizing it.
[bctt tweet="Try not. Do, Or do not. There is no try. -Yoda #StarWars #FoodArt #Ewok"]
Double Boiler Method:  Use a sauce pan and a glass bowl.  Place the water in the sauce pan but don't have it touch the bowl.  The water should get hot enough but not to the boiling point.  Place the chocolate into the glass bowl and stir it constantly until all the chocolate has melted.  This is a very slow process.  I've personally found that I don't have the patience to use this method.  It is perfect for beginners though because it's less likely to burn the chocolate and have to start over.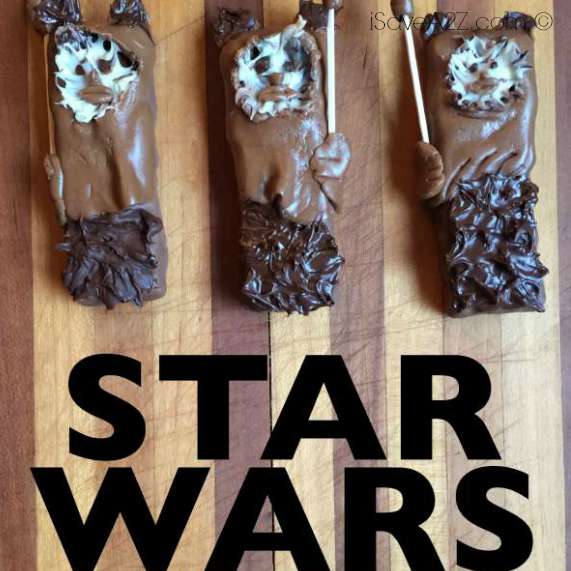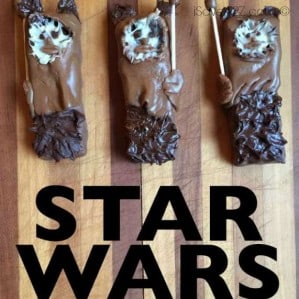 Star Wars Ewok Granola Bars
Ingredients
- Quaker Chewy Dips granola bar

- Toothpick

- Tweezers

- Tootsie Rolls candy

- Baker's white chocolate

- Hershey's Dark Chocolate Kisses
Instructions
- Unwrap one your tootsie roll.

- Pull and flatten it until you have the shape of your ewok's head shroud. It's OK if looks lopsided. It should look really rough.

- Rip a hole in the tootsie roll shroud where your ewok's face will go

- Unwrap a granola bar.

- Place your ewok's tootsie roll shroud on the top of your granola bar, pinching it down on the sides to secure.

- Take the small piece of reserved tootsie roll candy that you ripped from the head shroud and make two round and thin ears.

- Attach the ewok's tootsie roll ears to the top corners of the granola bar.

- Take a second tootsie roll and pinch a small section to form your ewok's hand.

- Pinch off more candy to make the tip of your spear.

- Poke your toothpick into the bottom of the spear tip you just made.

- Affix the spear and the ewok's hand to the side of the granola bar.

- Form the fingers by indenting the candy with the edge of another toothpick.

- Pinch another section of tootsie roll off and form the lips and nose. These should be very small.

- Unwrap one chocolate kiss and place it in a small microwave safe bowl.

- Microwave on high for 15 seconds or until just melted enough to be stirred with the tip of a knife. You do not want your chocolate to be liquid.

- Spread the dark chocolate onto the bottom of your granola bar lifting up with your knife to form peaks resembling fur.

- Spread some more dark chocolate into the head shroud hole where the face will go.

- Place one square of white chocolate in a small microwave safe bowl.

- Microwave on high for 15 seconds or until just melted enough to be stirred with the tip of a knife.

- With the tip of your knife transfer a small amount of melted white chocolate onto the dark chocolate on your granola bar in the place where your ewok's face will be.

- Be sure to lift up and out with your knife to form peaks of fur.

- Using tweezers, place your ewok's nose and mouth onto the white chocolate.

- Dip a toothpick into your melted dark chocolate and dab two eyes onto your granola bar.

- Allow a few minutes to let your chocolate set before serving.
Nutrition facts are provided as a courtesy.