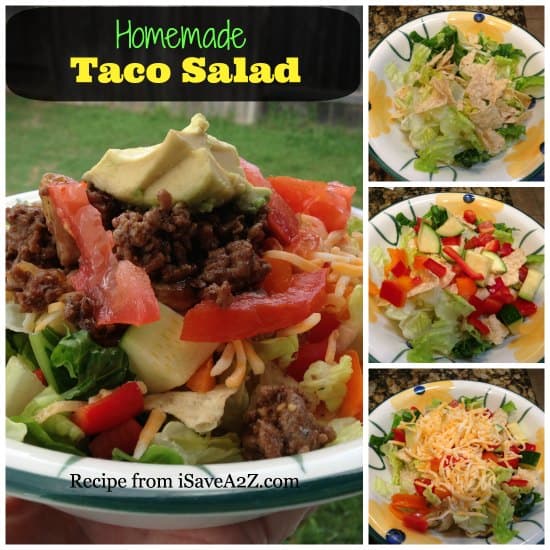 Easy Homemade Taco Salad
By Jennifer Garza, iSaveA2Z.com,
I've got a fairly easy homemade taco salad recipe for you. This one takes very little effort. It's especially easy if you have hamburger meat already precooked (like I usually do).
Ingredients:
– Hamburger Meat seasoned
– Lettuce of your choice
– Shredded Cheese
– Tomatoes
– Onions
– Tortilla Chips
– optional: red pepper
– optional: avocado
– Salad dressing of your choice or sour cream
Prep Time: 10 minutes
Cook time: 0 minutes
Yield: 1 Serving
Instructions for an Easy Homemade Taco Salad:

Start off browning your meat. Season your meat with your favorite seasonings or use my personal favorite, the McCormick Taco Seasoning. Next you will want to shred your lettuce and dice your vegetables. Place the lettuce in a bowl first, then add the vegetables, onions and tortilla chips. Top that with your seasoned meat and cheese. Serve it with your favorite salad dressing or sour cream. Voila! That's it! Wasn't that fairly easy?! I usually keep seasoned hamburger meat on hand in the fridge during the week for a quick salad lunch.