Keto Friendly Fast Food Meal Prep Ideas
Keto Friendly Fast Food Meal Prep Ideas
I am about to show you how I prepare a week of Keto Friendly Fast Food Meal Prep Ideas.  I really struggled with the title of this article because it can be considered a lazy way to prep your Keto meals but it's also excellent for those of us who have very busy schedules too. I am going to teach you how to make Keto friendly fast food without having to go through the drive-thru.
Not only will it save you a ton of money but it will make life so much easier and you will know exactly what is in your food.  Sometimes when I hit a fast food restaurant or drive-thru I feel as though I don't know exactly what I am consuming.  There are so many hidden sugars and carbs that it's nearly impossible to know.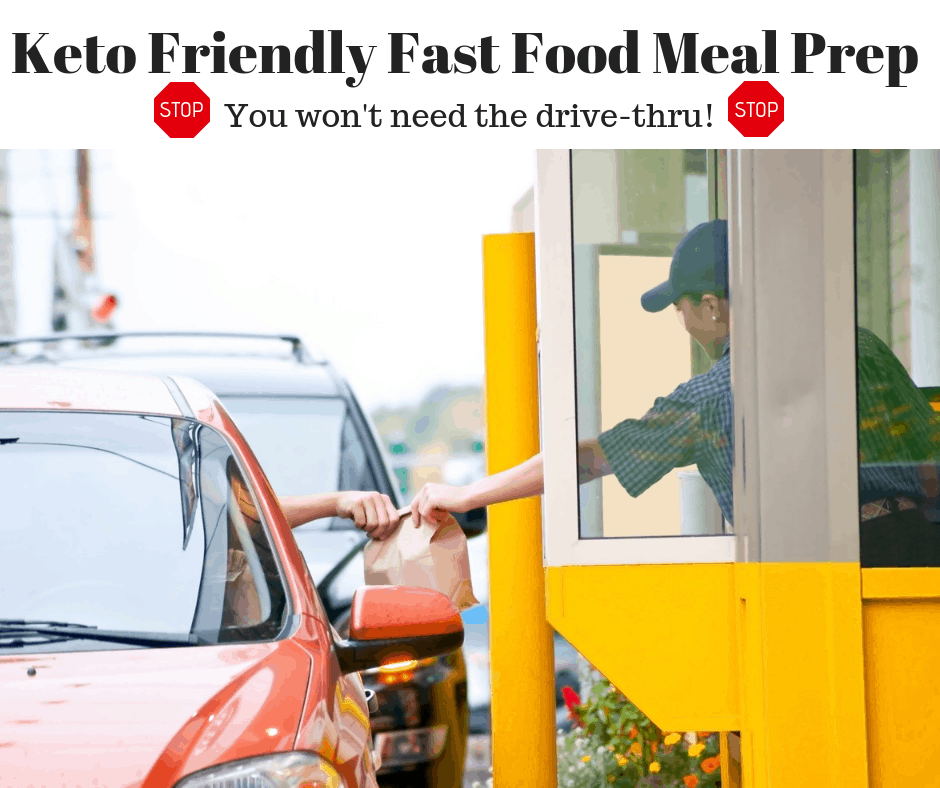 Cook Meat Ahead of Time
At the beginning of the week, I want you to cook all of the meats you plan to use for the week.  You can choose to precook a combination of meats or you can choose just one meat and turn it into many different meals without feeling like you are eating leftovers every day.  I usually do this task on Sunday evening while I am getting everything ready to start the week off right.  My shopping trip for the week is always done before my prep day.  This means I do my grocery shopping on Friday or Saturday.
For this example, I'm going to use ground beef as my only choice for the precooked meat of the week.  I am planning a super simple menu.  I often precook pot roast, pork roast, bacon, sausage, chicken, and turkey as other options too.  The only thing that I never precook is fish and salmon.  Those are best fresh.
Keto Ground Beef Recipe Ideas
Decide What to Make for the Week
I usually cook for 4 days out of the week and go out to eat on Fridays.  But, I also cook extra so I can have some of these dinner ideas for lunch the next day too.  This is the part where you will need to figure out how much meat you need and what meals you plan to make before you start prepping.  The prep work will depend on the meal ideas you choose.  The goal is to precook all of your meats one day and use the precooked meat in different meals throughout the week.
Monday Lunch: Ground beef topped with marinara sauce and cheese and a side salad.
Dinner:  Taco Salad
Tuesday Lunch:  Taco Salad
Tuesday Dinner:  Cheeseburger soup
Wednesday Lunch:  Cheeseburger soup
Wednesday Dinner:  Keto Meatloaf with a side of veggies
Thursday Lunch:  Keto Meatloaf with a side salad
Thursday Dinner:  Cheese Taco Shells with seasoned ground beef with optional toppings that include diced tomatoes, Green onions, Sour cream, Salsa and cheese.
Friday Lunch:  Ground Beef topped with Alfredo sauce and a side salad.
Friday Dinner:  Take the night off from cooking!
Decide How to Prep the Meat for Each Meal You Choose
In the above-scheduled meal plan, I know that I cannot cook all of the ground beef at one time.  I will need to pull some raw ground beef aside to prepare the keto meatloaf recipe.   First, things first.  I need to decide about how much ground beef I need for the week. The recommended serving of ground beef per person is about 1/2 lb precooked ground beef.
In this scenario, I will make 6 servings for each meal because there are 4 people in our family and two of use plan to use the leftovers for lunch the next day.  Ground beef is about a 1/2 pound serving per person.  Six people equal about 3 pounds of ground beef per dinner meal.  I plan to make 4 dinners with 6 servings.  I will need 4 dinners that need 3 lbs of ground beef for each meal.  This means I need roughly about  12 pounds of ground beef for this weeks meal prep.  This is a bit of an overestimate because I find that we tend to eat about 10 pounds or maybe even a bit less for our family.  It all depends if your family has big appetites or smaller appetites.  The more I eat the Keto way of life, the less I seem to consume.  I purchase organic ground beef from Costco in a 3 pack.  Each 3 pack has a little over 4 pounds of ground beef.  For this plan, my family would need 2 of these Costco packs of Organic Ground beef.  Phew!  Confused yet?
I will set aside about 2 to 3 lbs of raw ground beef so I can prep the Keto Meatloaf recipe ahead of time.  After prepping the Keto Meatloaf, I will put it in the freezer or the refrigerator depending on how much time is in between when I prep it to when I cook it.  I won't ever refreeze ground beef that has already been thawed either.
Then I will cook the remaining ground beef for the rest of this week's meals.
How to Store Precooked Meat
After I precook all the ground beef I need.  I make sure it is completely cooled before I store it in the refrigerator.  I use these Rubbermaid locking lids storage containers I got off of Amazon.  These are the best containers I've ever tried.  I ditched all of my old containers on strictly use these now.  I swear the food tastes much better with the sealing system they have developed.  They are worth every penny and then some.
I tend to divide the meat based on the recipes I've decided on.  This way I can heat up or season each batch separately for each recipe.  The taco meat ground beef will be seasoned differently from the ground beef stuffed peppers and so on.  It helps to be able to season each dish differently too because it doesn't feel as though it's a leftover dish or something you are eating every day all week long.  I couldn't eat the same thing every day.  I like food and flavors too much for that.
Keto Friendly Fast Food Meal Prep Ideas Summary
Having your meats defrosted, cooked and prepped ahead of time will save you a ton of time and headache.  It's super easy to grab some precooked meat from the refrigerator and add a side veggie or side salad to it.  I tend to do this on really busy weeks that I know I won't have enough time to get dinner on the table.  You know, those days where you are running your kids around from appointment to appointment or their extracurricular activities whereby the time you get home you just don't have the energy to even think about dinner.   This is the perfect plan for weeks like that!
Here are a few other keto beef recipes you might enjoy:
Easy Keto Shepherd's Pie Recipe
Beef and Butter Fast Printable Meal Plan
AMAZING Keto Eggplant Lasagna Recipe