Keto Friendly Low Carb Beef Casserole Recipe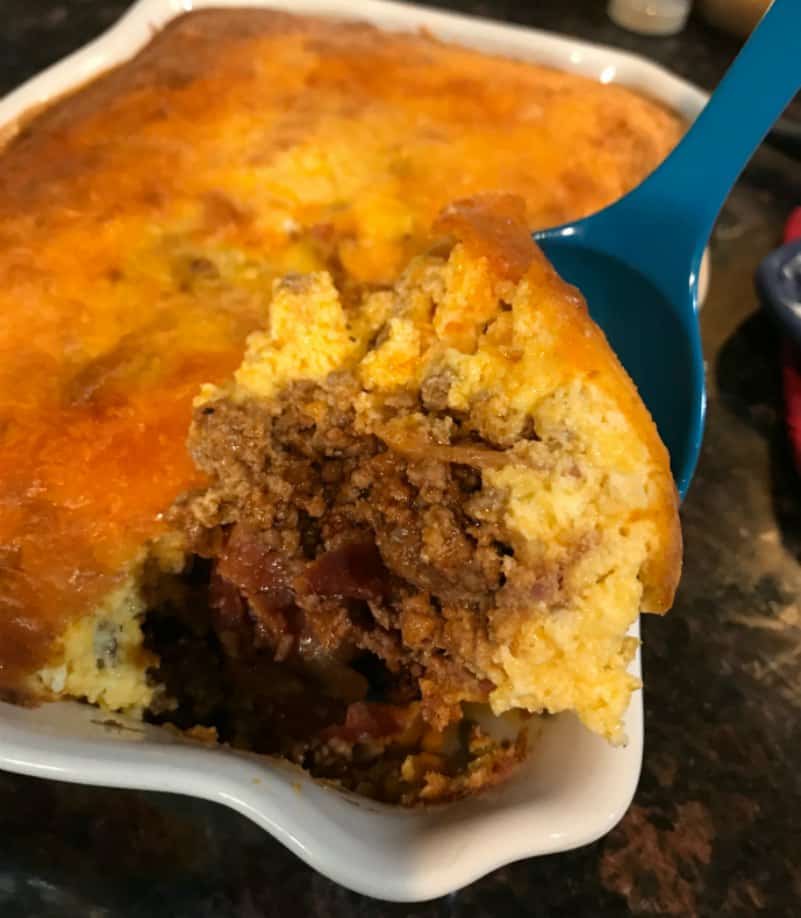 I'm excited to share the new Keto and Low Carb Beef Casserole Recipe with you!!!  This recipe was a hit with the whole family!
My family loves the Keto Friendly Easy Bacon Cheeseburger soup recipe and I totally intended on making that recipe when I took hamburger out for dinner but I wanted a little something I could sink my teeth into.   They weren't too happy when I changed up the recipe because that is a favorite among all of them!
Sometimes I look at, what I feel are, a limited amount of ingredients we can have on the keto diet and think that I am eating the same things over and over again.  Do you feel that way?  That's what started this new recipe.  Don't get me wrong, I absolutely love the Bacon Cheeseburger soup recipe, but I just wanted something a bit different.
I placed the ingredients on the counter to start dinner.  The thought of my low carb pancakes was on my mind for some reason.  I wanted to make a casserole but wasn't sure how.  I use coconut flour in the pancake recipe, so I could probably use it in a casserole, right?  I mean, why not?  When I make those pancakes it doesn't taste like coconut.  The thought of coconut and hamburger meat together doesn't sound very appealing either.
I was on a mission to create a casserole dish!  My mind was made up!  If the recipe makes it to a blog post, then it was definitely a hit!  Thank goodness because my family was ready that cheeseburger soup.  I wouldn't have been very popular in the house with a failed recipe and no cheeseburger soup either.  I really should start a section here on the blog for all my failed recipes.  Wouldn't that be funny!
Keto Friendly Low Carb Beef Casserole Recipe Ingredients:
2 pounds ground beef
1 tablespoon minced garlic
1 teaspoon onion powder
1/2 teaspoon pepper
10 strips of bacon (or so)
1 – 6 oz can of tomato paste
8 eggs
3 tablespoons of coconut flour
1 package (12 oz) sharp cheddar cheese (or any cheese you prefer)
1 cup of heavy cream
Keto Friendly Low Carb Beef Casserole Recipe Instructions:
Start by cooking the hamburger meat first.  Be sure to add the minced garlic and onion powder while you are frying it.  This will give the ground beef a good amount of flavor.
I've got to give some major credit to my long handle measuring spoons.  I bought these for myself a while ago and I'm so happy at how helpful they are in many ways!  Just look how I am about to measure out my minced onion!  The typical measuring spoons would never help in big jars like this.  (Great gift idea for Mom!  hint-hint)
Once the ground beef is fully cooked, drain the fat.
Add the bacon crumbles to the mixture.
Then add the small 6 oz can of tomato paste to the meat.  Mix it thoroughly.
In a separate bowl, combine the eggs, 6 oz of cheese, 1 cup of heavy cream and 3 tablespoons of coconut flour.
By this time the ground beef mixture should have cooled down some.
Add the ground beef mixture to the egg mixture and mix it till it's well combined.  (the first time I made this recipe layered the ground beef and put the mixture over the top.  You can do it this way but I like it mixed a little better.)
I sprayed my casserole dish with non-stick cooking spray and filled it with my casserole mixture.
Top the casserole with the remaining 2 oz of shredded cheese and put it in the oven.
I used my favorite Pioneer Woman casserole dishes.  I used the small casserole pan that measures 11.75 in x 8.25 in x 2.5 in with a depth.  This recipe filled it all the way to the top.  The size of your pan will determine the cooking time.  This size pan took about 40 minutes to cook.  You will know when the casserole is done by sticking a knife in the center of the mixture.  If the knife comes out clean, then the center of the casserole is completely cooked.  If it doesn't, it needs more time.
If I would have used a larger casserole dish, I probably would only have to cook this casserole for about 30 to 35 minutes.  Just keep the cooking time in mind when you choose the size of your dish.
This recipe is perfect for a large group of people.  It can easily be served to 12 people!  I small serving is very filling!
I invite you to take a minute to add yourself to our special email list so you can be included in lots of good information such as Recipes, Tips, Printables and Meal Plans! We've got some amazing information to share and I don't want you to miss out!
Sign up here:
Keto Friendly Low Carb Beef Casserole Recipe Nutrition
Here are a few photos we took of this process: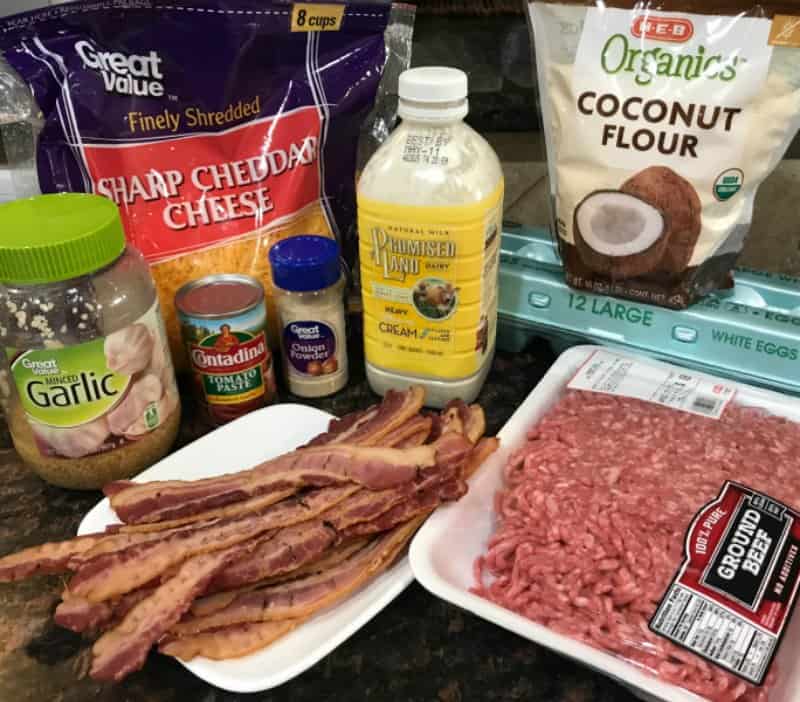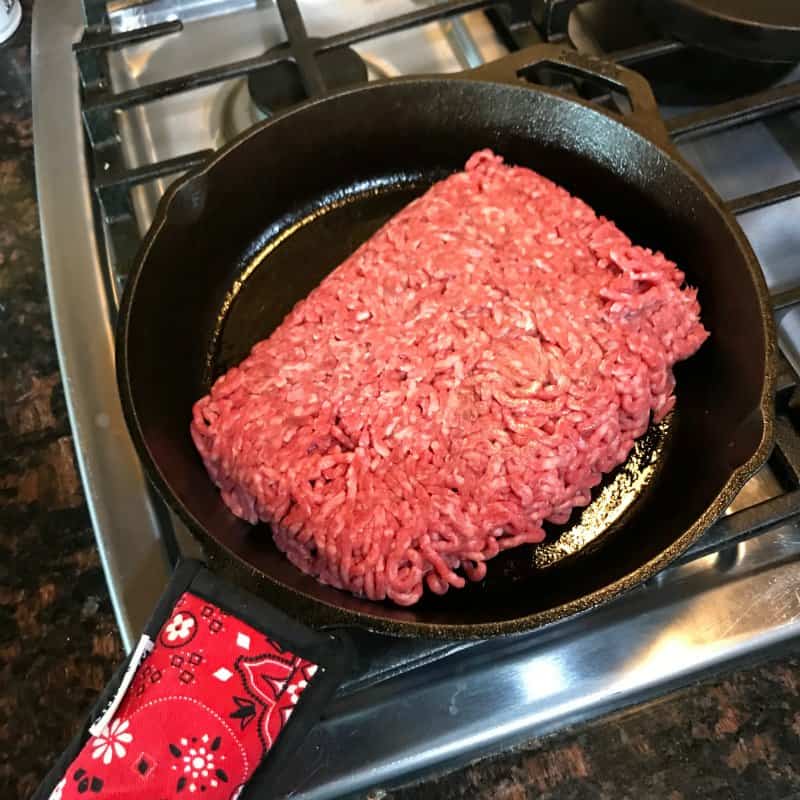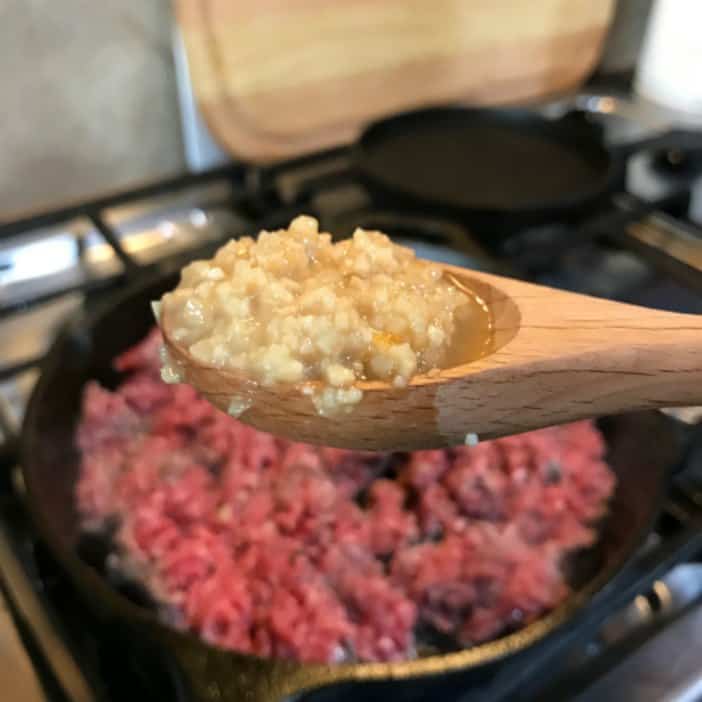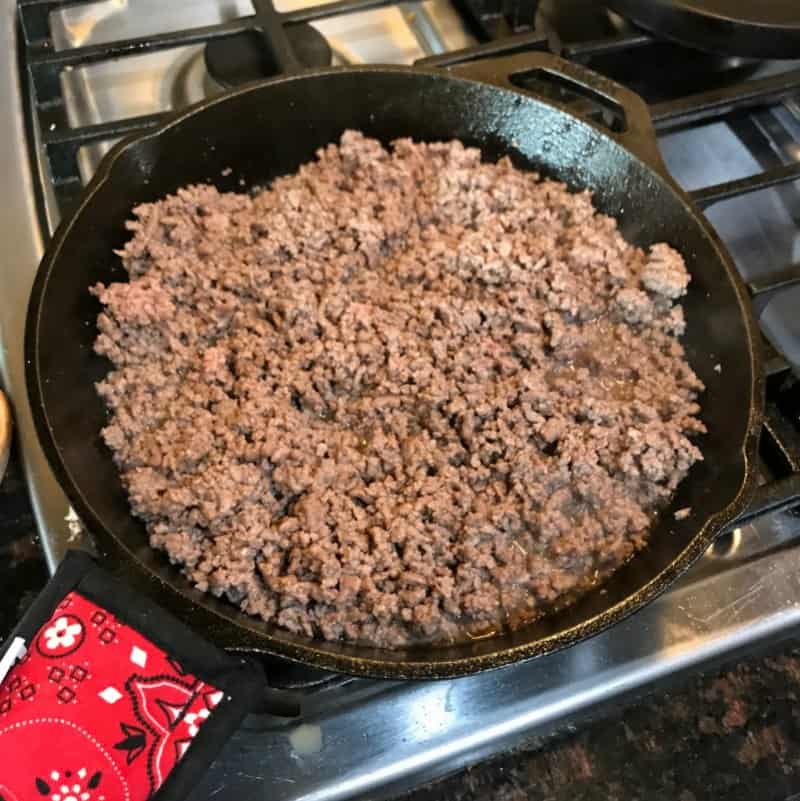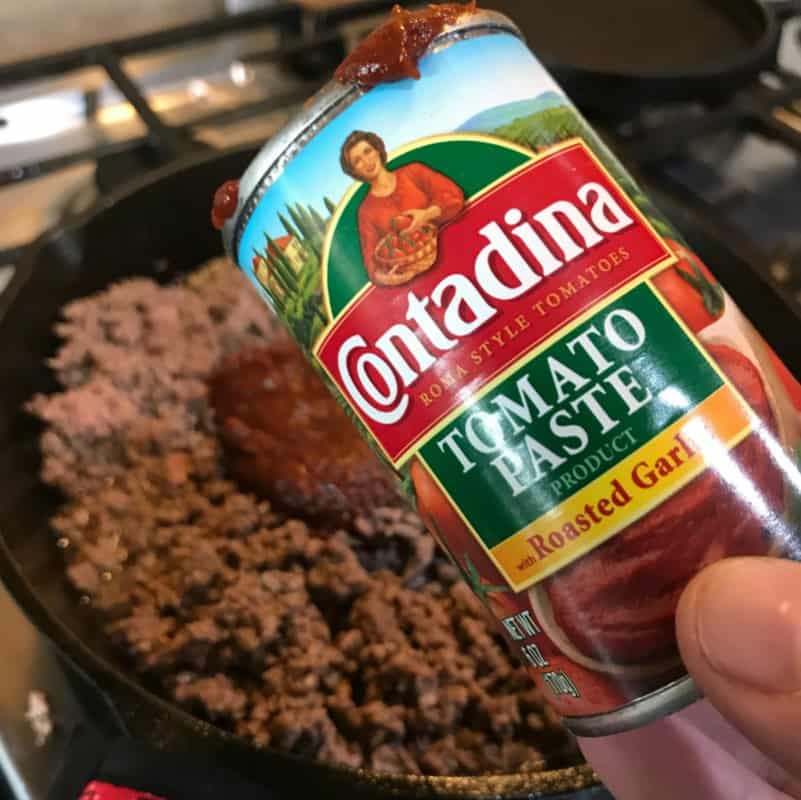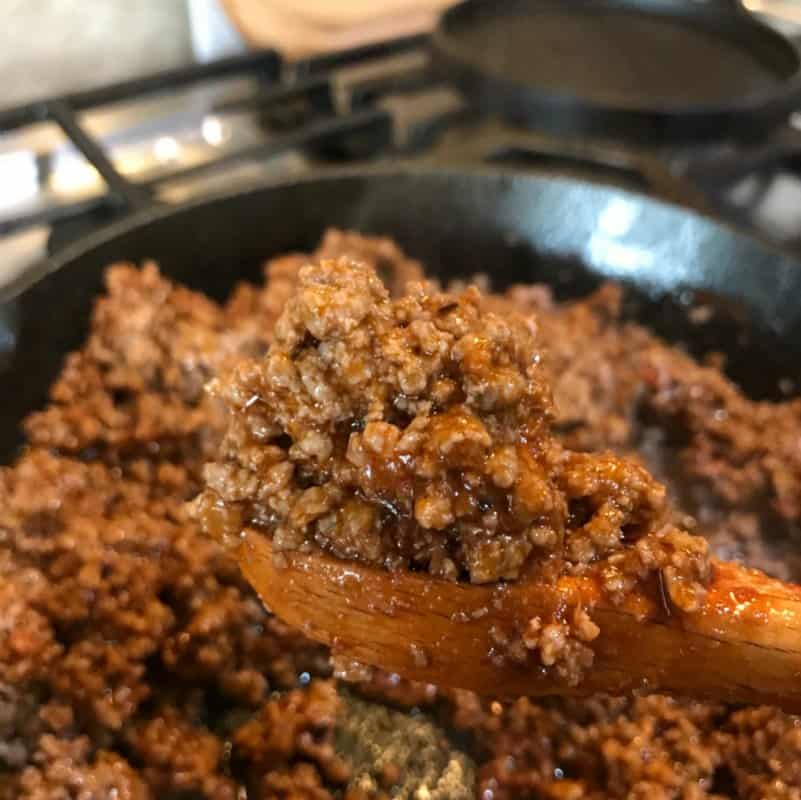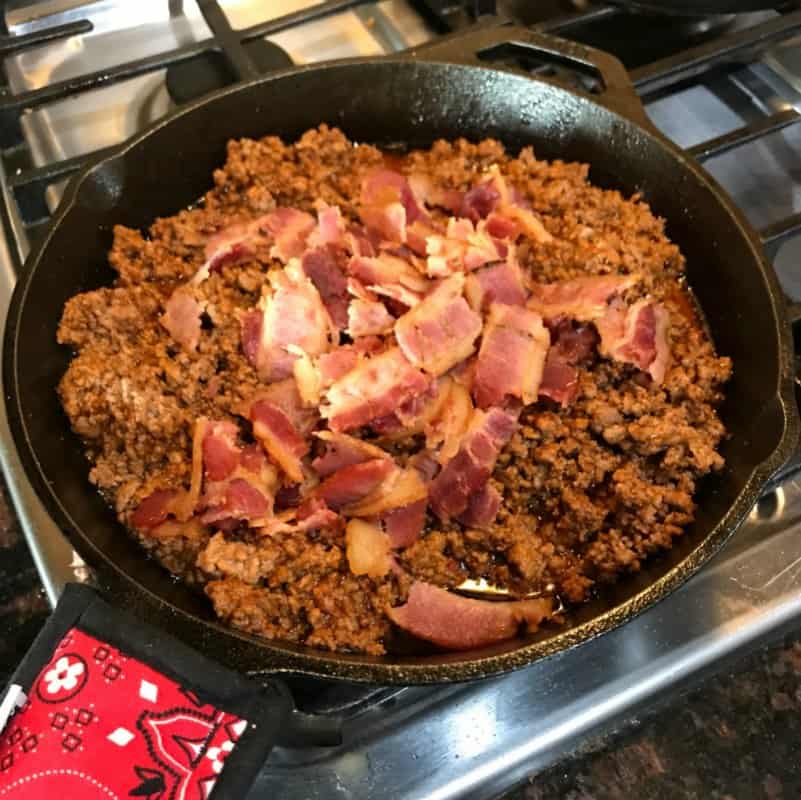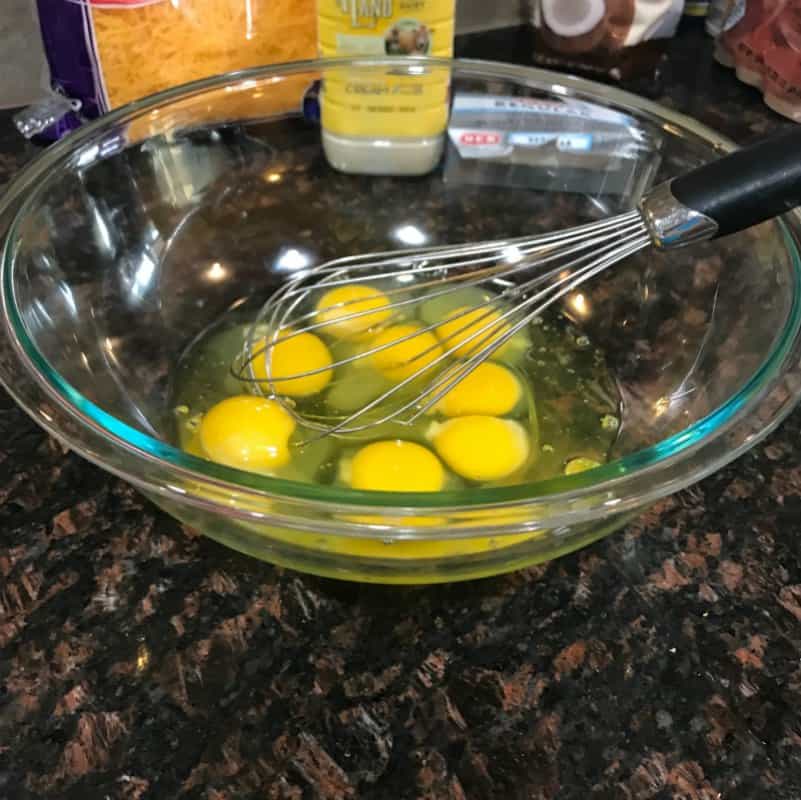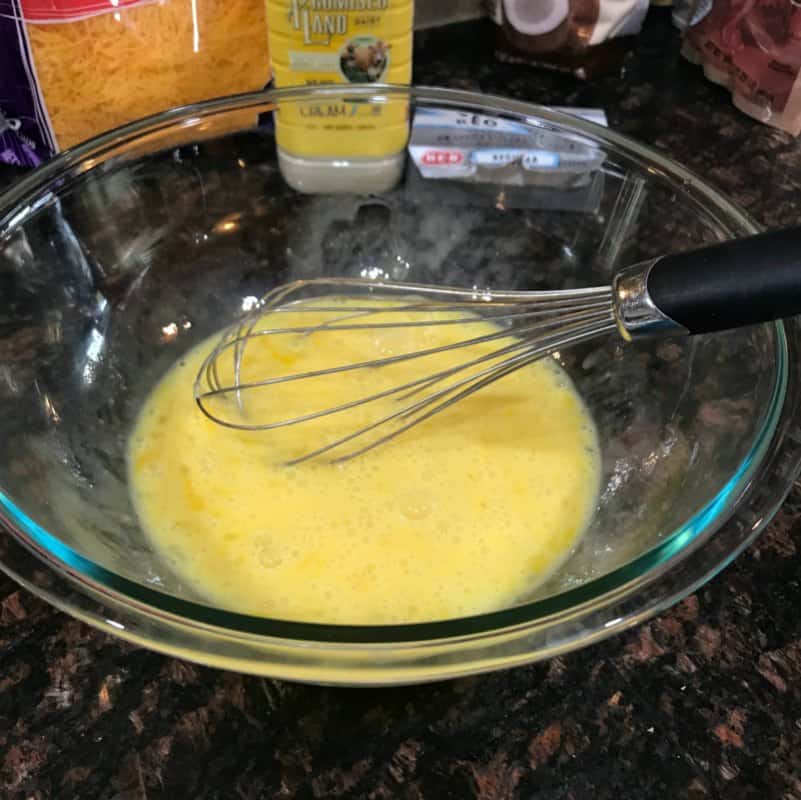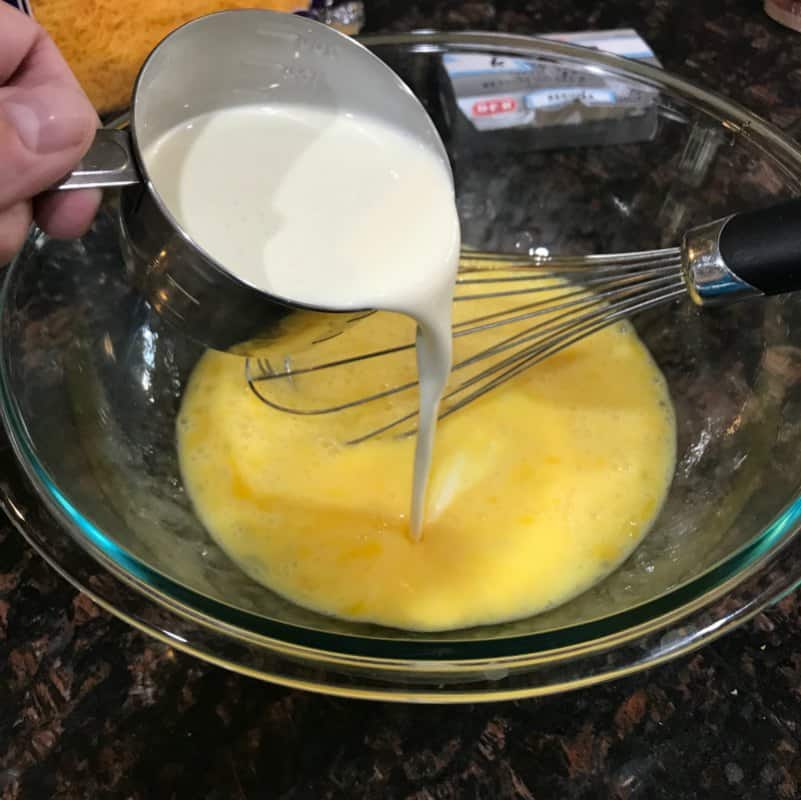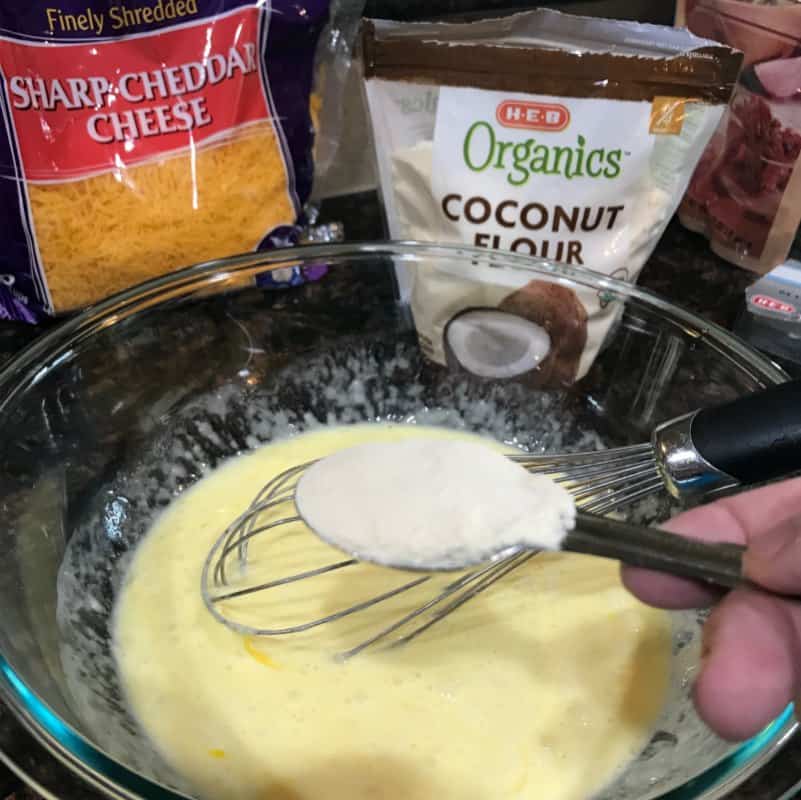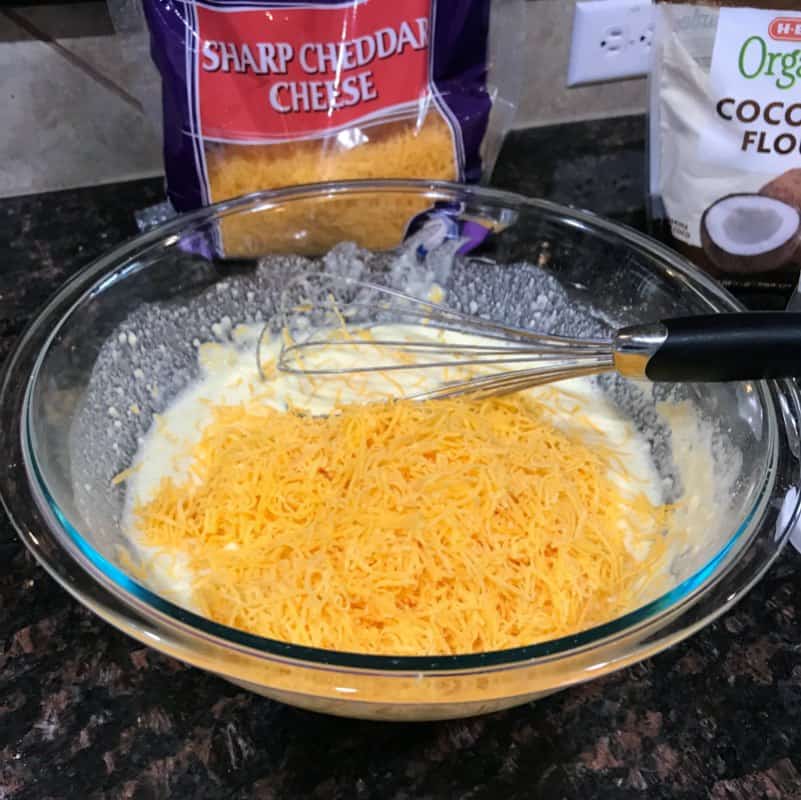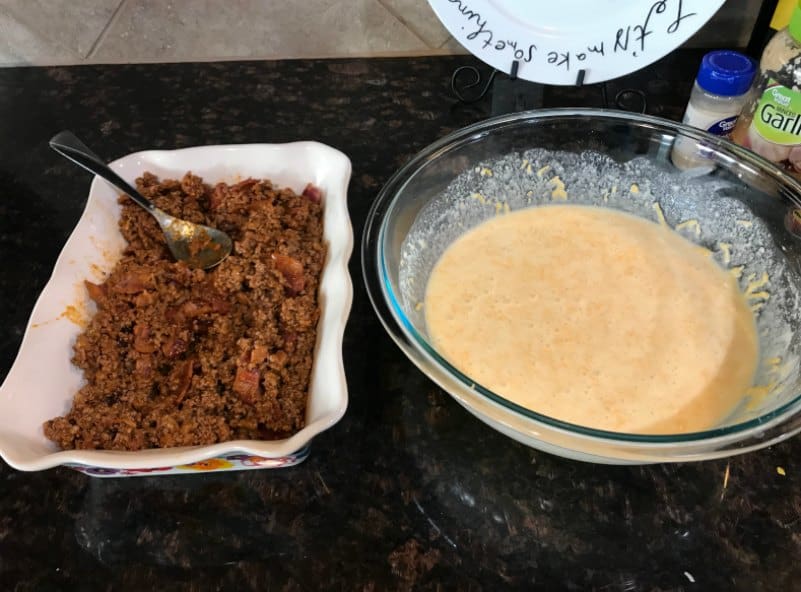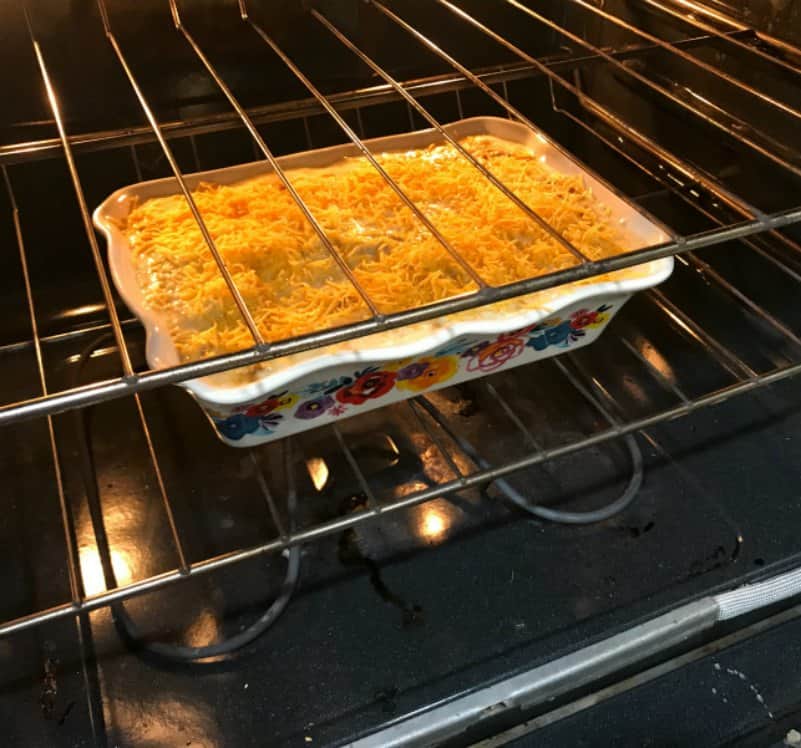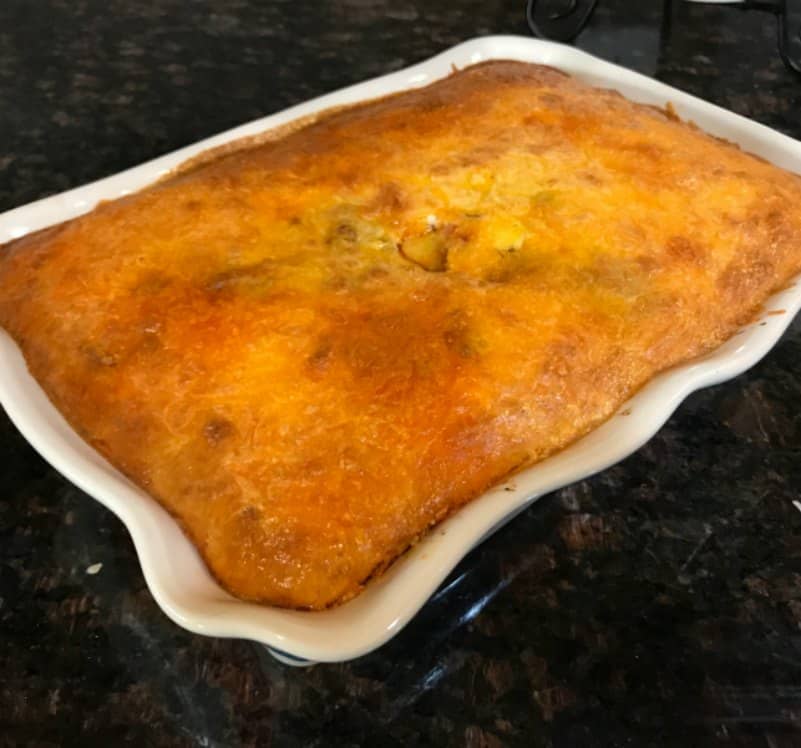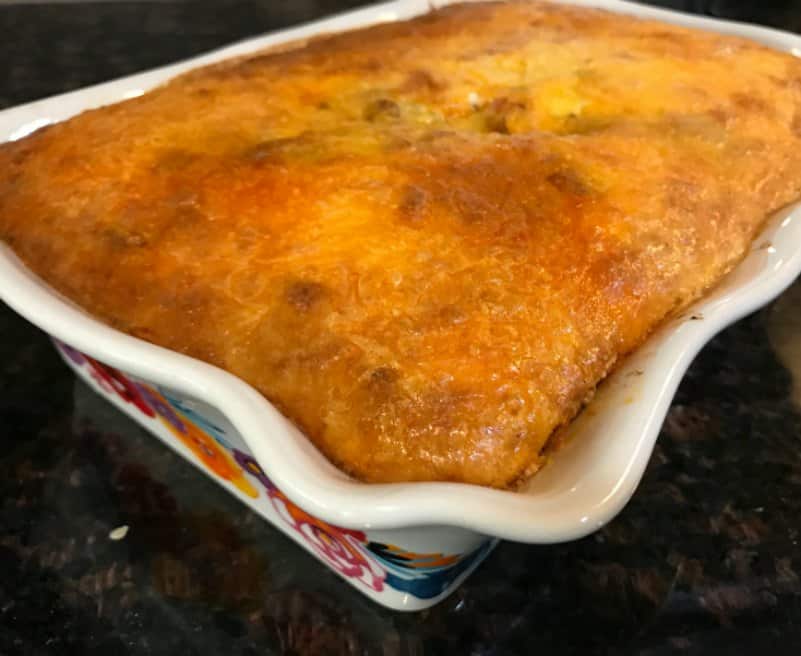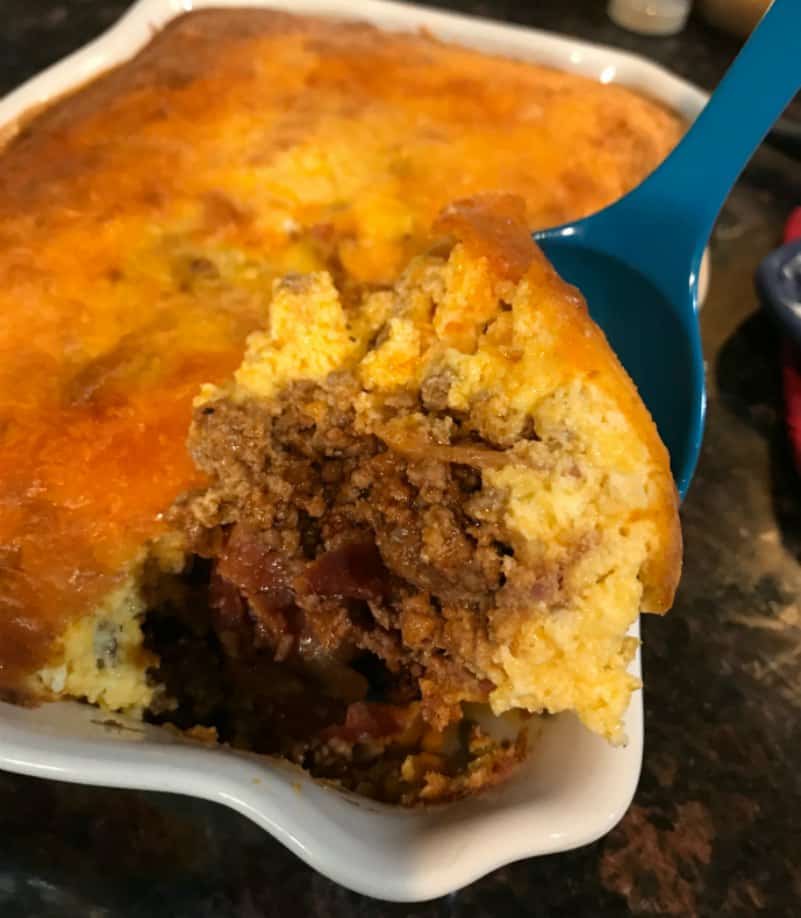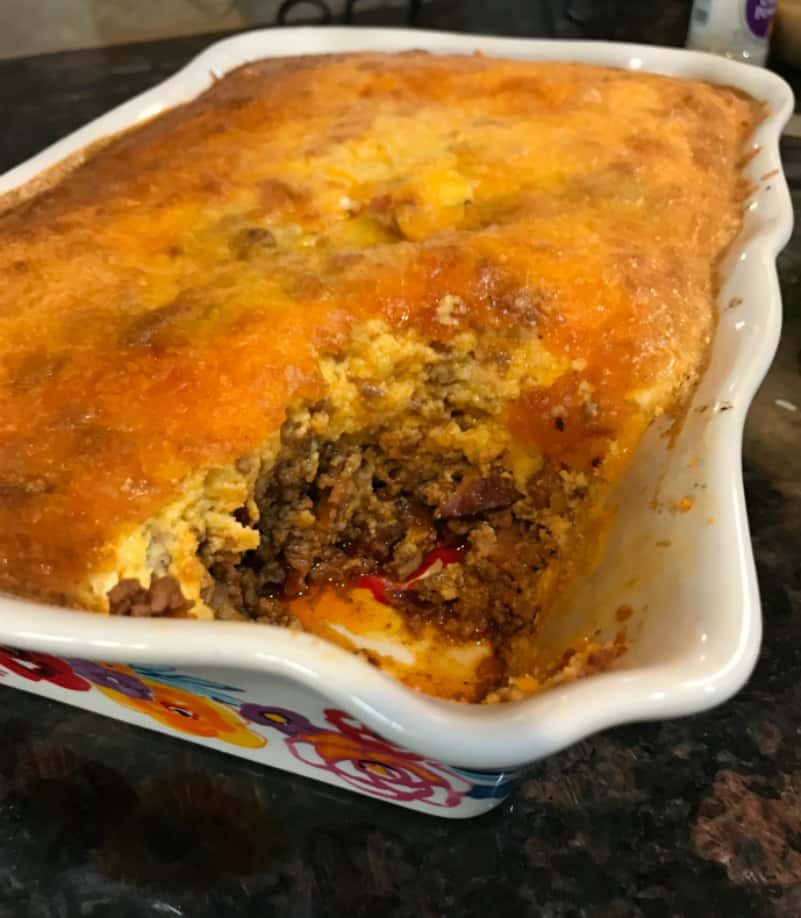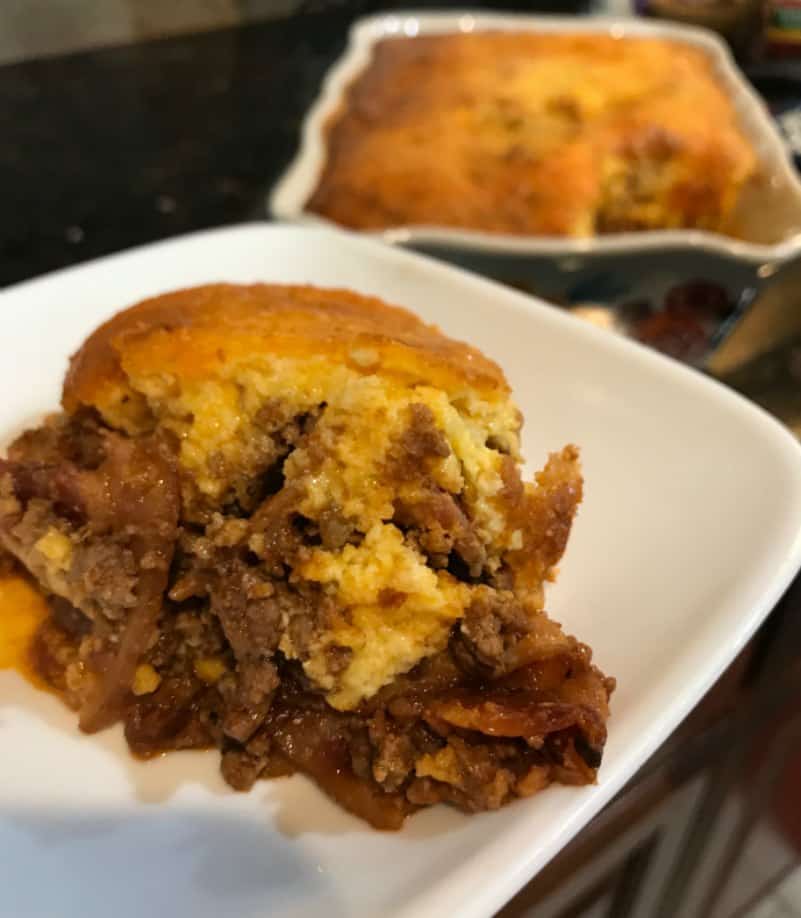 Here's a quick look at the nutrition label I calculated from My Fitness Pal: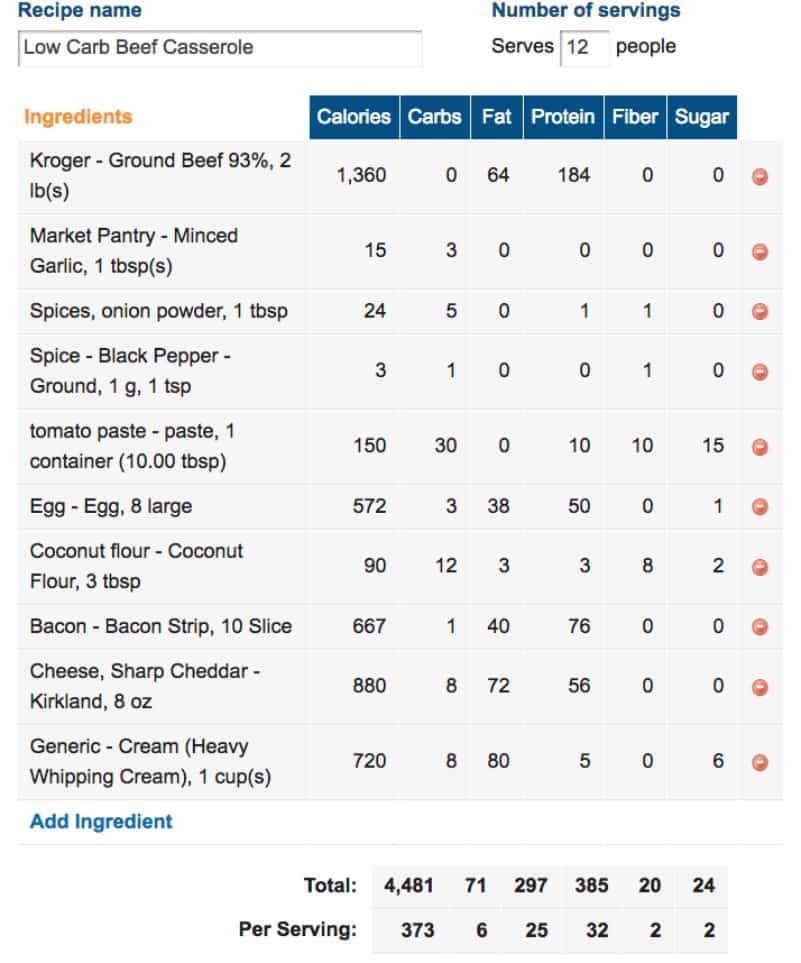 Feel free to Pin It on Pinterest for later: