Easy Keto Shepherd's Pie Recipe
Keto Shepherd's Pie Recipe
Look at this Super tasty Keto Shepherd's Pie recipe that is made with ground beef, cheese, and cauliflower mash!  Not only it is easy to whip up but it tastes pretty amazing ta-boot!  Special thanks to Umm Ajani, a member of our Low Carb Inspirations Facebook Group for sharing this amazing recipe with us.
It's easy recipes just like this that help me stay on track with my own Ketogenic Diet journey and I am ever so grateful to the recipes and knowledge shared in this group daily.  If you are in need of a group to join to support you in your own journey, that's the one you should join.  It's the best! This shepherd's pie with beef is my go-to recipe.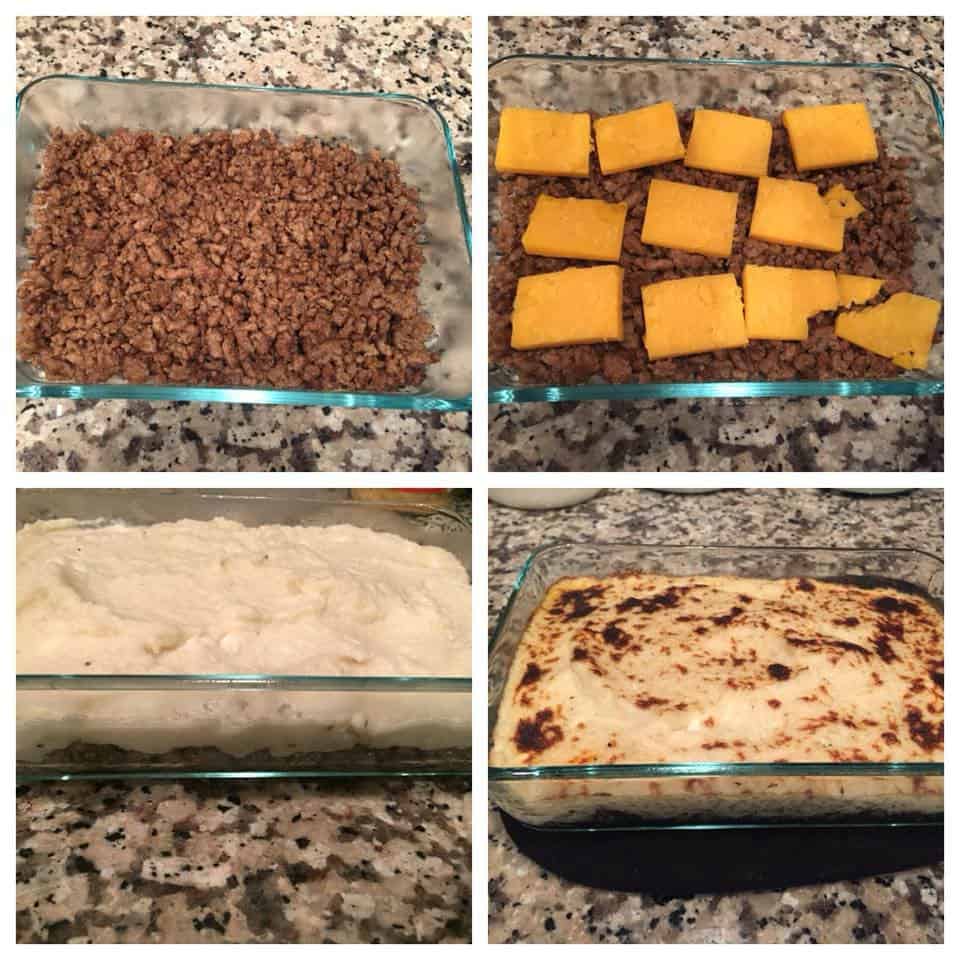 Keto Shepherd's Pie
These are the instructions for the Easy Keto Shepherd's Pie Recipe in her own words:
My spin on shepherds pie (single serving) on this cold and dreary day. It was spiced ground beef, cheddar cheese and mashed cauliflower (store bought). Super yummy. 
All I did was brown the beef in butter with garlic, oregano, salt and pepper to taste. Did one later of cheese and put a thick layer of mashed cauliflower. I then microwaved it for 2 minutes to melt the cheese and broiled it for 4 minutes. Then I ate it all!
Yup!  That's pretty darn easy. You won't even miss the traditional shepherd's pie that you might have eaten growing up.
Easy Keto Shepherd's Pie Recipe Ingredients
Ground Beef
Cheddar Cheese
Mashed Cauliflower
Butter
Garlic
Salt and pepper to taste
Easy Keto Shepherd's Pie Recipe Instructions
Brown the ground beef with butter.
Add garlic, oregano, salt and pepper to taste.
Layer the ground beef, cheddar cheese slices and mashed cauliflower in a small casserole dish.
Bake it at 350 degrees (or microwave it as she did) until all is warm.  About 20 minutes or more.
Serve warm!
Here's a printable version of this recipe.  If you are like me, you print off all the good Keto recipes for your own recipe book.
Sheperd's Pie
Here are a few more Keto recipes you are sure to enjoy! If you are on a low carb diet, this would be a great dinner option as well.