Pumpkin French Toast
Check out our amazing recipe for our absolutely delicious Pumpkin French Toast! If you have been looking for some nice pumpkin flavored recipes for this fall season, then you can look no further! The recipe below will bring you step by step into making some of the most delicious Pumpkin French Toast you will have every made! If you're looking for more pumpkin recipes, check out our Spicy Pumpkin Soup, our Copycat Pumpkin Cream Cheese Muffins, our Copycat Pumpkin Spice Latte, or even our Copycat IHOP Pumpkin Pancakes recipe!
If these recipes are just the kinds of recipes that you have been looking for, then I have some good news for you! Check out this neat cookbook with even more pumpkin recipes that will sure to widen the variety of pumpkin foods for you and your family this fall! With all of these pumpkin themed recipes to pick from, you should have no trouble finding what kind of food you would like to make, all throughout the season! If you are ready for the holidays, then it's time to do the same with your dishes!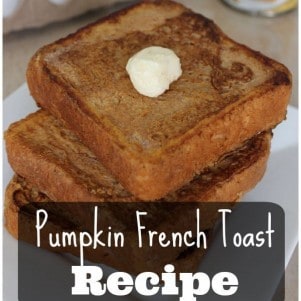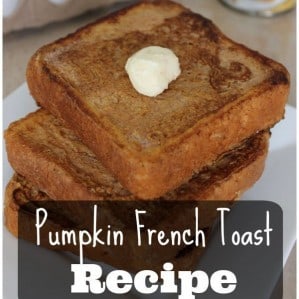 Pumpkin French Toast
Instructions
Mix together eggs, milk, pumpkin, brown sugar, vanilla and pumpkin spice until blended.

Transfer to a shallow dish.

Heat a nonstick skillet over medium heat.

Place a small pat of butter in skillet.

When butter melts, dip a piece of bread in egg mixture allowing mixture to absorb for a couple of seconds.

Flip over and dip other side.

Cook in skillet until bottom is browned.

Add butter and flip to cook other side until browned.

Dust with powdered sugar or serve with whipped butter and syrup.
Nutrition facts are provided as a courtesy.