Crockpot Ribs Recipes
I love Crockpot Ribs Recipes!  Once you make them in a Crockpot, you will never want to make them another way!  I have to give a "shout out" to my dear friend Debbie because she's the one that taught this amazing technique!
And…  if you enjoy using your Crockpot on a daily basis as I do, check out our Top 50 "Really Good" Crockpot recipes here!
Searching for More Crockpot Recipes
Slow Cooker Ribs
The crockpot (slow cooker ribs) ribs method works for all rib types.  Country ribs, short ribs, spare ribs, baby back ribs, beef ribs, pork ribs etc…  In fact,  You can make all different flavors using this same method.
The method of cooking them is the same but the flavors can change!  Our family's favorite is the BBQ Pork Ribs.  Pork ribs are a no-fail rib because they are pretty tender already.
Crockpot Spare Ribs
Now, if you are looking for Keto Ribs made in an Instant Pot Pressure cooker, this is a good write up on that technique.  It can be used for any rib recipe and it always comes out super tender too!
We also have an amazing Keto Friendly Oven Baked Garlic Parmesan Ribs recipe too!
Ingredients Needed for Crockpot Ribs:
Crockpot (I use the exact one here.  It's a 6 qt and portable which means it locks at the lid to avoid spillage when on the go!  Reasonably priced too.  Love it!)
Favorite Ribs
Seasoning
Onion (optional)
Favorite BBQ Sauce
Crockpot Liners for easy cleanup (optional)
Crockpot Ribs Recipes Method:
1.  Cut your ribs into small sections
2.  Season them with your favorite seasoning.  Lately, I am stuck on Grill Mates Montreal Steak seasoning.  I even put it on my salads.  Another favorite is Bolner's Fajita seasoning.  You can't go wrong with either one of those.
3.  Cut up 1/2 of an onion and add it to your crockpot.
4.  Place the seasoned ribs standing up.  Drizzle with a little bit of BBQ sauce on each one.
5.  Cook on low for about 6 to 8 h0urs or cook on high for about 3 to 4 hours.
6.  Remove from the Crockpot and add them to a baking sheet.  (Tip:  line your baking sheet with tin foil to avoid a hassle when cleaning that pan.  I speak from experience!)  Drizzle more BBQ sauce on them and broil them for about 4 to 5 minutes.  Just enough time for the BBQ to bubble and caramelize.
Here's what they look like straight from my oven!  YUM!
Serve warm and enjoy!
Ribs Recipe
Yes, this ribs recipe is easy, but trust me, it works! This is one incredible dinner idea to treat your family and friends too!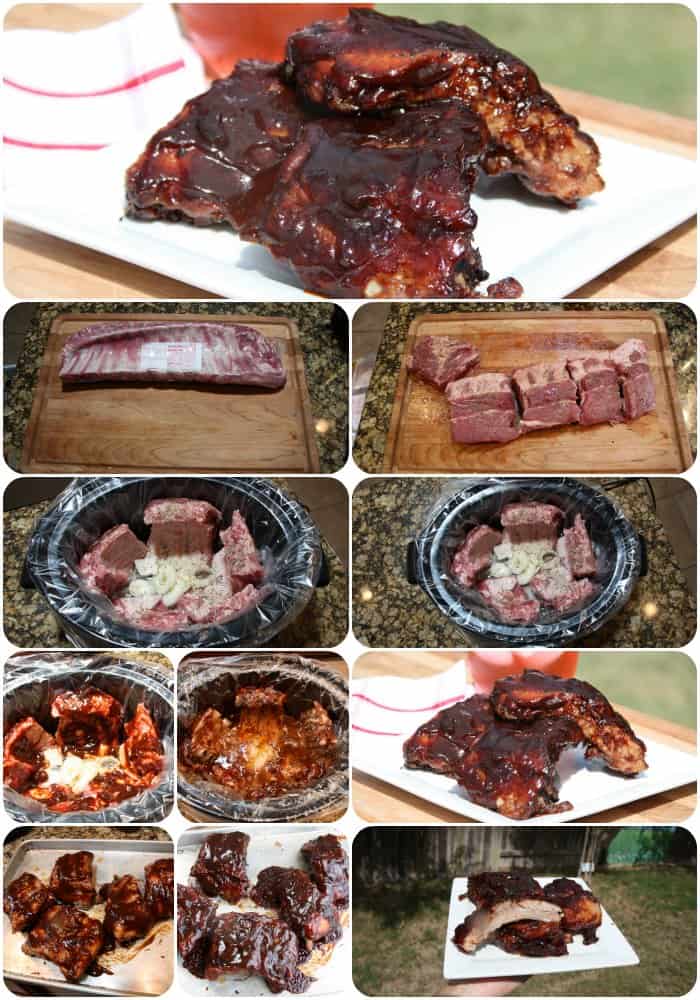 Have you tried this Crock Pot Ribs Recipe?