Zucchini Cheese Pie Recipe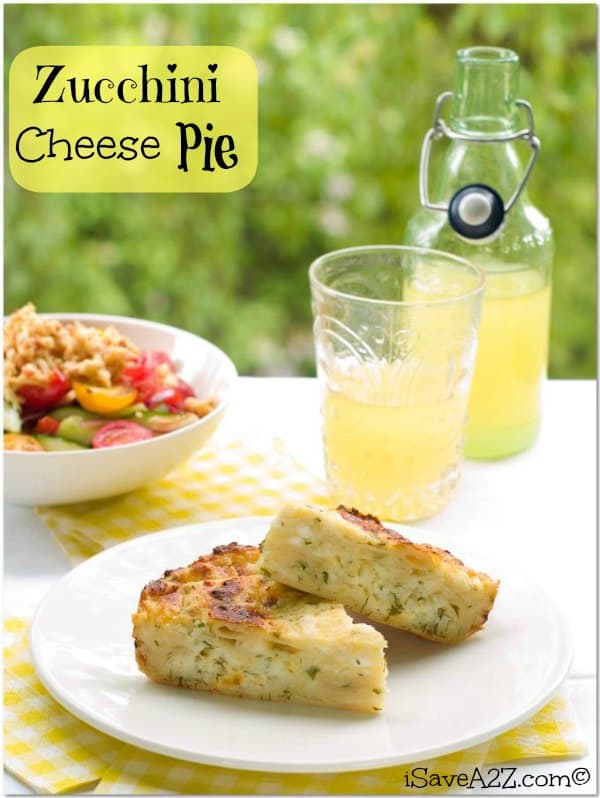 So as I have mentioned, we are trying to make better eating choices in our home. One thing that we are really working on is getting more veggies in our everyday meals. This Zucchini Cheese Pie Recipe is a great way to have your veggies and change it up a little. Of course, something that I really love about this recipe is how easy it is to make! Basically you just mix everything together, put it in a pan…and bake! It doesn't get much easier than that.
Zucchini Cheese Pie Recipe
Ingredients
3

cups

of grated zucchini

1

small onion

chopped

1

cup

of all-purpose flour

1

cup

of grated provolone cheese

3

eggs

beaten

1/4

cup

of vegetable oil

4

tablespoons

of grated Parmesan

2

teaspoons

of fresh basil

chopped

1

teaspoon

of baking powder

1

teaspoon

of kosher salt

1/2

teaspoon

of ground black pepper
Instructions
Preheat the oven to 350.

Then grate your zucchini and cheeses and chop the onion and fresh basil. You can also use cheese that is already grated.

Keep one tablespoon of Parmesan to the side. Put all other ingredients into a large bowl and mix.

Coat a 10-inch glass pie plate or a metal pie pan with vegetable cooking spray and spoon or pour your mixture in.

Bake for 40 to 45 minutes until the top is golden brown. Sprinkle the top with the Parmesan that you put to the side and cool for 10 to 15 minutes before serving.
Notes
Once you grate the zucchini, be sure to squeeze out or discard of any extra juice. This will keep your pie from becoming soggy.
This Zucchini Cheese Pie is also crust-less, so that's an added bonus! This turned out really delicious. I am not a huge fan of onion, so I may not use as much next time. But that's just me.
Looking for more easy ways to fit vegetables into your meals? Check out The Part-Time Vegan Cookbook for some quick and easy vegetable recipes that are great for everyday cooking! It's just $2.99 for the kindle version!
Be sure to check out all of our amazing recipes HERE!
Enjoy!