Taco Soup Recipe
It's official…cool weather is here and definitely time to make my super easy Taco Soup Recipe. The best thing about this recipe, other than it being absolutely delicious, is that it is so versatile. You can make it spicy or not, or if there is something you don't want to put in, you can add extra of another ingredient. Another plus of this Taco Soup Recipe is that once you brown your meat, everything gets thrown into the crock pot and you're done!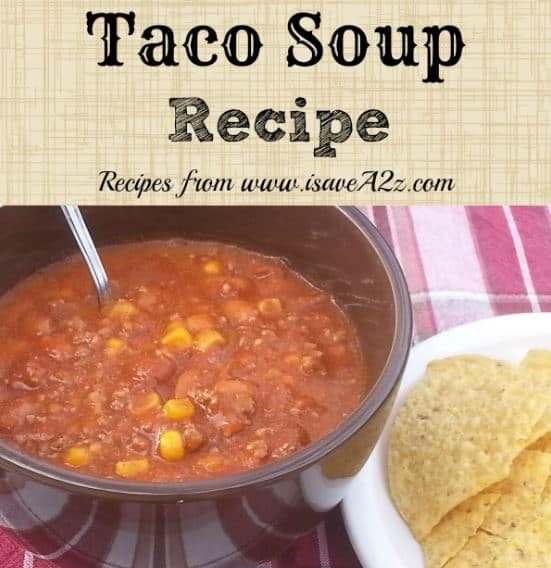 Taco Soup Recipe
Ingredients
1

lb

ground beef - can also use turkey for a healthier option

1

medium onion - chopped

1

can of Ranch Style beans

1

can of pinto beans

1

can of corn

1

can mild Rotel

1

can original Rotel

1 5

oz

can of chopped green chilies

1

envelope of taco seasoning

1

envelope of Ranch Dressing mix - not the dip mix
Instructions
Brown meat and onions and drain. I don't care for onion too much so I just use onion powder to season my beef or turkey.

Add meat and all other ingredients to crock pot. I use my 5.5 qt oval crock pot for this recipe.

Stir together and cook on high until hot and bubbly - at least one hour. The longer you cook it the more flavorful it gets.
Notes
Serve hot with cornbread or tortilla chips.
You can also make this Taco Soup Recipe without the meat, just add more beans! I love that this recipe makes a large amount because then I can eat it for a few days afterwards. Keep in mind, that once this sits in the fridge overnight, it will get a little hotter.  That being said, I usually make a milder version of this so here is what I put in mine.
Taco Soup Recipe – Milder Version
1 lb Ground Beef or Turkey
2 cans (or 1 large can) of Ranch Style Beans
1 can pinto beans
1 can of corn
1 can mild Rotel
1 can petite diced tomatoes
1 can tomato sauce
1 envelope of taco seasoning
1 envelope Ranch Dressing mix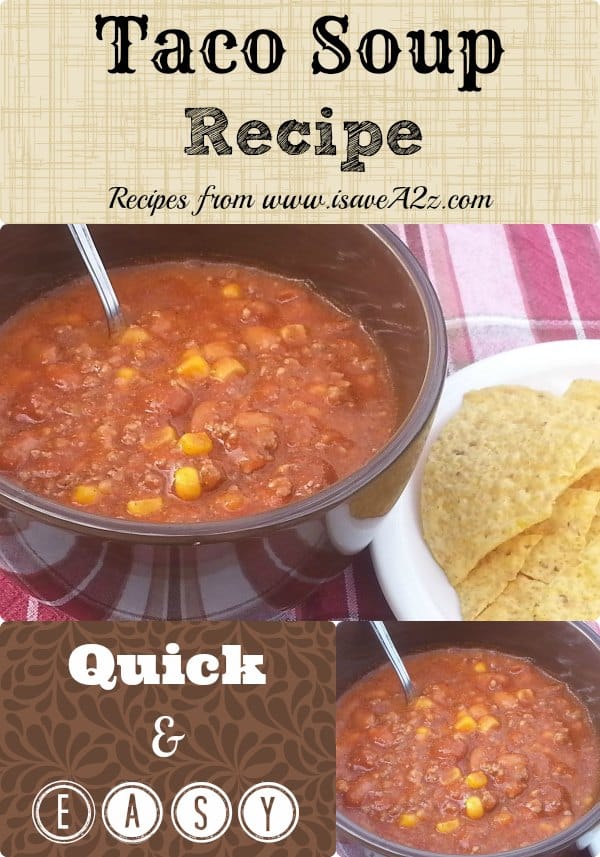 Check out some of our other favorite soups HERE!