Easy Cheeseburger Pie Recipe
Easy Cheeseburger Pie Recipe
I absolutely LOVE a simple recipe and this Easy Cheeseburger Pie Recipe is one of my new favorites! I have to be honest about this…my husband actually picked this recipe out and even made dinner! I'll be the first to admit he can pull of some amazing things on the grill, but being in the kitchen is not his specialty. This turned out D-E-L-I-C-I-O-U-S!!
It also helps to have some amazing cookbooks laying around too.  Here's a good one if you are in need: From Mama's Table to Mine: Everybody's Favorite Comfort Foods
It only takes a handful of ingredients to make this Easy Cheeseburger Pie Recipe, which is another plus. And these are normal everyday ingredients that you probably already have in your kitchen anyway!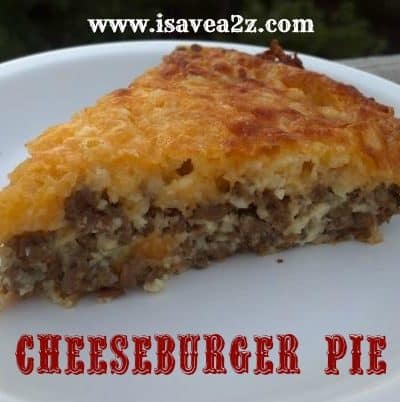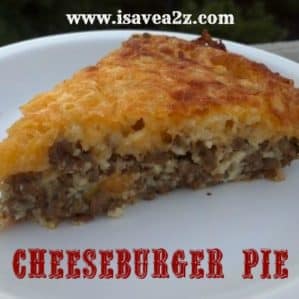 Easy Cheeseburger Pie Recipe
Ingredients
1

lb

lean ground beef

1

cup

of chopped onion

1/2

teaspoon

salt

1

cup

shredded cheddar cheese

1/2

cup

all purpose baking mix

Jiffy, Betty Crocker or any kind is fine

1

cup

of milk

2

eggs
Instructions
Pre-heat oven to 400 and spray a 9-inch pie plate with cooking spray.

In a skillet, cook beef and onion over medium heat until beef is brown and drain.

Stir in your salt and then spread your cooked beef in the pie plate.

Sprinkle the shredded cheese over the beef.

In a small bowl, whisk together the remaining ingredients until blended and pour over meat and cheese in the pie plate.

Bake for about 25 minutes or until a knife inserted in the center comes out clean.
Notes
Onion is optional. If you have picky kids you could always use onion powder or cut it up really small and cook it down with the meat to still get the flavor. **Also** We normally season our hamburgers with Worcestershire Sauce, so we also put a dash of it in the meat when browning it.
Nutrition facts are provided as a courtesy.
Oh!! I almost forgot to tell you….I know it may not make sense that the cheese is put on before the baking mix. But, while this is baking, the cheese will magically rise to the top to form that cheesy top! I would suggest serving this with a fresh green salad. Or if you want to keep with the "Cheeseburger" theme, you could also do french fries or tater tots!
I'm telling you friends, it doesn't get much easier than that for a real home-cooked meal!!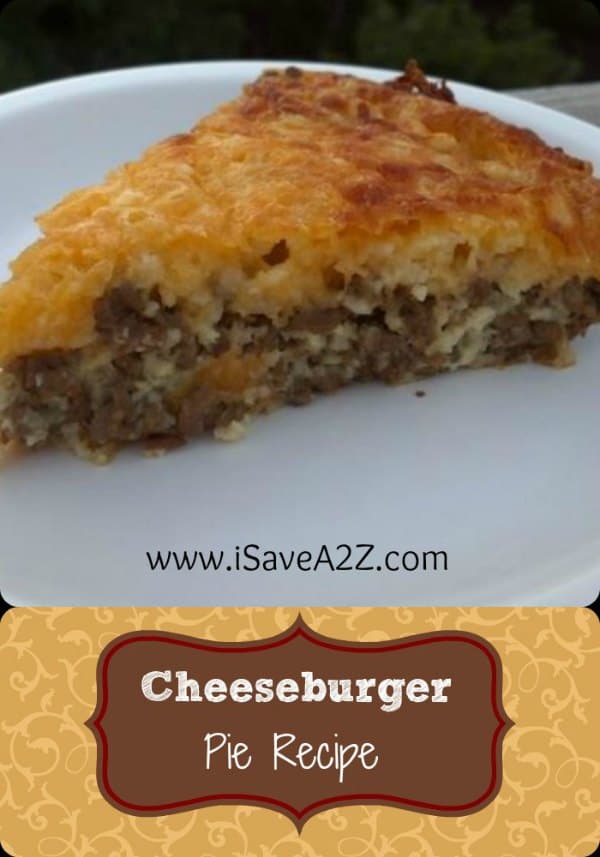 Enjoy!