Easy Meringue Heart Cookies Recipe
Easy Meringue Heart Cookies Recipe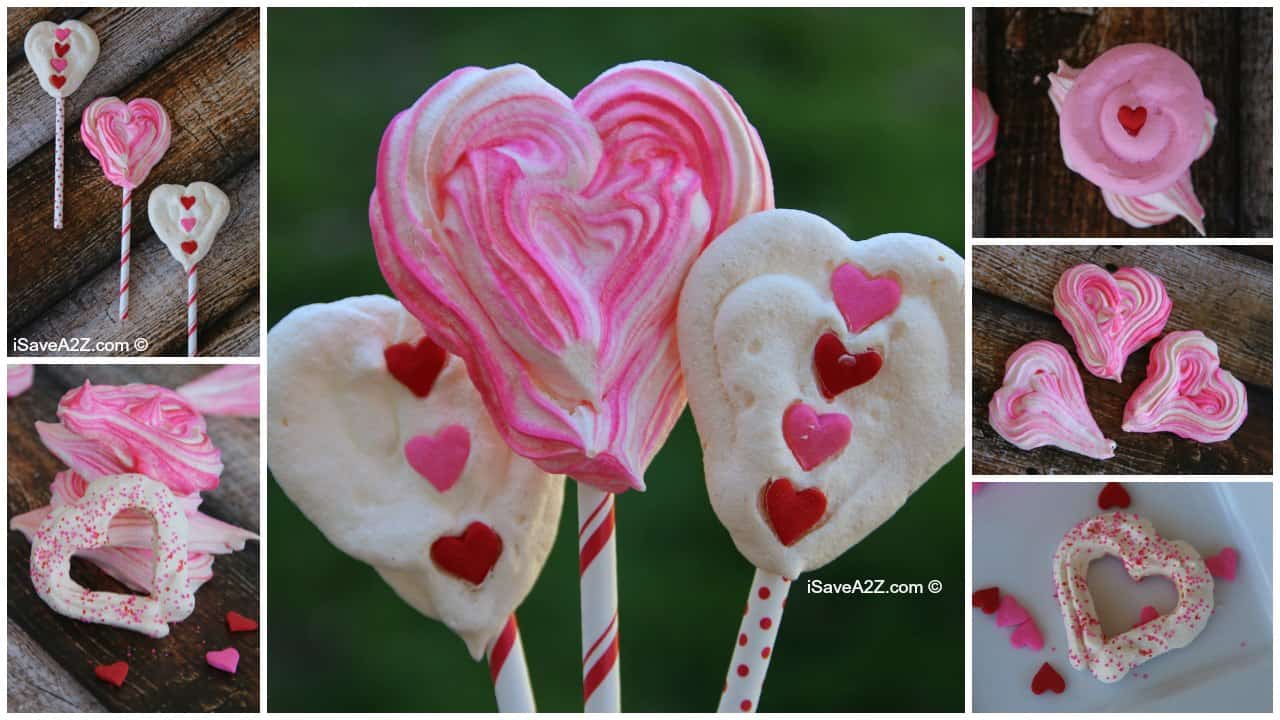 We took an Easy Meringue Heart Cookies Recipe and turned it into a Valentine's Day treat!  I love this recipe because you can whip up a batch of these cookies with only 5 ingredients and it only takes about 5 minutes with my handy, dandy KitchenAid mixer!
Valentine's day always inspires me to make something different in a heart shaped form and this time it was cookies!  We love this post listed as the Best Valentine's Day Ideas that has all sorts of different crafts, foods and even party ideas.  If it's still cold here in Texas I will plan to do the hot cocoa bar just because it's so darn cute!
Usually you see Meringue cookies in dollops baked on a pan and there are lots of ways to change up this recipe based on your tastebuds and the holiday.
For example, you can make red, white and blue Meringue cookies for the 4th of July or you can see how we took this simple recipe and make some super cute Meringue Christmas Trees.  We've made these cookies over Christmas and covered them with Peppermint sprinkles.
We've substituted the vanilla for a different flavoring too.  If you like lemon, you should give that a try!  I've made them with chocolate chips and walnuts too!
My mouth is watering just thinking about those cookies.
Let's talk a bit about the color.  It's amazing what a bit of food coloring can do to your Meringues.  I've used pastel colors around Easter, red and green colors for Christmas and we even attempted to make a very light blue color to celebrate Disney's movie Frozen!
Imagine some really cute rainbow-colored Meringue cookies.  This really is a recipe that you can make fun and your own!
This recipe gives you a super light cookie.  I mean really light.  I love to make a cup of hot cocoa topped with whip cream and I stick a Heart Meringue cookie standing up in the whipped cream.  It stays standing up in the cup.  My kids think that is the best!
Here are some really good tips for this recipe.  You want to make sure you use parchment paper or silicone baking mats.  From the process photos below you can see that I love my silicone baking mats.  I've yet to burn a cookie when I use these mats.  Best tip ever for perfect cookies.   Another tip is to use disposable piping bags.  It makes clean up so much easier in the end.  They are very inexpensive too.  I keep a box on hand.
Optional Food coloring tips:  You can mix a drop or two of your favorite color to the mix or you can do a completely different technique that I did here.  I didn't mix the food coloring in the mixture directly.
Instead, I used a toothpick and placed colors along the inside of the piping bag before I added the plain white mixture.  This allows for vibrant bright streaks of color in your design.  See the photos below to get a visual of this technique.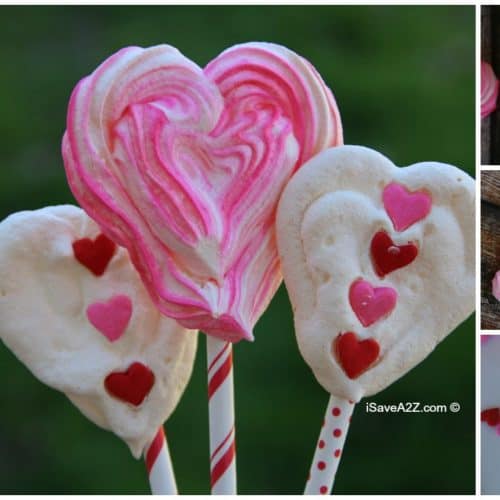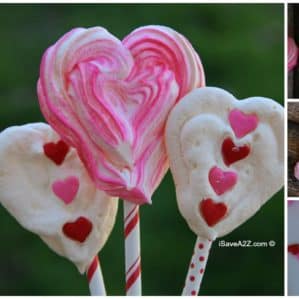 Easy Meringue Heart Cookies Recipe
Easy Meringue Heart Cookies Recipe
Instructions
Preheat oven to 300 degrees.

Separate the egg yolks from the egg whites.

Place the egg whites, salt, cream of tarter and vanilla in the mixer on high until it's nice and firm.

Slowly add the sugar little amounts at a time while it's mixing.

You can drop spoonfuls onto a cookie sheet and stop here or you can add food coloring and place it in a piping bag to make any design you want as I have done in my photos.
Nutrition facts are provided as a courtesy.
Here's a Pinterest friendly photo if you want to Pin It for later: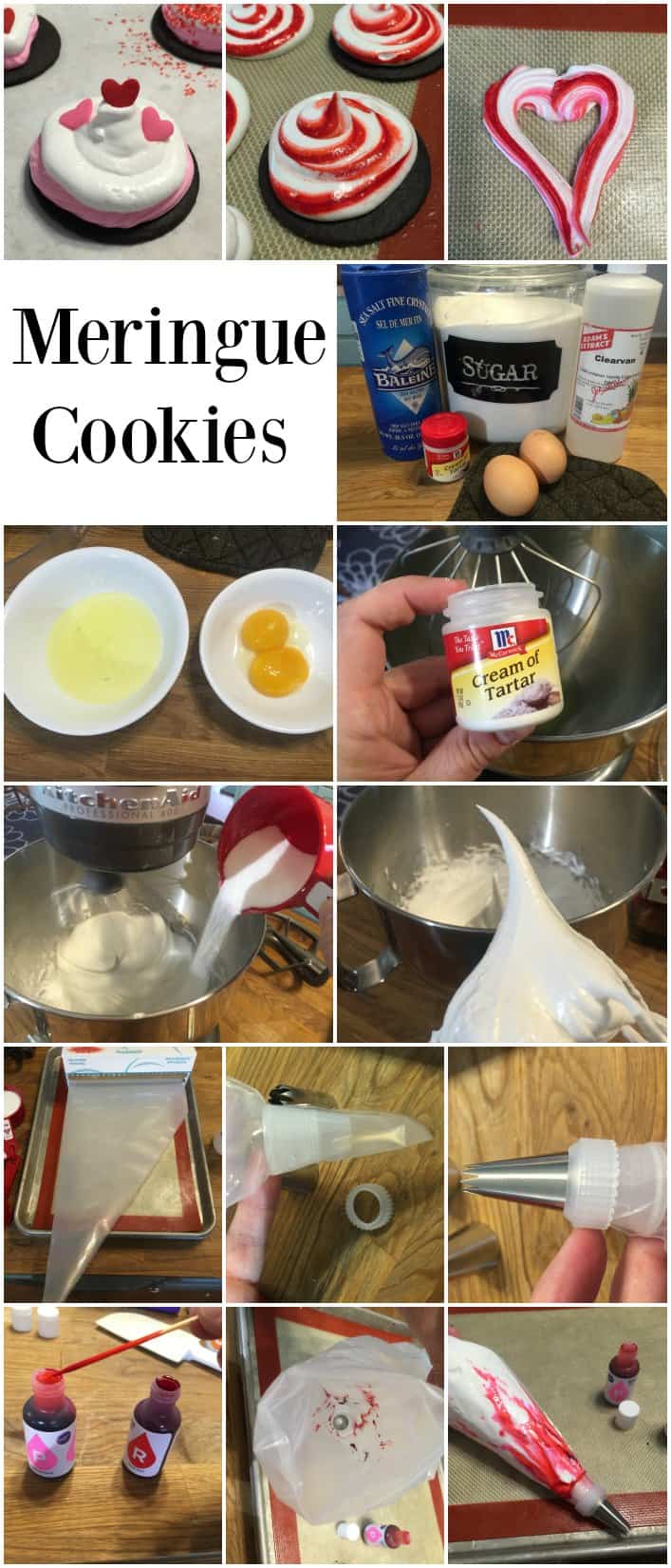 Be sure to check out our Valentine's Day Ideas page here to see a lot more ideas for your special day!