Cut Down Spaghetti Calories with this Healthy Spaghetti Recipe!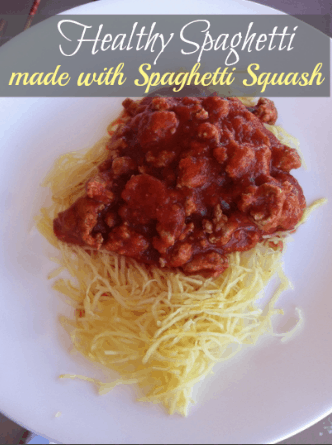 Cut down on your Spaghetti calories with this healthy option!
I've found a delicious way to cut spaghetti calories by using spaghetti squash instead of noodles!  There are a few options for healthier spaghetti and different ways to cut spaghetti calories.
You could use whole wheat spaghetti noodles but have you ever tried it?  It's not my favorite.  It has a gritty and crumbly taste to it that I would rather not eat.  I did find that the Ronzoni Healthy Harvest brand was the best tasting whole wheat pasta I've ever tried though.  In fact,  the more robust your sauce the less you taste the noodle anyway.  The smaller noodles taste better too.
My favorite way to cut spaghetti calories is by using spaghetti squash as my noodles.  Spaghetti squash has a naturally buttery flavor and the texture will fool your taste buds!  I didn't believe this until I tried it for myself!  Spaghetti squash is very easy to make too.  I just cut in longways, scoop out the seeds and bake it for about 30 minutes on 350 degrees in the oven.  If I can stick my fork into it smoothly then I know it's done!  I use the same fork to scoop the spaghetti squash out and it looks exactly like noodles!  Voila!
The next tips on how you can cut spaghetti calories is by using a no added sugar spaghetti sauce.  Or of course,  if you have the time you can make your own.  I don't have time for that.  I'm a busy girl!  I love the taste of Hunt's Pasta Sauce with no added sugar as seen here on Amazon.  I can purchase Hunt's at my local grocery store for only 94¢ too!  What a bargain!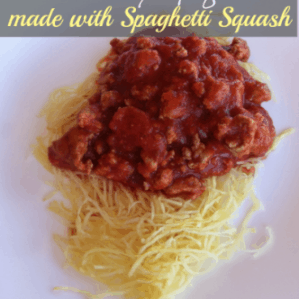 Cut Down Spaghetti Calories: Healthy Spaghetti Recipe!
Instructions
Bake the spaghettii squash by cutting in lengthwise and removing the seeds for about 30 minutes on 350 degrees.

Brown the Turkey meat. (Sometimes I combine Turkey meat and turkey sausage to give it a robust flavor)

Add your Hunts no sugar added sauce.

Season with extra Italian seasons to your liking (optional)

Serve warm sauce over the spaghetti squash!
Nutrition facts are provided as a courtesy.