White Chocolate and Blueberry Brownie

White Chocolate and Blueberry Brownie
I have been on a serious kick lately with my cast iron skillet as you can probably tell by our delicious White Chocolate and Blueberry Brownie!  There is just something extra special when I pull out that pan.  Maybe it brings back memories of grandma or maybe it's just the way to pan brings me back to the good ole days.  I used to not be a fan of cast iron skillet cooking at all.  I can remember hating that pan.  That's until I actually got a chance to use it correctly.  A well seasoned pan is your best tool in the kitchen.  I swear this pan makes my recipes taste 100x's better.   I've been on the hunt for an antique cast iron skillet but they are very hard to come by and expensive if you are able to find one.  If you are thinking about starting off with a cast iron skillet then I highly suggest getting your hands on a pre-seasoned Lodge Cast Iron Skillet in the 10″ range.  They are easy on the budget and great starter pans.  I scored mine here on Amazon for very inexpensive.  I will warn you though,  this could be the start of an addiction to cast iron.
If you like some fruit mixed in with your sweet pastries and cakes, then you will be sure to love these White Chocolate and Blueberry Brownies. Blueberries are one of my favorite fruits, so just the thought of these brownies is enough to make my mouth water!
Now if blueberries aren't really your thing, I'm sure these brownies would taste just as good with a substitute with something like strawberries or even cherries!  Cherries go amazingly well with chocolate. That would be the next thing that I would like to try! What do you think? What kind of fruit would you try to put in your brownies?
If you're maybe looking for a brownie that isn't so fruity, then I would definitely suggest our Nutella Brownies! Our Nutella Brownies are definitely something worth trying for all of those Nutella lovers out there! If you're an extreme brownie lover, then you will be sure to love these EXTREME brownie recipes!!! There are so many different kinds of brownies, it'll be hard picking out which one to make!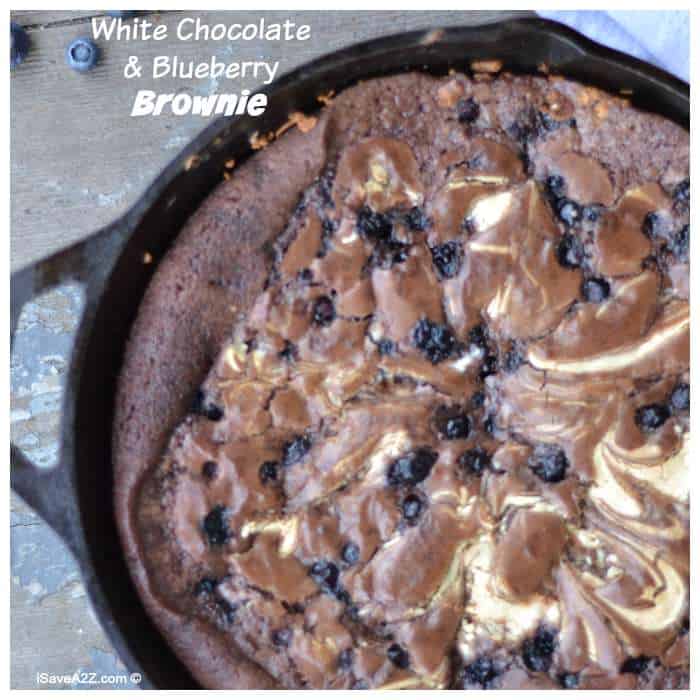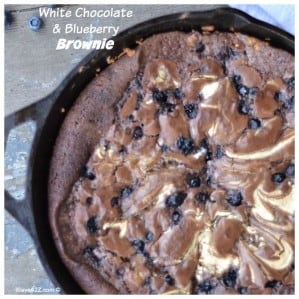 White Chocolate and Blueberry Brownie
Ingredients
Brownies:

1

cup

sugar

1

teaspoon

vanilla

2

large eggs

1

⁄4teaspoon baking powder

1

⁄4teaspoon salt

1

⁄2cup flour

Topping:

1

Cup

of Blueberries
Instructions
Preheat oven to 350°.

Mix oil and sugar until well blended.

Add eggs and vanilla; stir just until blended.

Mix all dry ingredients in a separate bowl.

Stir dry ingredients into the oil/sugar mixture.

Pour into greased 10" cast iron skillet.

In another bowl melt white chocolate in the microwave for 1 minute and stir.

Drizzle chocolate over the top of the brownie do not stir.

Place 1 cup of bluberries on top.

Bake for 30-40 minutes or until a knife comes out clean.

Remove from the oven and drizzle with more white chocolate optional.
Nutrition facts are provided as a courtesy.