Marshmallow Fondant Recipe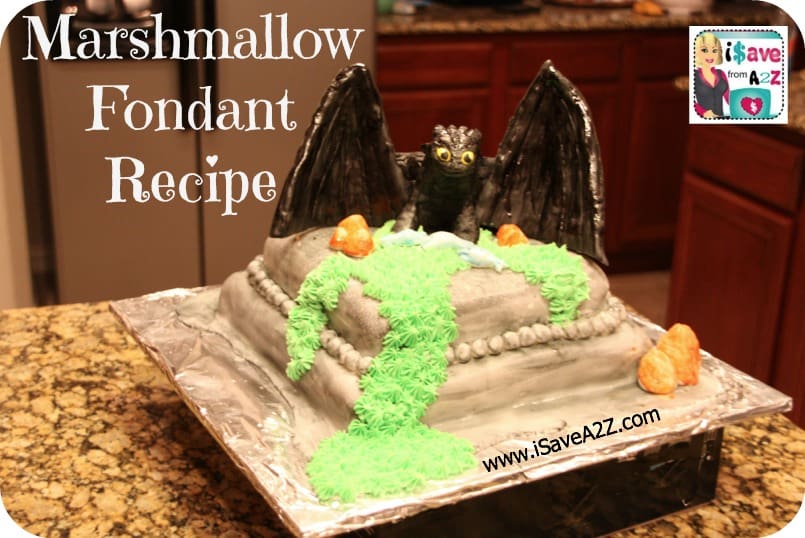 Marshmallow Fondant Recipe
No need to purchase expensive fondant when you have this Marshmallow Fondant Recipe!  Have you ever tasted Marshmallow Fondant?   It's not like the regular fondant which doesn't really have a taste at all.  If my project calls for fondant, Marshmallow fondant is what I use.  Fondant can get kinda pricey too but not when you make yourself!  Here's a tutorial on how to make marshmallow fondant that is a must try and I've included some tips and tricks that have helped me when I make it.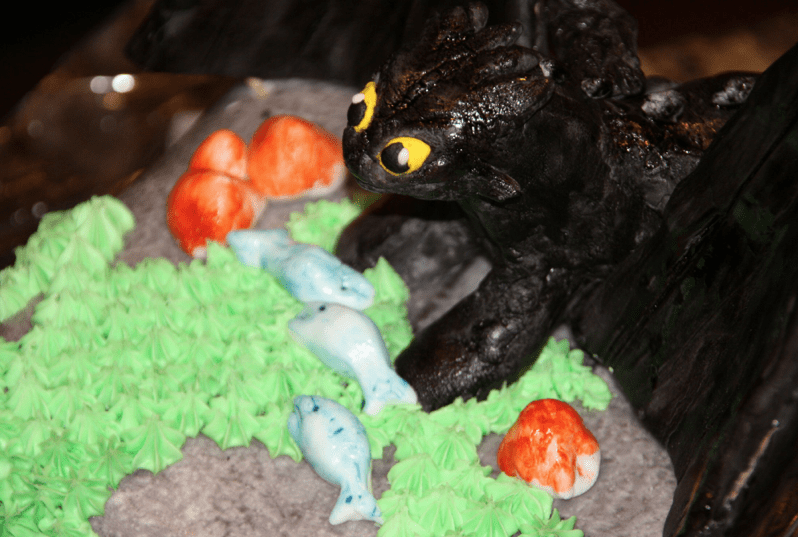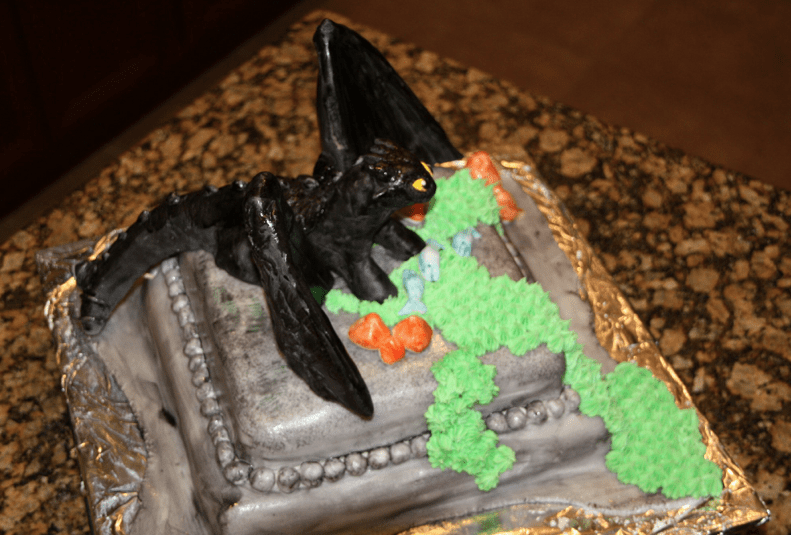 The photo above is my first shot at a How to Train your Dragon Cake made with this Marshmallow fondant recipe.  The fondant was the easy part.  The dragon, not so much.  I ended up making that dragon out of rice crispy treats shaped in the form of Toothless the Dragon and covered in Marshmallow fondant.  I say it wasn't easy because I did have to use wire and cardboard for the wings.  Those were a PITA!  lol…  But, it was all worth it to see my daughter's eyes light up when she way the cake.  All of her friends were fighting over that dragon!
Here's a cute and very easy fondant decoration for the cake you can try with this marshmallow fondant recipe that is for beginners.  If you can use a cookie cutter and roll a few fondant balls, you can do this!
I've adapted this recipe from the Wilton recipe for rolled marshmallow fondant and I've marked this as my homemade Marshmallow Fondant Recipe for beginners.  This marshmallow icing has a pretty good taste too.  So put your fear aside and give it a try!
Tip #1:  You can add flavoring but if you want a perfectly white colored fondant, make sure the flavoring you add has no color.  I tend to use vanilla flavoring.  Just make sure to add the flavoring to the water so you know how much liquid you are using.  This recipe calls for very little liquid.
Tip #2:  I always cover my cake with buttercream frosting before adding the fondant to help it stick.  I use my hands to smooth it out as needed.
Feel free to print this recipe or save it as a Marshmallow Fondant PDF file too.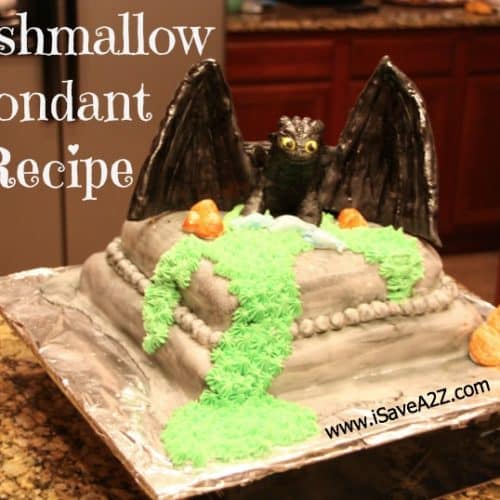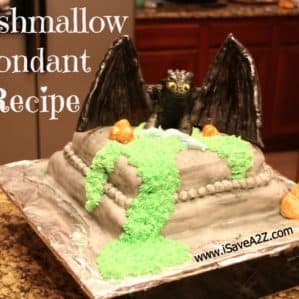 Marshmallow Fondant Recipe
Easy Marshmallow Fondant Recipe adapted from Wilton
Ingredients
1

package

16 ounces white mini marshmallows (Kraft brand works best)

2 to 5

tablespoons

of water

2

pounds

approx. 8 cups sifted confectioners' sugar (any brand)

1/2

cup

solid vegetable shortening

any brand
Instructions
Place marshmallows in a microwave safe bowl with 2 tablespoons of water and heat for 30 seconds on high, stir well. Continue this process until it's completely melted (this may take about 4 or 5 times)

Take about 3.4 the sugar and fold it into the marshmallow mixture.

Have a bowl of the solid vegetable shortening right next to you and grease your hands generously and the counter top.

Turn the marshmallow mixture onto the counter top and begin kneading the fondant.

Continue re-greasing your hands so the fondant doesn't stick and as you knead it, add more and more of the sugar.

Tip: if the fondant starts to tear, it's to dry and you can add water as needed (about 1/2 tablespoon at a time).

Keep kneading untilt he fondant forms a firm and smooth elastic ball that will stretch without tearing. (this could take about 5 to 8 minutes)

Important: Let the fondant site overnight double wrapped in cellophane to keep it fresh. Before storing it wrap it with a thin layer of vegetable shortening, wrap in plastic and then place it in a resealable bag. Squeeze out at much air as possible. I don't refrigerate mine because it tends to sweat and create a mess.

When you are ready to use the prepared fondant, knead it first and roll it out to about 1/8 inch thick.

To color your fondant: This can be done two ways. You can add icing color to the melted marshmallow mixture before adding the sugar. You can also use icing color that can be painted on as well.
Nutrition facts are provided as a courtesy.