Cranberry and Mint Iced Tea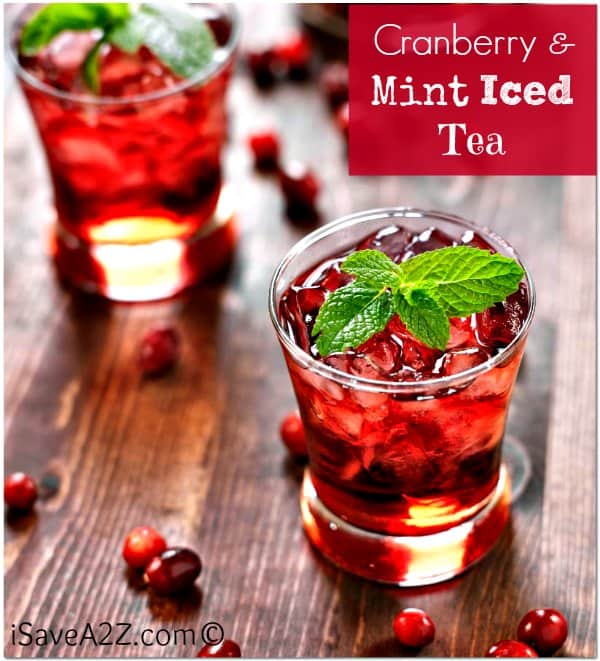 Although we have cut back lately, having sweet tea in our house is just a given! I recently came across this Cranberry and Mint Iced Tea recipe and could not wait to try it. I like experimenting with refreshing drinks like this in the spring and summer. This one definitely did not disappoint! I love minty tasting things anyway, so that was a big plus for me. This will make enough for about six 1-cup servings, but you could always make more for a brunch or get together.
Cranberry & Mint Iced Tea
Ingredients
6

cups

of cranberry juice cocktail. Be sure to use the "cocktail" cranberry juice. Regular cranberry juice will make the tea too tart.

4

regular sized tea bags of black tea

10

mint leaves

2

tablespoons

of sugar
Instructions
Put tea bags and mint leaves in a large glass measuring cup or a heatproof pitcher. I have a 4 cup measuring cup, but a 2 cup will work too.

Heat the cranberry juice cocktail, in a 2 quart saucepan, until it boils. Turn the heat off and pour the juice over the tea bags and mint leaves.

Let the tea steep (just let it sit there) for 5 to 10 minutes.

Strain the tea, taking out the tea bags and mint leaves, and stir in the sugar.

Serve tea over ice.
Notes
You can also make this tea a little extra minty by adding a small sprig of fresh mint to the top of the glass.
I love the way this Cranberry and Mint Iced Tea turned out so I will definitely be making this again. Be sure to also check out some of our favorite flavored lemonade recipes like; Watermelon Lemonade, Kiwi Lemonade, Blue Lemonade and our Raspberry Mint Lemonade!
If you are going to make this or any of our other drinks for a party, I highly suggest making it before hand and using a large dispenser like this! I have two of these and find myslef using them more than I ever thought I would.
Enjoy!