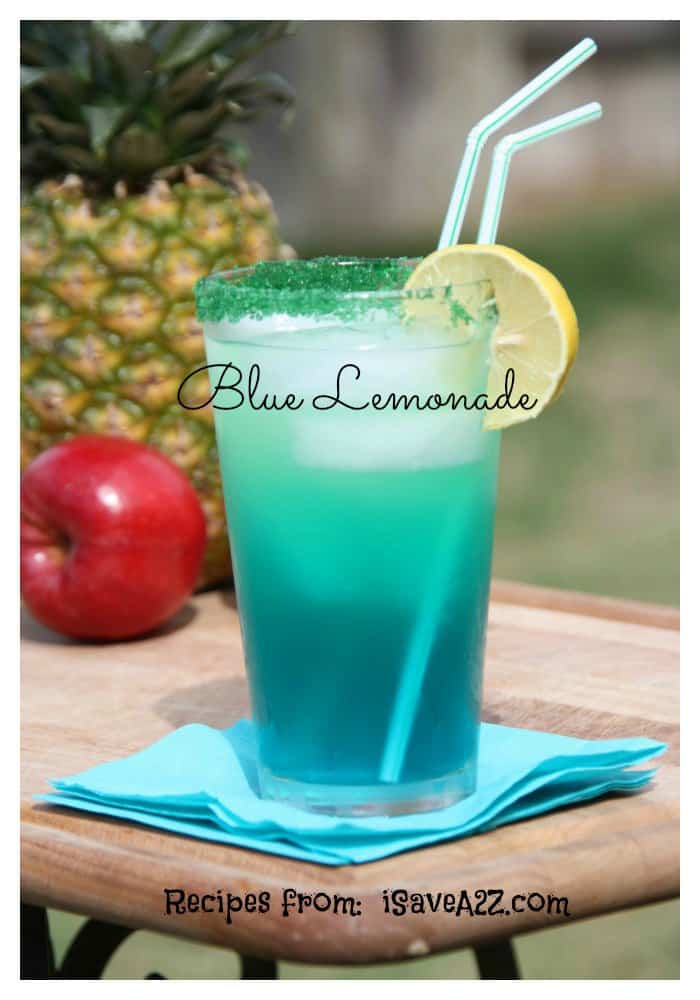 Homemade Blue Lemonade Recipe
By Jennifer Garza, iSaveA2Z.com,
I have three different ways to make this Homemade Blue Lemonade recipe. If you are watching your calorie intake you will want the Skinny Homemade Blue Lemonade Recipe or it you want a twist, you can make it into a Hard Blue Lemonade too!  Be sure to check out all of our homemade lemonade recipes here.

Ingredients:
– 1/2 cup white sugar
– 1/2 cup water
– 1/2 cup blackberries or 1/2 cup of blueberries
– 3 cups cold water
– 1/2 cup fresh lemon juice
– 6 cups of ice cubes
Prep Time: 5 minutes
Cook time: 0 minutes
Yield: 6 cups
Instructions for the Homemade Blue Lemonade Recipe:
Start by squeezing out the juice of your fresh lemons using a lemon squeezer.
Next, start to puree the blueberries and blackberries and pour the contents into a strainer when done.
In a sauce pan, add the sugar and a 1/2 cup of water heating in on medium heat until the sugar dissolves (about 5 minutes or so). This will be the base of your lemonade. Remove it from the heat. Stir in the other 3 cups of cold water and the freshly squeezed lemon juice.
TIP #1: In my photo I sugar coated the rim of each glass with colored sugar crystals.
Tip #2: If you are not getting the color you desire for your drink, simple add some food coloring! I like the Wilton food colors because they are vibrant!
Divide the ice between 12 glasses and add a few spoonfuls of puree first, then top with the lemonade. Gently stir it before serving.
Voila! That's it!
Skinny Blue Lemonade:
When I am trying to watch my calorie intake I use a different method for making this recipe. There are all different kinds of Blue colored and Lemon Liquid drink mixes that have no calories (or have very few calories). I use these mixes to create a Blue Lemonade drink and serve it with ice. Perfect for those wanting a "skinny" lemonade recipe.
Hard Blue Lemonade:
Simple add any alcohol you want to either above recipe to create your favorite hard lemonade drink.
And lastly, if you need a bit more inspiration for drinks try this cookbook:
Summer Drink Recipes: The Tastiest Summer Cocktails, Lemonade Recipes, And Drinks For Year-Round Refreshment (Tastiest Drink Recipes Cookbooks)
Enjoy!