2 Ingredient Nutella Brownies

2 Ingredient Nutella Brownies
Check out our new and amazing recipe for our amazing 2 Ingredient Nutella Brownies! If you have been looking for a fantastic and easy recipe for a great dessert, then you can look no further! The recipe below will bring you through all of the steps you will need to take in order to make this super easy 2 Ingredient Nutella Brownies! If you happened to like this recipe, then you should be sure to check our our other great recipes! Such as our Coconut Cream Cheese Pound Cake, our Pumpkin Pie Cake, our Pumpkin Pie Bites, our Pumpkin Pie Fudge, or even our Baked Apple Chimichangas, and plenty of others! Whenever you are in need for a nice dessert, then you should check these out! Any of these recipes should be perfect for any occasion that you might be needing a delicious dessert recipe for!
If you liked this recipe that we have here, and you would like to explore some other great Nutella related recipes, then you are in luck! There's this neat cookbook here that is filled with nothing but unique recipes with Nutella as a main ingredient! This cookbook will be absolutely perfect for any of your nutella recipe needs! Be sure to check them out! You definitely will not be disappointed!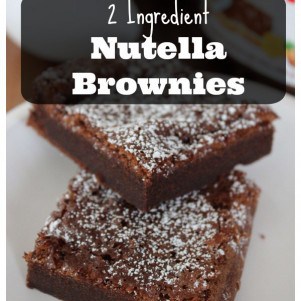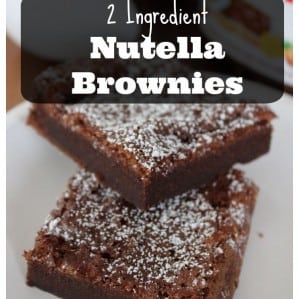 2 Ingredient Nutella Brownies
Instructions
Preheat oven to 350.

Line an 8?8 baking pan with parchment paper.

Beat eggs on high 7-10 minutes (until they roughly triple in size).

Heat Nutella by microwaving for 60 seconds, stirring and repeating until very warm.

Slowly add warm Nutella to eggs, beating until thoroughly combined.

Pour batter into prepared pan and bake for 30 to 35 minutes (until a toothpick inserted in center comes out almost clean).

Cool completely before cutting.

Optionally, dust with powdered sugar.
Nutrition facts are provided as a courtesy.