Bacon Blue Cheese Jalapeno Poppers Recipe

Bacon Blue Cheese Jalapeno Poppers Recipe
It's just about time for the big game and one the menu today is our Bacon Blue Cheese Jalapeno Poppers.  These babies are always a hit!  They are super easy to make and super delicious to eat.
My mouth is watering as I talk about this recipe.  I have a 10 year old that hates anything spicy.  She has never had a jalapeno until I made these.  She tells me that she always thought jalapenos were spicy and yucky.  She never realized they could taste good without being spicy.  That's the perfect way to explain this recipe.  They are full of flavor but not spicy.  The trick is to make sure you remove every. single. seed!  If you leave just one seed in a jalapeno you will get some spicy.  So if you like the spice, you may just leave a few seeds in.
Cooking Tip:  Most people think of the silicone baking mats for pastry dough recipes or breads.  I use them on my baking sheet for these types of recipes too.  Bacon can be difficult to clean and these silicone baking mats make cleaning the tough bacon mess a breeze.  It just wipes right off with a perfect amount of Dawn dish soap.  I use the Artisan Baking Mats found here on Amazon because they are inexpensive and rave with good reviews!  They are always on the Best Seller list.  I've had mine about 4 years now and they are just like new.

There is a distinct difference between these and our regular Easy Jalapeno Cream Cheese Poppers recipe too.  The cream cheese is the traditional way to make them but if you want to turn it up a notch, try the blue cheese.  Blue Cheese has a sharp taste that goes perfectly with the flavor of the jalapeno.  If you ask me, bacon goes with almost everything but when you combine the blue cheese, bacon with jalapenos, you get a 5 star appetizer that is crowd pleasing.
Here's how to make our Bacon Blue Cheese Jalapeno Poppers Recipe: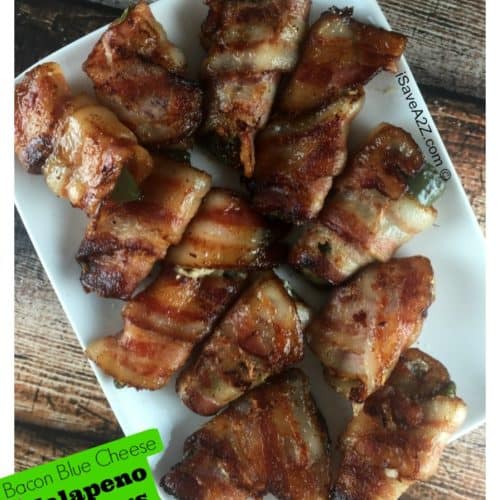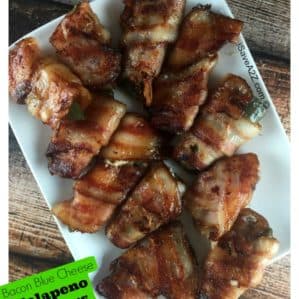 Bacon Blue Cheese Jalapeno Poppers Recipe
This recipe is perfect for a party appetizer! Especially a football game!
Ingredients
8

jalapenos

medium size

1

cup

blue cheese

1

small package thick cut bacon
Instructions
Slice the jalapenos in half and remove the seeds

Use the back side of a spoon to spread some blue cheese in the jalapeno half

Wrap with one full strip of thick cut bacon.

Place it on a baking sheet with the ends of the bacon faced down.

Bake for about 20 minutes at 350 degrees or until the bacon is crispy.
Nutrition facts are provided as a courtesy.
We have a few other good recipes on the menu for our big game party today:
Cilantro Jalapeño Dip Recipe:  this recipe is perfect with corn chips or you can use it as a spread on your hamburgers too.
Easy Pull Apart Pizza Bread Recipe:  We love how easy this recipe is and we make it often.
Skinny Watermelon Moonshine in a Mason jar:  Don't let the skinny part drive you away from this recipe.  It's a must have at get togethers!
and Ice Cold Beer just to name a few!
Here's a Pinterest friendly photo in case you want to "pin it" for later: