Snow Ball Cookies
Check out our neat recipe for our amazing Snow Ball Cookies! If you're looking for some great Christmas and other holiday sweets, then this is perfect for you! If you happened to like this recipe, then you should definitely check out some of our other great sweets! Such as our Frozen Peppermint Pie recipe, our Eggnog Cinnamon Rolls recipe, our Eggnog Cookies recipe, our Christmas Cake Roll recipe, our Coconut Cream Cheese Pound Cake recipe, our Pumpkin Pie Cake recipe, our Pumpkin Pie Bites recipe, our Pumpkin Pie Fudge recipe, or even our Baked Apple Chimichangas recipe, and plenty of others! Any of these great recipes would be great as a family dessert when it comes to be the time for the holidays! Don't miss out on a great holiday opportunity with any of these gret sweets!
If you happened to like any of the recipes I have listed here, then you should definitely try out this neat cookbook for everything sweet and wonderful! You will be sure to find the best dessert recipes with this! With all of these recipes here, you will be sure to find the perfect recipe for any occasion that you could need something sweet! Don't keep these sweets waiting!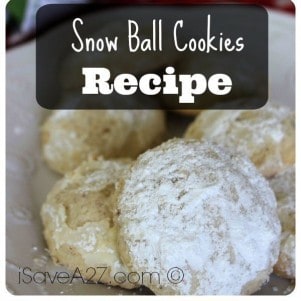 Snow Ball Cookies
Instructions
Preheat oven to 325.

Chop nuts in food processor to finely chop.

Cream butter, salt and 1/2 cup powdered sugar together until fluffy.

Add in nuts and vanilla and beat until blended.

Slowly add in flour, mixing well.

Shape into 1/2-3/4" balls.

Place on ungreased cookie sheet.

Bake for 20 minutes.

Allow to cool before removing from cookie sheet.

Fill a zippered bag with remaining powdered sugar.

Gently shake each cookie in bag so it is well coated.
Nutrition facts are provided as a courtesy.