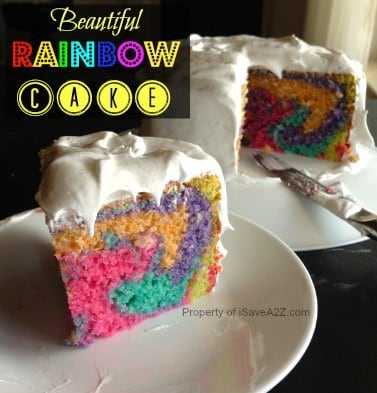 Rainbow Cake Recipe and Tutorial
This Rainbow Cake recipe was fun to make and delicious to eat.  My kids had a blast with all the colors.  This version of the rainbow cake is more of a tie dye cake and it's baked in one pan.  If you want the true rainbow layers cake you can follow the same instructions expect bake each color separately to create the layers.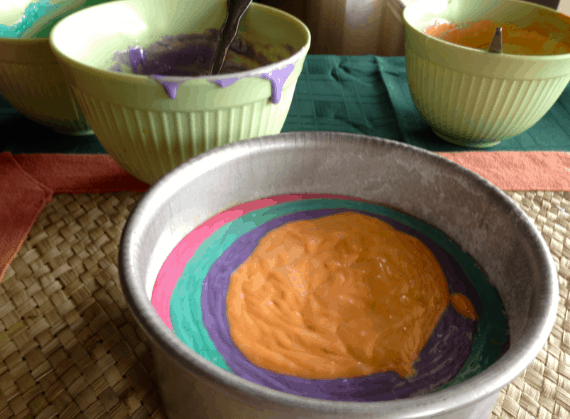 You could also turn this into a Boy's Camouflage cake too.  You would follow the same exact steps but it would require for you to mix the right colors to get the camo look.  The camo cake would have dark green, light green, brown and leave bits of the cake it's normal white color.  Chocolate frosting would go nicely on that one.
(photo credit:  Savingdougssanity)
Ingredients Needed to make a rainbow cake:
Vanilla or white Cake mix boxWilton Gel Food Colorings of your choice – I used these colors exactlyBetty Crocker Home style Fluffy White Frosting Mix
Rainbow Cake Instructions:
Prepare the cake according to the instructions on the box.  Don't mix it all the way because when you will mix it again later when you mix in the food coloring.  (I don't want you to over mix it)
Separate the colors evenly in different bowls.  We used five different colors for our rainbow cake recipe.
Add about 3 to 5 drops of Wilton Gel Food Coloring to your cake mix and finish mixing it together.
Grease and flour your cake pan before you add the batter.
Pour each color into your pan one by one.  Always pour the next color right in the center of the previous color (as seen in photos below).
Bake your cake according to the instructions on the box.
Completely cool the cake before you add the frosting.  My absolute favorite frosting is Betty Crocker Home Style Fluffy White.  It's a light and fluffy frosting that isn't too sweet with almost a marshmallow texture to it.  My family loves this frosting so we seem to always have it on hand!  You can find it at your local supermarket in the baking isle.
Just look at the fluffiness!!  The kids usually lick the bowl clean!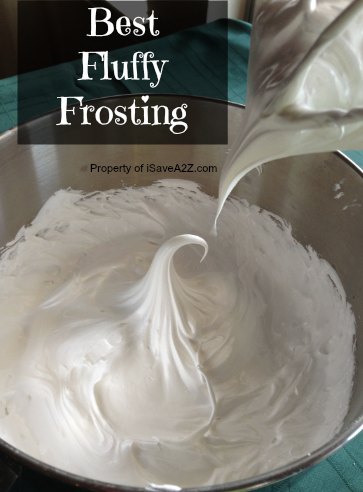 Here are photos of the step by step process to make the Rainbow Cake:
[nggallery id=2] [imagebrowser id=2]
If you liked the Rainbow Cake, then you've got to see our No Bake Ice Cream Cake Tutorial here!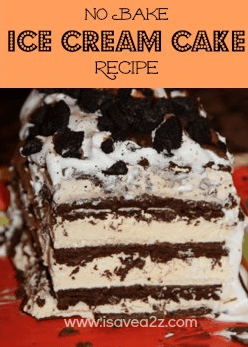 Our check out our Healthier version No Bake Watermelon Cake tutorial here!