How To Make Enchiladas – Enchilada Recipes

How To Make Enchiladas – Enchilada Recipes
I have a really good tutorial on how to make enchiladas.  There are many different ways to mix this recipe up a bit depending on your tastes.
You could make plan cheese enchiladas to add almost any kind of meat you want to it.  In this recipe I used some left over shredded beef.  I've made this same enchilada recipe with chicken, ground beef, ground turkey and many different kinds of cheeses too.  My favorite is almost always mozzarella cheese though.
I grew up eating all kinds of authentic Mexican dishes.    Most of them homemade from scratch including the sauces.  I don't know about you but I don't have that much time to spend in the kitchen.  The sauce is what makes the recipe for enchiladas.  I highly recommend Gebhardt Enchilada sauce!  It's the closest thing to homemade that comes in a can.   Yeah, it's that good!  It's got just the right amount of seasonings with out a spicy outcome.  My kids are not fans of spicy foods at all.
Enchiladas were one of my favorite right along side Fideo.  Fideo is a authentic mexican pasta recipe.  Read my post on how to make Fideo here.  I always make a side of Crockpot Pinto Beans with my homemade Fideo.  The crockpot beans are super easy.  All you have to do is add Fiesta Pinto Bean Seasoning to the pinto beans.  You can add bacon too but the seasoning is all you need.  Be sure to keep adding water to your crockpot if needed.  Also, there is one tip or Crockpot beans you need to know.  Soak them overnight.  Rinse the old water that they were soaking in before you add them to the crockpot.  This is a trick we were taught long ago to help make you beans be less gassy for you.  🙂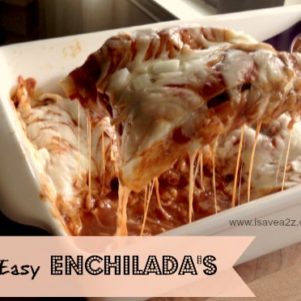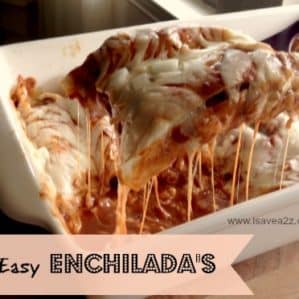 Super Easy Enchiladas Recipes
Super fast and easy enchiladas recipe that you can make with left over meats or just plain cheese.
Ingredients
Corn Tortilla's

I used the white corn in this recipe

Mozzarella Cheese

Optional Onions

Optional Meats: Chicken, Shredded Beef, Ground Turkey, Ground Beef etc...
Instructions
Place your corn tortillas in a bowl of water right before you start. This will allow them to soften and roll nicely without them breaking.

Grab one tortilla and place a small amount of cheese, meat and onion in it.

Roll the filled tortilla and place the flap side down in a casserole dish so that the tortilla doesn't unroll. (as seen in the photo)

Continue this step until the casserole dish is completely filled.

Pour the Gebhardt Enchilada Sauce on top of each filled tortilla.

Sprinkle the top with more onions and cheese (onions are optional)

Bake on 350 degrees for about 30 minutes (just enough time to melt the cheese and heat the enchiladas.

Serve warm.

Enjoy
Nutrition facts are provided as a courtesy.
Here are photos I took as I made my enchiladas: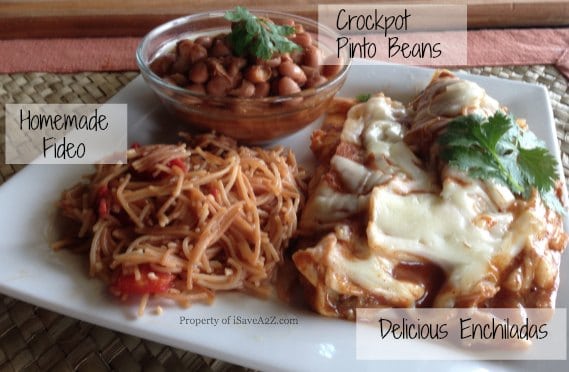 Tips you need to know:
Use Gebhardt sauce (because it's the best tasting)
Soak the tortillas in a bowl of water for about 3 to 5 minutes before you start so the tortillas will be flexible
Serve with Pinto Beans and Fideo (Authentic Mexican Pasta)
Oh and that beautiful Cilantro is from our Raised Garden bed!  The cilantro you grow yourself and so much more flavor than the store bought stuff so you really don't need as much either.  YUM!
[nggallery id=1]
[imagebrowser id=1]