Raised Bed Garden Designs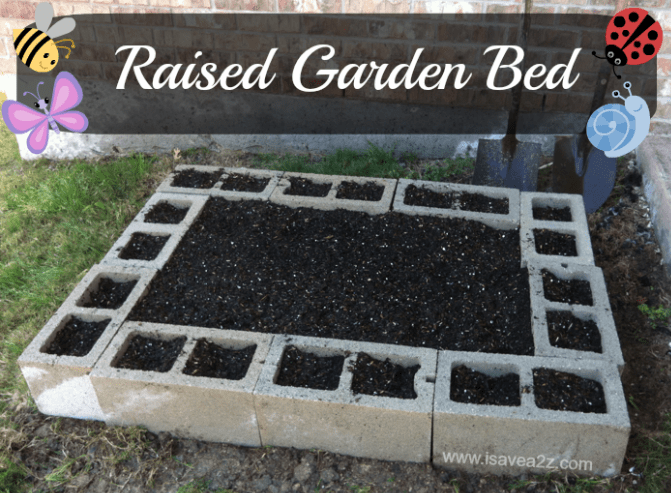 Raised Bed Garden Designs
If you are looking for raised bed garden designs, look no further! This raised garden is one of the easiest plans you can do!
My daughter is eight years old and wanted a garden of her very own really bad. I'm not sure how dedicated she will be to this garden to I decided not to take a huge portion of my backyard for her new found love of gardening. Not yet anyway.
She recently outgrew her homemade tent bunk bed make from cinder blocks so I had no need for these anywhere else around the house. These are just what I needed for my garden planning project!!
I also want to include a few tips from long-time reader, Karen:
We use the 'holes' in the blocks as pots. We used them for invasive but well-loved plants like Mint and Lemon Balm.
Another tip, make your own soil with Mel Bartholomew's Square Foot Gardening (2nd Edition) soil mix. It's much cheaper and MUCH better.
Mel's Mix is 1/3 Garden Compost, 1/3 peat moss, and 1/3 Vermiculite. (Buy the vermiculite in bulk. It's WAY too expensive to buy small batches at the big retailers.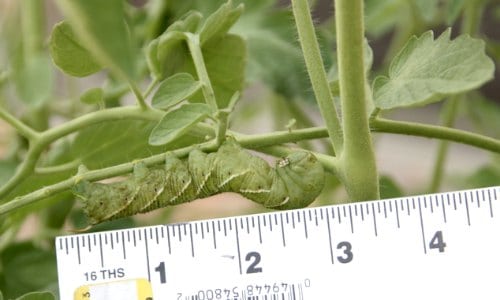 Here's an update: Look at the little creature we found in our garden today! Wow! He's not so little, is he? After much research, it turns out that this is a Moth Hawk caterpillar and it will devour your tomatoes within hours! If you are looking for a non-chemical way to treat them, here are a few options: Fresh Garlic mixed with water will repel them. Dawn soap with water will coat the plants and create a glue they don't like. I was also told to just pick them off and get rid of them. Usually, there are only one or two but they are very hard to see. If you don't mind using chemicals then I hear seven dust is the stuff to use. I am planning the no chemical route so I didn't try this option.
Garden Supplies and Directions for any raised bed garden designs:
First, Level out the space you want to use. This is probably the hardest and most time-consuming part besides lifting the cinder blocks. Keep in mind when choosing a spot in your yard of what you actually want to grow. Does it need full sun or part sun? Shade? Part shade? Knowing ahead of time what you want to grow will help you determine the amount of space you need too.
After your space and been chosen and leveled you want to lay out the cinder blocks with the holes facing up. This will kept the potting soil in the garden and give you extra space to plant something in between the cinder block holes too. If you plan to make a deeper garden than what we did you could also fill them with dirt (not potting soil) to make them sturdier too.

Before we adding the soil we laid cardboard boxes at the bottom of the garden so we wouldn't get weeds or grass growing in our garden. I've also heard the cinder blocks have chemicals in them so we made sure to put the box flaps all the way up on the sides of the blocks too. You could also lay down a weed barrier fabric if you didn't want to do the boxes. The boxes where highly successful in keeping the weeds out of our garden though so I will definitely be doing this again!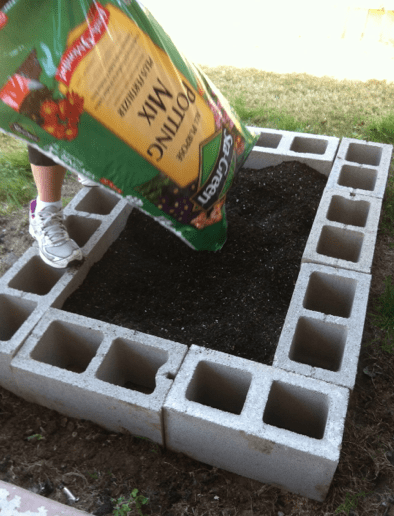 Next you can put down a layer of rocks or straw to help with the drainage if needed. We did not do this step in our garden.
Finally you are ready to add your soil! We used a potting mix type soil as recommended for starting a garden. My daughter has chosen to plant onions, cilantro, tomatoes, carrots and lots of flowers! She is beyond excited! I couldn't be more happier with our easy DIY project!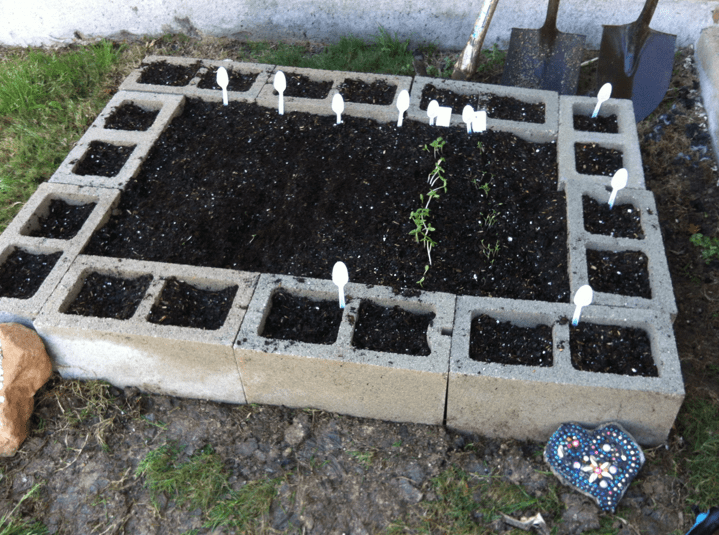 If you wanted to get really artsy you could paint the cinder blocks or even do a bit of mosaics on them before starting your garden too!
We started out used plastic spoons and a sharpie marker to write what we were growing but later ended up painted some beautiful rocks to display what is growing where! That's it! How easy is that! She is so incredibly proud of her garden and she can't wait to see the fruits of our labor.
I have to admit… out of all the gardens I've done this is the most simple of plans.
Be sure to check out our Planting Bulbs and Daisy Garden posts! I think you will like them!
One of our favorite gardening books is the All New Square Foot Gardening, Second Edition: The Revolutionary Way to Grow More In Less Space
Gardening Tip: I don't think I could garden without the use of my Garden Bucket Caddy
I purchase last year. It has been extremely helpful and I highly recommend it! I put my cell phone in one of the spaces so it doesn't get dirty or wet.
UPDATE!
We are extremely pleased with our garden plans! We have not had to pick one weed so the box works nicely. We plan to more than triple our next garden! Here's an updated photo to show our progress! Cilantro anyone?! 🙂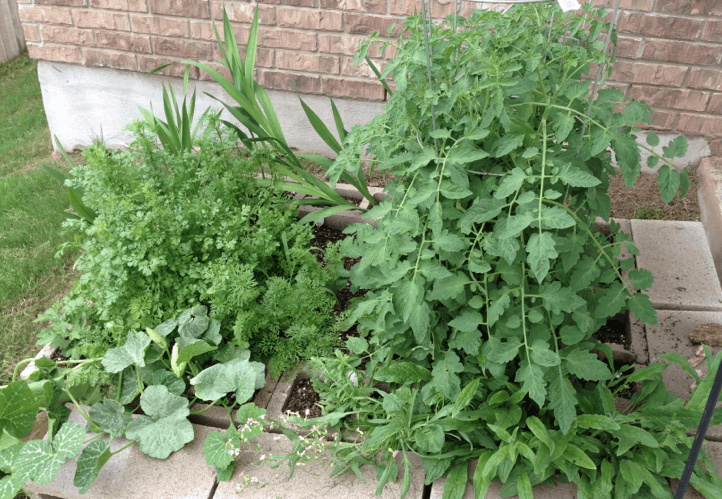 Check out one of my favorite books: All New Square Foot Gardening, Second Edition: The Revolutionary Way to Grow More In Less Space
Greenland Gardener 6-Inch Raised Bed Garden Kit
(it's plastic so there's no rotting of wood!)
Look what's new this year!!! I found an easy way to create a raised garden bed and cheap too: Smart Pots Big Bag Bed Fabric Raised Bed
Stay tuned for updates on our garden.
We have tons more Gardening tips from Daisy Gardens to Vegetable Gardens here!
We just made the most beautiful DIY Concrete leaf garden bowl! Look!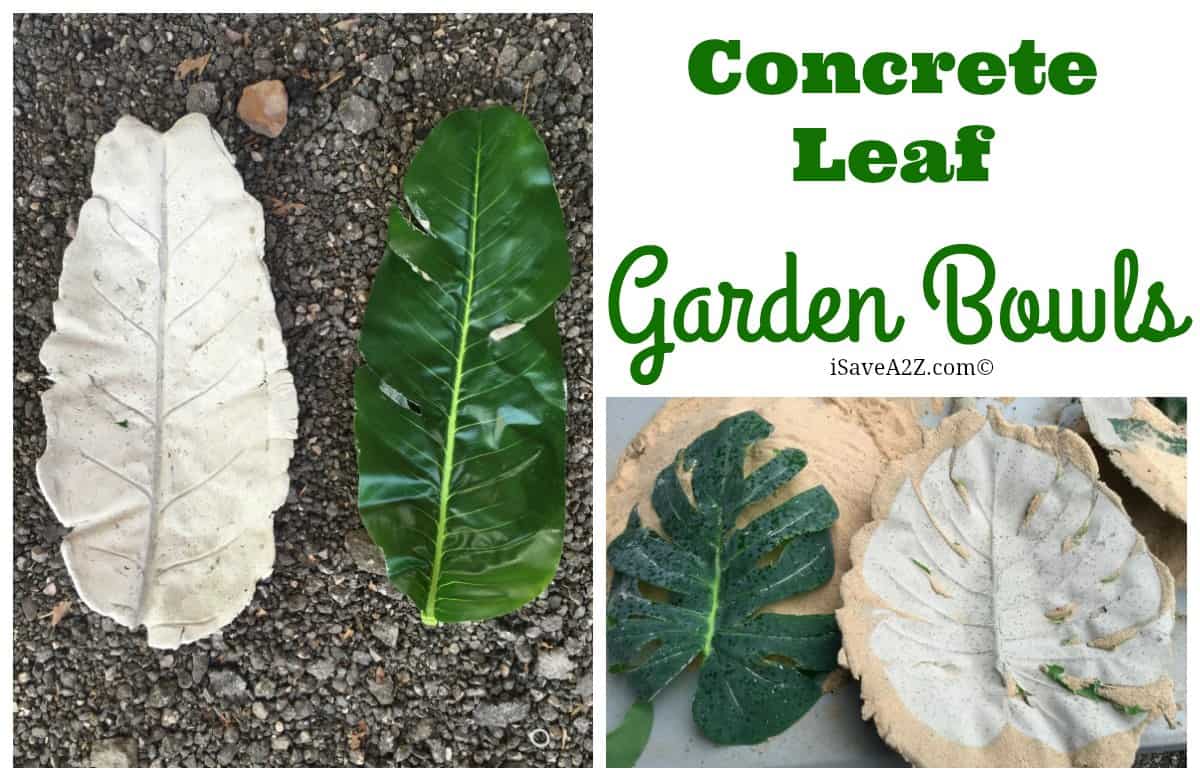 If you enjoyed this post, you may also get a kick out of our Painted Fence Ideas post here!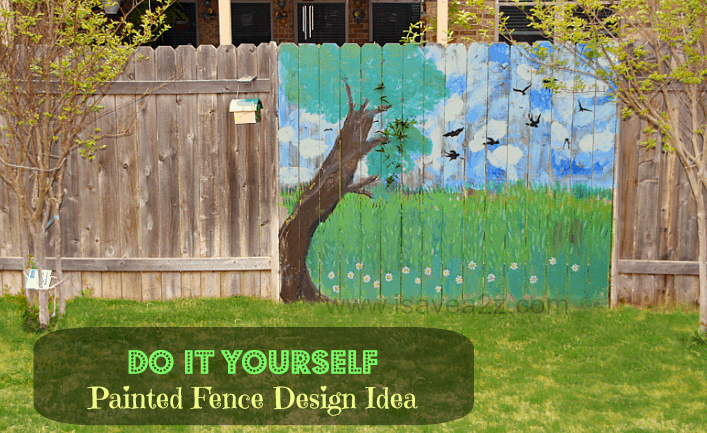 UPDATE! Check out our latest article! We found a hack for watering tomato plants that works amazingly well!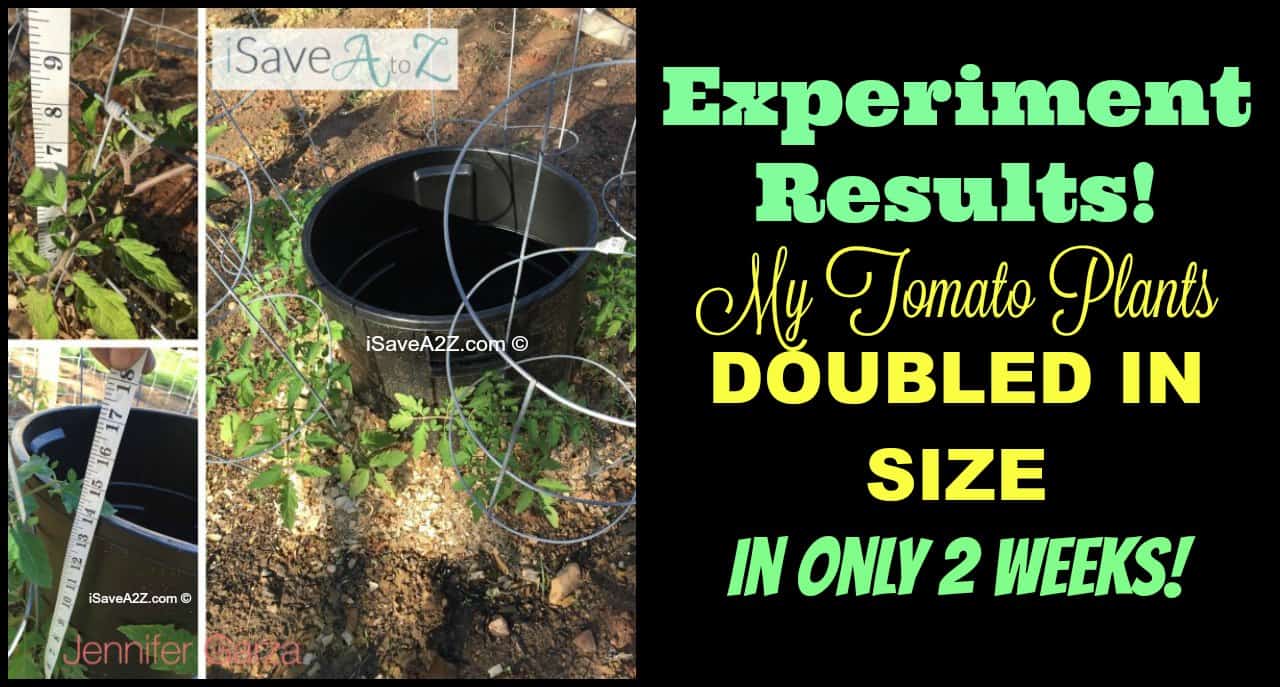 Be sure to look at some of the rocks we've painted and displayed around our garden too.
Artist: Lee Wisner
Update: I just had the sweetest neighbor move in close to me and guess what?!!! She loves gardening and "being green" just as much as I do!!! She wanted to give iSavers a gardening tip by recycling some items that we normally just throw away. She started her own seedlings using toilet paper rolls. How cute is that?!! You can plant them directly into your garden bed with the roll still on it too! LOOK:
Enjoy!
Pin It Here: