Healthy Unstuffed Cabbage Rolls Soup Recipe Ingredients
2 pounds ground beef, ground turkey, or sausage – or a mix between them all.
1 large yellow onion, chopped
1 small head cabbage, chopped
2 (14.5 ounces) cans diced fire roasted tomatoes
1 (6 ounces) can tomato paste
6 oz water (or part vegetable or broth for more flavor)
2 cloves garlic, minced
2 teaspoons salt
1 teaspoon ground black pepper
Optional for extra spice:
1 teaspoon Crushed Red Pepper
1 teaspoon Cumin
A few leaves of chopped fresh basil
Healthy Unstuffed Cabbage Rolls Soup Recipe Instructions
Heat a Dutch oven or extra large skillet over medium-high heat.
Drizzle a teaspoon of olive oil and cook the onions until translucent. Cook beef or turkey meat and onion in the hot Dutch oven until browned.
Drain and discard grease.
Add the chopped cabbage, tomatoes, tomato paste, water, garlic, salt, pepper, crushed red pepper, cumin, and fresh basil. I found by using the fire roasted tomatoes it made a huge difference in taste.
Bring the ingredients to a boil.
Cover Dutch oven, reduce heat and simmer until cabbage is tender. This will take about 30 minutes.  Note: It may seem like you don't have enough water at first but when the cabbage cooks down it will be perfect
Unstuffed Cabbage Rolls
There are tons of healthy unstuffed cabbage rolls recipes out there or cabbage roll soups, but I ended up making mine with a bit more spice to bring it to a whole new level.  Not only that but I am trying to eat more of the super foods like cabbage.  In fact,  I was just reading on Wiki that studies show cabbage has protective effects against colon cancer amongst many other diseases.  Cabbage is also an excellent source of vitamin C, vitamin K, dietary fiber, vitamin B6 and folate.  So you may as well make an awesome recipe with something that is really good for you right?!
There are few "healthy" recipes that the whole family agrees upon but this is one they all like.  If you don't like spice, I suggest not adding the crushed red pepper.  It's not too spicy but the kids will notice it.
Recipe Notes for Unstuffed Cabbage:
This recipe has been extremely popular and lots of readers have commented on different spices they have used to make it even better.  Here are some suggestions I've received:
add a little brown sugar, celery seed with some crushed red pepper. (not for keto of course)
Add 1 Tbs of Worcestershire sauce ….. I PROMISE it makes the whole dish taste very different and worth it!
I always make a huge batch of this dish because it gets devoured in no time.  My Cuisinart 6 quart pot is the best!!
You might also be interested in this Keto Chicken Parmesan Recipe that's made in a slow cooker!  It's totally delicious and super easy to make.
Healthy Unstuffed Cabbage Rolls Soup Recipe Nutrition Label
If you've tried a new spice variation leave a comment below!  I would love to hear about it.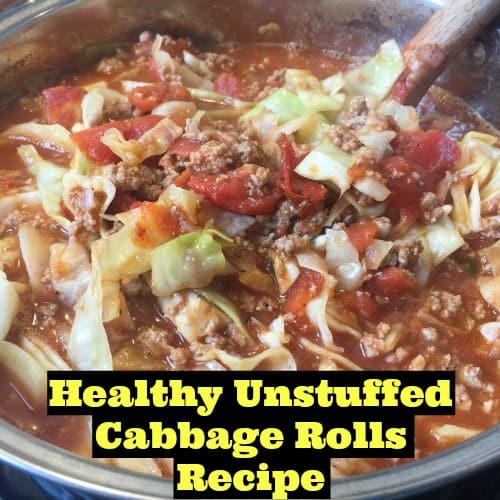 Ingredients
2

pounds

ground beef

ground turkey, or sausage - or a mix between them all.

1

large yellow onion

chopped

1

small head cabbage

chopped

2

14.5 ounces cans diced fire roasted tomatoes

1

6 ounces can tomato paste

6

oz

water

or part vegetable or broth for more flavor

2

cloves

garlic

minced

2

teaspoons

salt

1

teaspoon

ground black pepper

Optional for extra spice:

1

teaspoon

Crushed Red Pepper

1

teaspoon

Cumin

A few leaves of chopped fresh basil
Instructions
Heat a Dutch oven or extra large skillet over medium-high heat.

Drizzle a teaspoon of olive oil and cook the onions until translucent. Cook beef or turkey meat and onion in the hot Dutch oven until browned.

Drain and discard grease.

Add the chopped cabbage, tomatoes, tomato paste, water, garlic, salt, pepper, crushed red pepper, cumin, and fresh basil. I found by using the fire roasted tomatoes it made a huge difference in taste.

Bring the ingredients to a boil.

Cover Dutch oven, reduce heat and simmer until cabbage is tender. This will take about 30 minutes.

(Note: It may seem like you don't have enough water at first but when the cabbage cooks down it will be perfect)
Nutrition
Serving:
1
bowl
|
Calories:
161
kcal
|
Carbohydrates:
3.2
g
|
Protein:
25.5
g
|
Fat:
4.6
g
|
Fiber:
1.2
g
|
Sugar:
1.8
g
Feel free to Pin It for later here: