Turkey Cupcakes
Check out our neat and amazing recipe for our unique Turkey Cupcakes! If you have been looking for some cute sweets for this upcoming Thanksgiving, then you can look no further! The recipe below will bring you through all of the steps that you will need to take in order to make these amazing Turkey Cupcakes! If you liked this recipe, be sure to check out our Caramel Apple Cupcakes Recipe, our Pudding Filled Cupcakes Recipe, or even our Banana Cupcakes with Cinnamon Frosting!
If you just so happen to bake sweets quite often, and you are looking for some new recipes to try, then this neat cookbook here might be of interest to you! With the recipes here, and the recipes you will find in that cookbook, there is absolutely no way you can go wrong! Try them out and see what you think!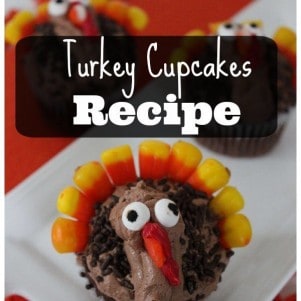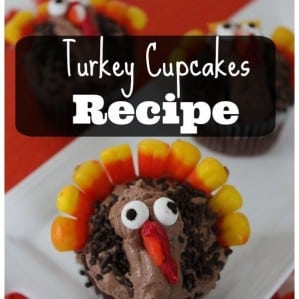 Turkey Cupcakes
Instructions
Bake cupcakes according to box directions.

Allow to cool.

Whisk or sift together cocoa powder and powdered sugar.

Cream butter and vanilla in a large bowl

Slowly add in the powdered sugar cocoa powder mixture, and milk as needed, until everything is incorporated and frosting is right consistency.

Beat for 5 minutes to make sure it is fluffy.

Ice cupcakes then sprinkle or dip tops in chocolate sprinkles.

Insert 5-7 candy corns along the back edge of each to make tail feathers.

Pipe more icing from the fron edge to the middle of each to make turkey neck and face.

Push 1 candy corn into head to make beak.

Place 2 eyes above beak.

Place red melting chips into corner of zippered sandwich bag.

Microwave for 45 seconds and knead to insure that they are melted and smooth.

Clip corner and pipe a waddle on the beak and down the neck of each turkey.
Nutrition facts are provided as a courtesy.