Best Strawberry Crepes
Check out our new recipe for the Best Strawberry Crepes! If you're looking for something sweet and refreshing, then this recipe is great for you! The recipe below will bring you step by step into making these absolutely delicious strawberry crepes! If you like this recipe, you may also want to try our Best Carrot Cake Recipe!
Still not satisfied with any of these desserts? There's no need to give up just yet! Try this cookbook with enough desserts for you to try a new one each day of the year! No more getting bored or tired of your every day sweets, and now you can try something new!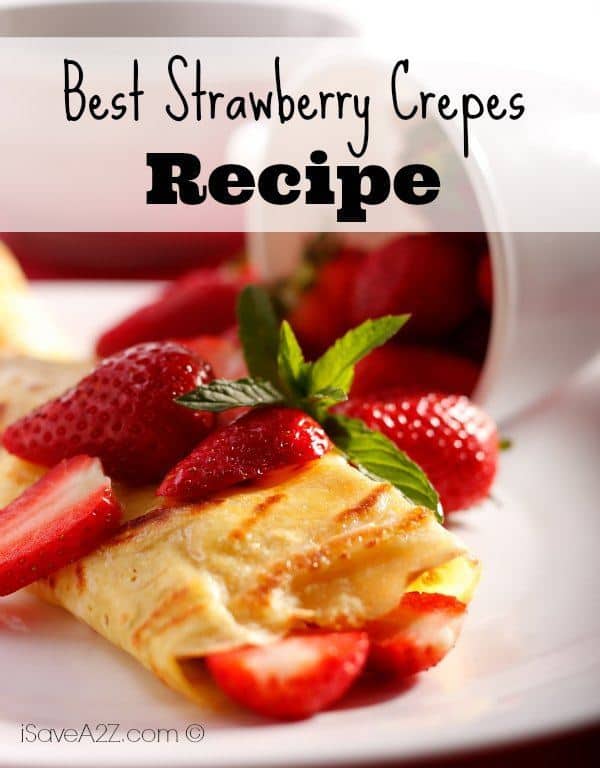 Best Strawberry Crepes
Ingredients
3

eggs

1/2

cup

of milk

1/2

cup

of water

3

tablespoons

of butter

melted

3/4

cup

all purpose flour

1/2

teaspoon

salt

1

8 ounce package of cream cheese, softened

1 1/4

cups

of sifted confectioners' sugar

1

tablespoon

of lemon juice

1

teaspoon

of lemon zest

1/2

teaspoon

vanilla extract

1

cup

of heavy cream

whipped

4

cups

of sliced strawberries
Instructions
Take your eggs, milk, water, melted butter, flour, and salt, and place them in the pitcher of a blender. Blend this until it is smooth.

Heat a lightly oiled griddle over medium heat. A non-stick skillet could work well too. Pour or scoop the batter onto the griddle, and use about 2 tablespoons for each crepe. Rotate and tip the pan to spread the batter to be as thin as possible. Flip over when this batter is set and when you can see the edges starting to brown. Cook this until the other side begins to brown as well. Stack these finished crepes onto a plate, and be sure to cover them with a damp towel before setting them aside.

Blend your cream cheese, confectioner's sugar, lemon juice, lemon zest, and vanilla with an electric smoother until it is all smooth. Now you can gently fold in the whipped cream.

Before you serve, fill each crepe with 1/4 cup of strawberries and 1/3 cup of cream cheese filling. Roll this up and top it with a small dollop of cream cheese filling and strawberries.
Nutrition facts are provided as a courtesy.