Thumbprint Cookies with Icing Recipe
Thumbprint Cookies with Icing Recipe
Here is a Thumbprint Cookies with Icing Recipe that you can turn into any flavor you want!  I ended up making some Cherry Pie Thumbprint cookies but if you like a different flavor I encourage you to get creative with this one!  I love cherry anything so it just seemed fitting.
These cookies are also a fun and delicious homemade gift idea too.  Perfect if you bake cookies around the holidays.  Just get a cute little container to wrap them in and you have an instant gift.  I love baking for the postal carriers, trash collectors, teachers etc…  They always love a little gift to make them feel appreciated and I love to give it.  In fact, today on my way home I stopped to pick up the mail and saw our pour mail lady outside freezing her tail off just to make sure we get our mail on time.  She wasn't even close to my mailbox so I knew she would be there at least another hour or maybe even two.  I hurried home and made her a homemade cup of hot cocoa and topped it with peppermint whipped cream.  I drove back to the mailbox area and gave it to her.  She was so appreciative!  It's the little things like this that absolutely melt my heart.  I love being able to show a little appreciation for the people who do so much for me on a daily basis.  Hey, I run a deal site and I get lots of mail!  I owe her big time!  lol
Pro Tip:  We have since learned that baking with silicone mats helps to make the perfect cookie ever single time and we use them now.  Not that you can't bake with out them but it really helps the cookie bake perfectly without fail!  If you don't have them, do yourself a favor and get a pair of Silicone Baking Mats for under $20!  You will thank me later!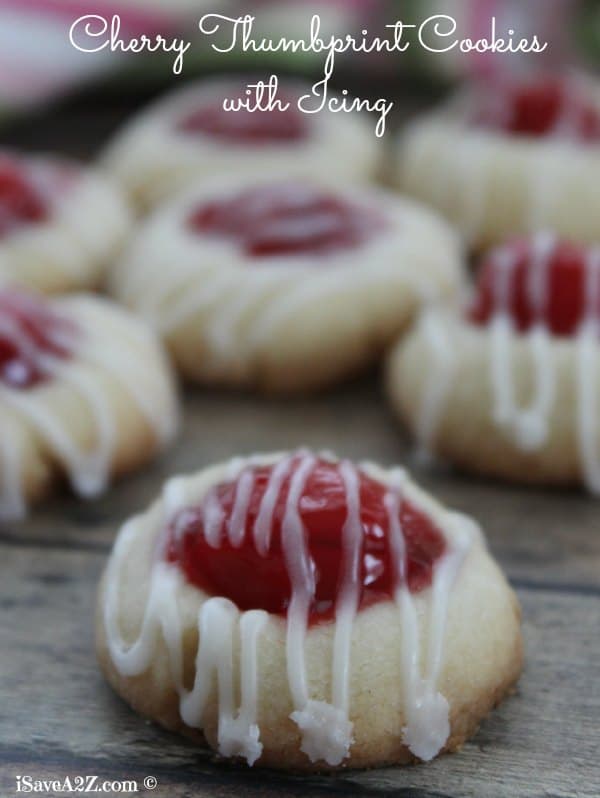 Here's a printable version of the Thumbprint cookies with Icing recipe: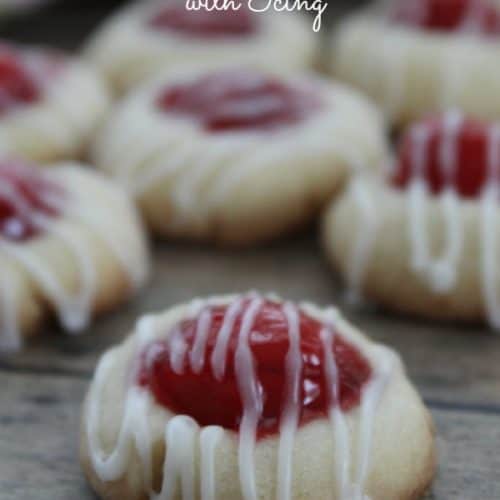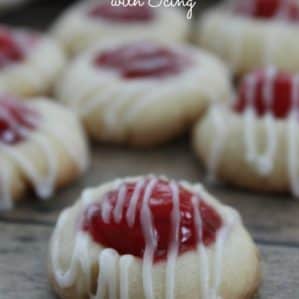 Thumbprint Cookies with Icing Recipe
This recipe makes the best thumbprint recipes ever! Change up the filling to your favorite.
Instructions
Preheat oven to 375.

Cream together butter and sugar.

Mix in flour (dough will look crumbly).

Roll dough into round balls and place on an ungreased cookie sheet.

Make thumbprints in each dough ball and fill with your a cherry from the pie filling.

Bake for 15 minutes until edges start to get lightly brown and cookie sets up.

Allow to cool on cookie sheet for 15 minutes.

Mix powdered sugar with milk and vanilla to make a thick glaze.

Place in corner of zipper bag and clip corner to pipe.

Pipe perpendicular lines across cookie to decorate.
Nutrition facts are provided as a courtesy.
Here's the photos of our process: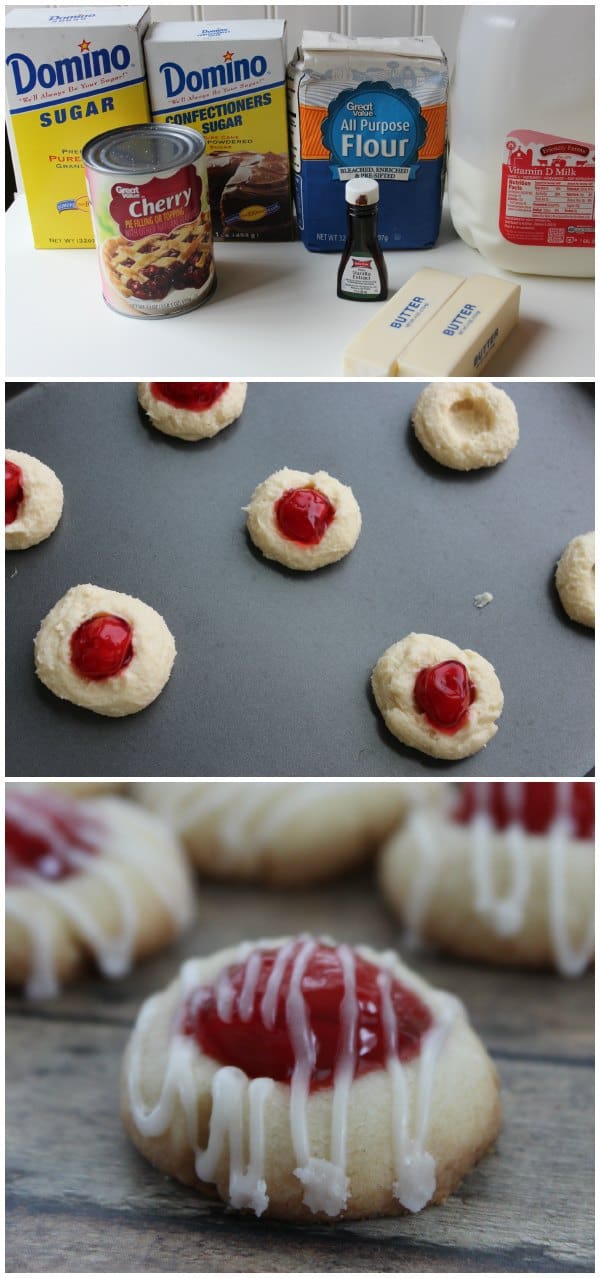 If you happen to be looking for other homemade gift ideas I have a few here!
Now if you like to give homemade Gifts in a Jar, then we have a few good ideas for you to try:
All of our Sugar Scrub recipes are extremely popular and worth trying!
We also have a ton of very popular holiday recipe ideas if you are looking for something edible!  Try anyone of these: