Homemade Body Butter Cream Recipe (Lavender)
Homemade Body Butter Cream Recipe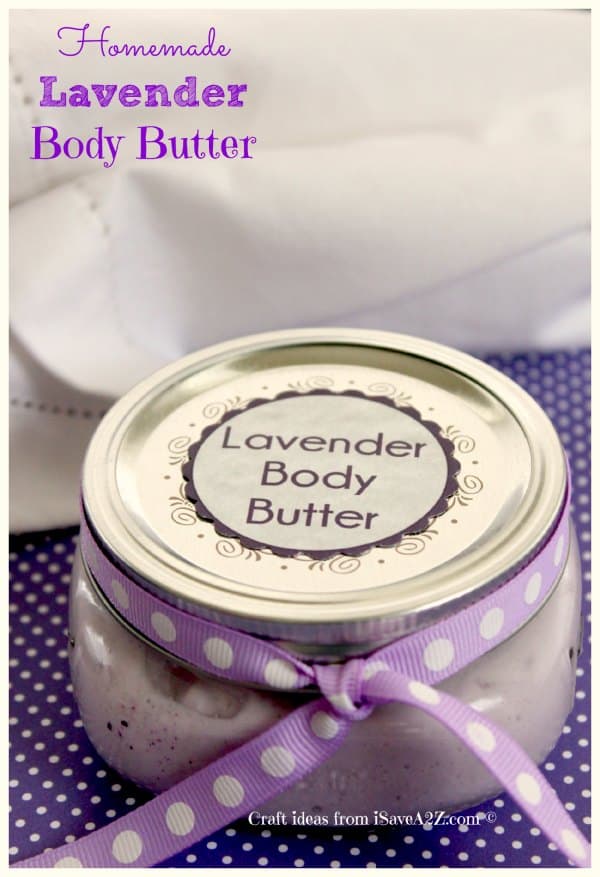 Check out our newest recipe for a homemade Body Butter Cream recipe in Lavender!!  The season is upon us for that horrible dry skin and this homemade body butter cream can help!  This will moisturize and soften your skin like nothing I've ever tried before.  It works wonders for this time of year.
This homemade lavender body butter cream recipe would make a perfect gift idea too.  I love making homemade beauty products that are all natural!  These gifts are perfect for friends, relatives, teachers, pregnant Moms etc…  This recipe is perfect for anyone with sensitive skin.
Making the gift is easy.   We love using our 100% Raw Shea butter.  In this recipe we used Lavender Oil but you can use any of your favorite essential oils.  Once it's made all you have to do is add it to a cute little mason jar and decorate it with a fun ribbon.  We have even included some Free Lavender Body Butter Cream Printable Labels for you.  Print them on easy peel labels.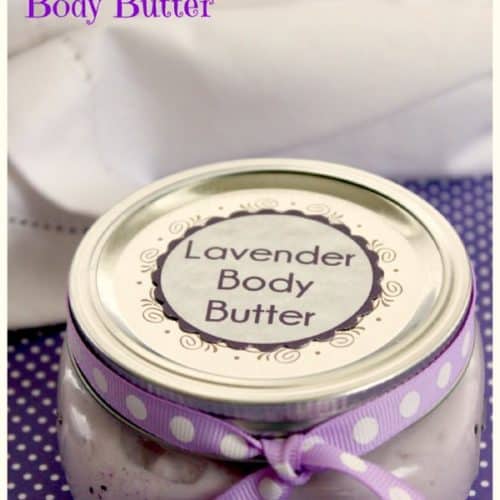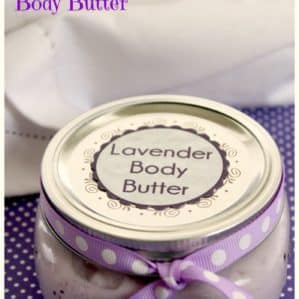 Homemade Body Butter Cream (Lavender)
Ingredients
1/2

cup

Coconut Oil

2

tbsp

Shea Butter

6-8

drops Purple Coloring

optional
Instructions
Put ingredients into bowl.

Beat with electric mixer until blended.

Scrape down sides periodically to make sure it is mixed well.

Then increase speed and whip for 5 minutes.

Put your body butter into the jar.

Add a Label to the top and maybe a ribbon to gift.
Nutrition facts are provided as a courtesy.
We used the liquid dyes in purple color to give this homemade body butter cream it's color.  These are the same types of dye colors you use in homemade soaps.  You can purchase just the primary colors and mix equal parts of red and blue to make the color purple.  I've also heard you can use regular food coloring but I haven't tried that yet myself.
I had a heck of a time trying to find the right sized jar for this gift.  You don't want it to be too big and you don't want it to be too small either.  I found the wide mouth half pint mason jars work just perfect.  Do yourself a favor and order them online because they are super hard to find in the stores.  If you are lucky you may find some jars at the dollar store but it's hit or miss and they almost never have something you want right when you want it.  You know what I mean right?!
Some people also call this recipe a whipped body butter cream.  When you whip it with the mixer it creates a super light lotion that's amazing!
Here are a few photos of our process: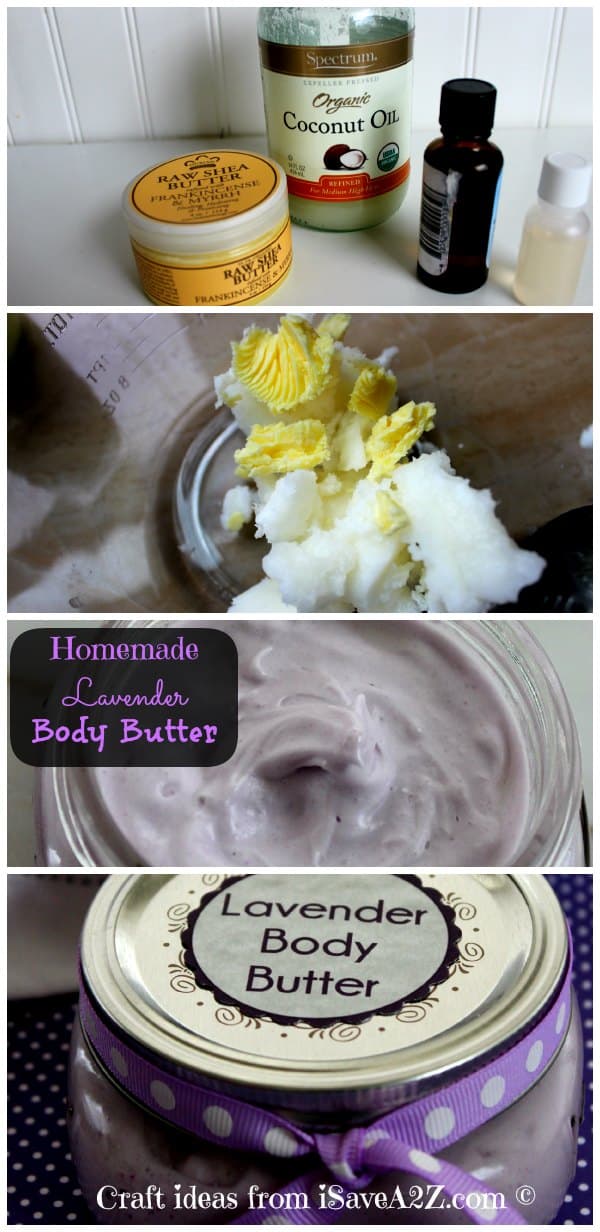 Here are a few other recipes that you may be interested in if you like to give gifts in a jar!
Homemade Coffee Sugar Scrub Recipe In a Jar
Homemade Peppermint Sugar Scrub Recipe In a Jar
Mary Kay's Satin Hands Copycat Sugar Scrub recipe In a Jar
Brown Sugar Scrub Recipe In a Jar
Easy Lemon Sugar Scrub Recipe In a Jar
All of our Sugar Scrub recipes are extremely popular and worth trying!