Homemade Sugar Scrub Recipe! Just like Mary Kay's Satin Hands!!!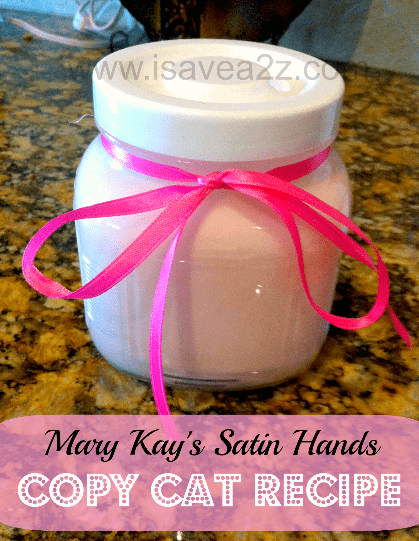 Homemade Sugar Scrub Recipe
I have a super easy recipe for you!  I call it the Satin Hands Copy Cat Recipe!  It very similar to the three sugar scrub recipes but this one only has two ingredients! You can make this as a brown sugar scrub recipe too just change the sugar!
You have got to give this one a try!  If you work in the yard, this is perfect to make your hands super soft again!   You can use this as a body scrub.  I don't think I would use it on my face though.  The sugar can be a bit too rough for that.  This makes an awesome gift and it's super cheap to make too! Oh!  And…  you've also gotta try our Cracked Heel Remedy solution!  It really works!
Be sure to check out my other Homemade Sugar Scrub recipes that are made with essential oils.
[bctt tweet="This is the secret to super soft hands! #SugarScrub"]
Items Needed:
Dawn Ultra Hand Renewal with Olay Beauty Scent Dishwashing liquid (just like the one found HERE on Amazon)  Also, watch for a Dawn coupon. These tend to go on sale at CVS for only 99¢!
One container – I found this one at my local dollar store
Sugar
Labels or ribbon for decorating (optional)  TIP:  When you decorate them, they make a super cute gift idea too!
Pro TIP:   If you have extra dry hands or just like super soft hands then you have got to add 1 tablespoon of Vegetable Glycerin to this recipe!  It will stop the sugars from hardening and it traps moisture in your hands!  I now add this to all my sugar scrub recipes because I love how soft my hands feel!  (I've had a hard time finding it in the stores, so you may do yourself a favor and grab some on Amazon here)
 Directions:
First, add sugar to your container, leaving some room at the top so you can stir it. Next, slowly add Dawn Ultra Hand renewal and stir.  Be careful not to add to much at a time.  You want the consistency to be just like paste or peanut butter.
Viola!  That's it!  Now just seal it and decorate it!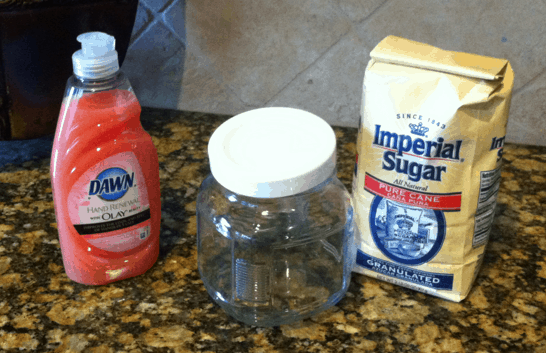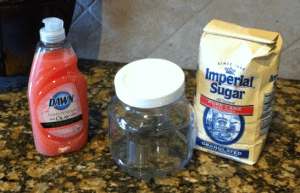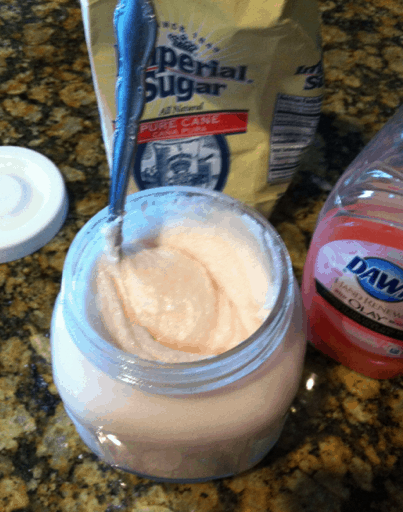 Here are a few other recipes that you may be interested in if you like to give gifts in a jar!
Homemade Coffee Sugar Scrub Recipe In a Jar
Homemade Body Butter Cream Recipe In a Jar
Homemade Peppermint Sugar Scrub Recipe In a Jar
Brown Sugar Scrub Recipe In a Jar