10 Father's Day Gift Ideas for Kids!
10 Father's Day Gift Ideas for Kids
Father's Day is almost here and it's time to tell Dad just how much we love him!  Instead of giving the same old tie year after year, lets get a bit crafty and get the kiddos involved!
1.  Father's Day Candy Card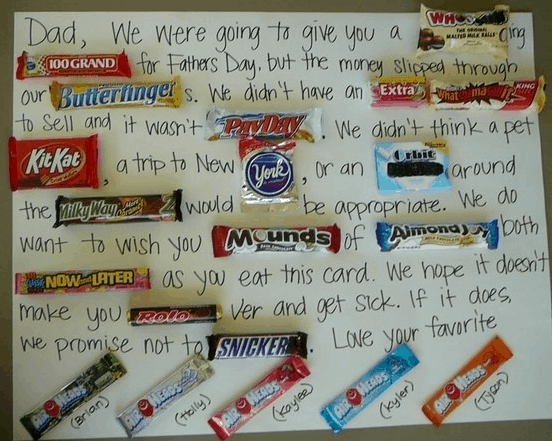 This Father's Day Candy card has been around for a while but still a favorite of mine!
2.  Have the kiddos fill out a questionnaire about Dad!  You can download the free printable here.
3.  Dad Rocks Salt Dough Paperweight
(Photo Credit:  Crafts By Amanda)
This craft is perfect for a last minute gift idea for Dad!  It's something he can proudly display on his desk too!
Here's how you make it: 
Mix 1/4 cup salt, 1/2 cup flour and 1/4 cup water together in a bowl.  (add more flour is the dough is too sticky).
Roll the dough onto a cookie sheet in the shape you want in about 1/2″ thickness.  My daughter ended up making a heart shape.
Use pea gravel or rocks to spell out Dad Rocks.  Be sure you press those rocks in firmly so they stick.
Bake your masterpiece at 250 degrees for about 2 to 2 1/2 hours until it's completely dry.
Allow it too cool and spray it with an Acrylic Sealer.  I personally like the Krylon Crystal Clear Spray but any will do.
4.  Make an "I Love You This Much" Card for Dad!
5.  Create a masterpiece with your very own hand print!   You can cut it out or use paint for this project!  This would be really cute in different colors for multiple kids too.
6.  Create a Coupon Booklet for your Dad!
You could make a coupon for a free car wash, free take out the trash, free yard work, free massage etc…
This one is really easy to make.  You can use construction paper or you can even grab the little paint color sample cards at your local hardware store and write on those!
Use a hole punch or stapler to connect them together and voila!  Perfect Father's Day Gift Idea that he is sure to love!
7.  Create a cut out Father's Day Frame and include photos!
(photo credit:  Martha Stewart)
This project is fun and pretty easy to do.
Grab some lightweight card stock and carve out the word Dad using this free printable template.   Trace out the word Dad from the template.
Cut it out and secure your photos on the back of it.
To make it stand, simply bend two paperclips and tape them to the back of the frame.
8.  Dad Sugar Cookies
(Photo Credit:  Martha Stewart)
Make Dad some amazing Sugar Cookies!  This is the best sugar cookie recipe ever!  This recipe is the only one I ever use when I am making Sugar cookie cutouts because the cookie actually holds it shape and it tastes delicious!  This recipe won't have the letters bake together.
Use the regular alphabet cookie cutters for this one.  Unless you feel brave enough to trace out the word Dad from the cookie dough yourself.
Tip:  Save your self some frustration and don't use the plastic cookie cutters.  They don't do as good of a job as the metal ones.
9.  Printable Father's Day Bookmarks
I think the kids enjoy these bookmarks as much as Dad enjoys getting them!  Just print out the bookmark template here and have the kiddos add a little saying and decorate them.  You don't need a template to create your own bookmark either.  Simple cut out a bookmark using construction paper and add your own drawing or poem!
10.  Sharpie Coffee Mug Design for Dad
(Photo Credit:  Kaboose)
Create a Daddy & Me coffee mug for Father's Day!  This one is so simple but does require Mom's Help!
You will need a white ceramic coffee mug.  I found mine at the dollar store.  Use sharpie oil based markers to create any design you want on the mug.
After you have created your design all you have to do it bake your mug at 350 degrees for 30 minutes.  Let it cool while it's still in the oven.  This step is important so the ceramic doesn't crack.  I let mine sit overnight.
Lastly, spray the mug completely with two coats of Acrylic Spray Sealer.  If you don't seal it the design will eventually wear off after multiple times in the dishwasher.
Let it set for about 2 hours after you seal it.
Voila!  That's it!
Enjoy!