Batik for Kids Art Project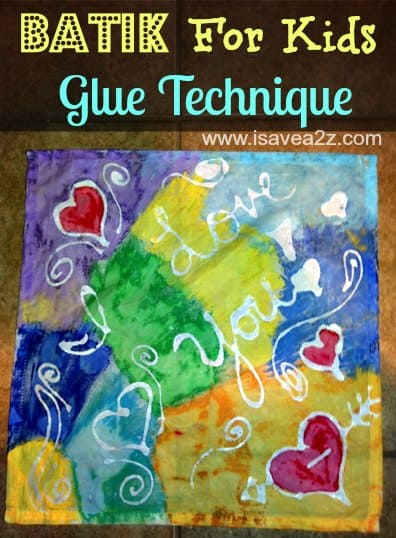 Batik For Kids Art Project
Try a Batik for kids art project!   You can create a Batik design on just about any piece of cotton fabric!  Try pillow cases, sheets or even your own t-shirt!  This is a fun summertime project to keep those kids from getting bored.
Traditional Batik technique is done with wax but this art project is a tad bit easier!  We used glue with this technique.  It washes right off and isn't too messy at all.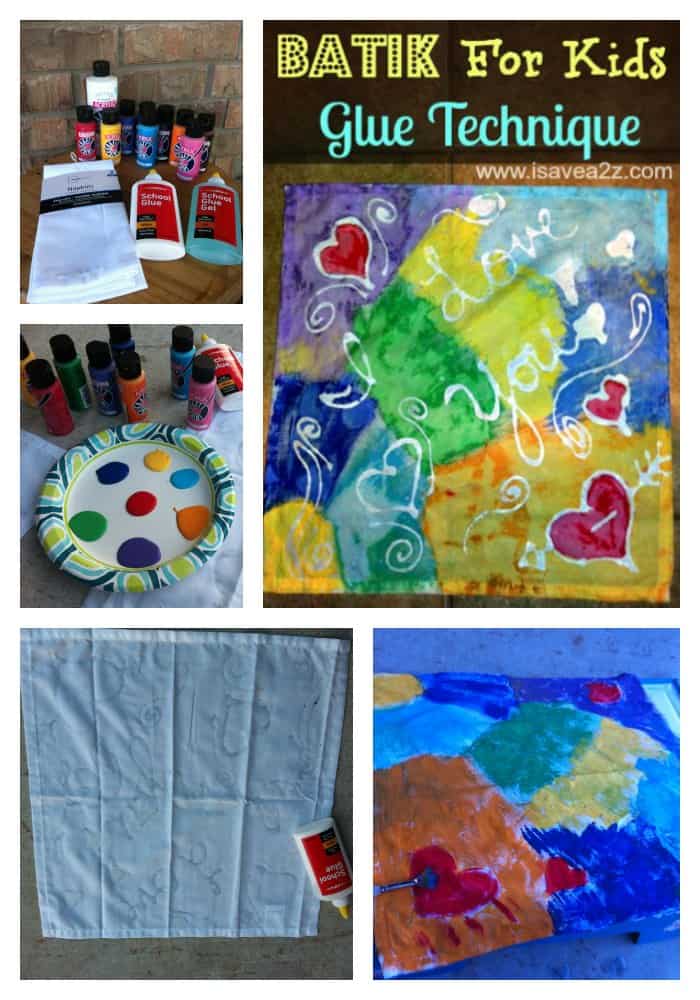 Here's what you need for this art project:
Cotton Fabric (I used a cotton napkin set I found at Wal-mart for only $1.97)
Acrylic Paint (multiple colors)
Paint Brushes
Paper Plate
Cardboard box
Elmer's Gel Washable Glue (blue color) or you can use a white crayon if you don't have glue but the glue works better.
Cup of water
Directions:
Lay out your cotton fabric on a flat protected surface.  I used a cardboard box.
Draw a design on your fabric using dressmaker's chalk.  You can skip this step if you want a free form design.
Draw out your design using Elmer's Washable Gel Glue.  This is the blue colored glue gel.
Tip:  Any glue will work but the Elmer's Washable Gel Glue washes out easier than the regular white glue.  (we've done this project a few times)
Let the glue dry overnight.
Paint your fabric using acrylic paints (slightly watered down).  Let your paint dry a few hours for a vibrant color.  Or you can rinse it right away for a faded color.
Soak the fabric in a hot water bath for about 30 minutes.  I had to use the sink sprayer to help spray the glue off my design.   Hot Water works best and it helps set the paint too.
Let your fabric completely dry and Voila!  you're done!
Enjoy