Homemade Shoe-pourri Recipe
I am in love with this homemade Shoe-pourri recipe!  If you have men or boys in the house, this is a must try.  We have been trying all kinds of concoctions with our new essential oils kit.  Since you showed so much love for out DIY Poo-Poo Bathroom Spray recipe I just know you will love this one too.  It will take away those nasty, musty shoe odors in no time.
Here's what you need to make your own homemade shoe-pourri recipe:
Oats or raw rice (about a cup each)
Essential Oils of your choice
1 pair of old socks
Ribbon or a twisty tie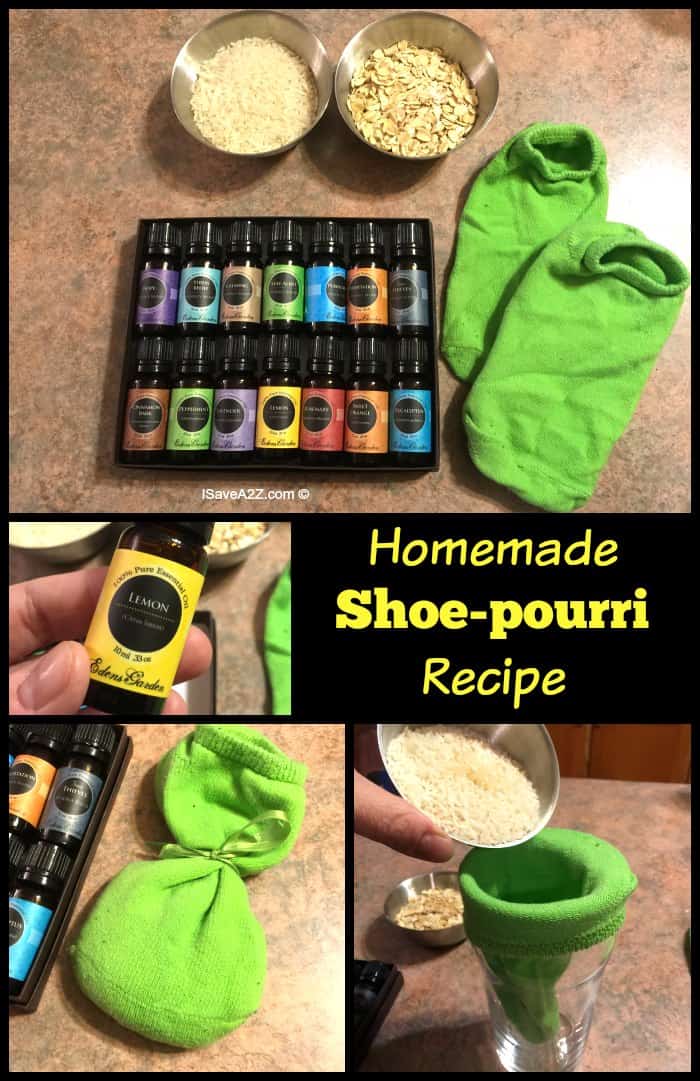 Here are the instructions to make your own homemade shoe-pourri recipe:
You can whip up a pair of these shoe-pourri batches in no time at all.  The prep work takes just a few minutes.  The hardest part is deciding which scent you want to use.  I absolutely love the Four Thieves blend.  It's a combination of Cinnamon, Clove, Eucalyptus, Lemon and Rosemary.  It's heavenly!  I'm a big fan of the lemon too.  I guess it's because I use it so much in my kitchen.
Did You Know:  you can mix a drop of Four Theives Blend with carrier oil to the bottom of your feet every morning to prevent you from sickness.  Good to know!
Mix about 4 to 5 drops of your favorite Essential Oil blends into a small bowl of Oats or Rice.  We've tried them both and they both work with absorbing the odors.
We found it easiest to use a tall cup and curl the top opening of the sock over the edges to hold it open as you pour the contents in.  That's unless you have someone there to hold the sock open for you.
Tie the sock to close it so the contents doesn't spill everywhere when you put it in the shoe.
Store it in each shoe for a day or so.  The longer you leave it the more it will absorb.
When the scents fade you can simply add a few more drops of essential oils.
Voila!  That's it.  Easy right?!  We always try and tell people to get creative with their essential oil recipes.  Use your favorite blends.  You don't have to purchase those expensive multilevel marketing essential oils.  There are plenty of other good oils out there that don't cost an arm and a leg.
We absolutely love our Eden Garden Essential Oils kit we found here on Amazon.  They are 100% pure Therapeutic grade oils that include Lavender, Lemon, Peppermint, Tea Tree, Oregano, Frankincense, Ginger, Eucalyptus, Birch, Palmarosa, Wintergreen, Stress Relief, Breathe Easier and Four Thieves. We got a really good deal on it too. It's 55% off with excellent Amazon ratings!
Here's a bit more information on our Essential Oils Kit from Eden Gardens:
This collection provides a natural medicine cabinet of powerful essential oils. They are the strongest, natural substance available for protecting, healing and restoring the body and mind. Set Includes 14/ 10 ml of Lavender, Lemon, Peppermint, Tea Tree, Oregano, Frankincense, Ginger, Eucalyptus, Birch, Palmarosa, Wintergreen, Stress Relief, Breathe Easier and Four Thieves.

Includes an informational insert with helpful ways to optimize the therapeutic benefits of essential oils. Whether they are inhaled, diffused, applied topically, added to bathwater or used in body massage these powerful essential oils can bring life-enhancing qualities to everyday.

Includes a useful and versatile "101 Ways to Use Essential Oils" brochure inside each set. Product comes wrapped as shown in picture, making it perfect to give as a gift or enjoy yourself.

Make sure to check out all of our 33 Edens Garden Sets.  All oils are 100% Certified Pure Therapeutic Grade in a dark glass bottle and includes a euro dropper lid for easy use.

Edens Garden collection includes the following 140 oils- Adoration blend, Age Defy blend, Align blend, Allspice, Angelica Root, Anise Star, Aphrodisiac blend, Balance blend, Basil, Bay, Bergamot, Birch, Black Pepper, Blood Orange, Breathe Easier blend, Cajeput, Calming blend, Camphor, Cananga, Caraway, Cardamom, Carrot, Cassia, Cedarwood, Chamomile (German), Chamomile (Roman), Cinnamon Bark, Cinnamon Leaf, Citronella, Clary Sage, Cleaning blend, Clementine, Clove, Cocoa Absolute, Cognac, Copaiba, Coriander, Cumin, Cypress, Cypriol, Davana, Dill Weed, Earth & Wood blend, Elemi, Exhale blend, Eucalyptus, Fennel, Fir Needle, Four Thieves blend, Frankincense, French Lavender, Galbanum, Geranium, Ginger, Good Night blend, Grapefruit, Harmony blend, Head Ease blend, Helichrysum, Hope blend, Ho Wood, Hydacheim, Hyssop, Invigorate blend, Jasmine Absolute, Joy blend, Juniper Berry, Kanuka, Key Lime, Lavender, Lemon, Lemon Eucalyptus, Lemon Myrtle, Lemongrass, Lime, Litsea, Love blend, Mace, Mandarin, Meditation blend, Melissa, Muscle Relief blend, Myrrh, Myrtle, Neroli, Nerolina, Niaouli, Nutmeg, Oregano, Origanum, Palmarosa, Palo Santo, Parsley, Patchouli, Peace blend, Penny Royal, Peppermint, Peru Balsam, Pest Defy blend, Petitgrain, Pimento, Pine, PMS Ease blend, Purification blend, Ravensara, Relaxation blend, Renew blend, Restoration blend, Rose Absolute (Bulgarian), Rose Absolute (Moroccan), Rose Geranium, Rosemary, Rosewood, Sage, Sandalwood (Australian), Sandalwood (East Indian), Sensation blend, Simply Citrus blend, Spearmint, Spikenard, Spruce, Stay Alert blend, Stress Relief blend, Sweet Ambiance blend, Sweet Marjoram, Sweet Orange, Tagates, Tangerine, Tansy, Tarragon, Tea Tree, Thyme, Turmeric, Valerian, Vanilla, Verbena, Vetiver, Wintergreen, Yarrow and Ylang Ylang.