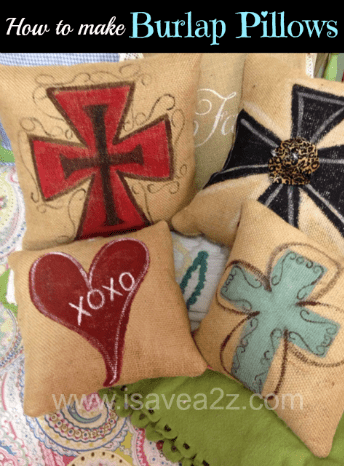 How to Make a Burlap Pillow
Here's a quick tutorial that tells you everything you need on how to make burlap pillows.  They seem to be everywhere now a days but I'm not very interested in paying $49+ for one at Pottery Barn.  :-/
I headed to the fabric store and found a very nice selection of burlap material to choose from!  Look: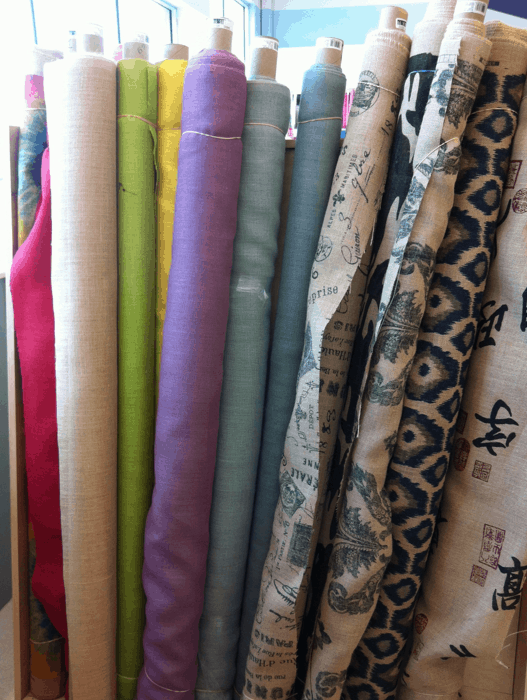 I love how you have all different colors to choose from now.  Pillows are a perfect way to give a room "new life" while on a budget.  I like the plain look so that I can decorate it with crosses and hearts!
Here's what you need to start this project:
1/2 yard of burlap fabric (it can be smaller or bigger depending on what size you want your pillow to be)
Fabric Markers, Sharpie Markers or Fabric Paint and stencils if your design calls for one  (Sharpies and Fabric Markers were easiest for me)
scissors
matching thread (match it to the color of your fabric)
sewing machine (unless you are just going to simple stitch it by hand)
Polyfil  (Frugal Tip:  Use an old pillow or take the filling out of the old stuff animals your child doesn't play with anymore)
Decorative accents such as flowers etc…  optional
Directions:
First, decide how big you want your pillow to be and cut out your square or rectangle.  If you are trying to cover and old pillow just cut out that size but add about an extra inch to each end to allow for the stitch width.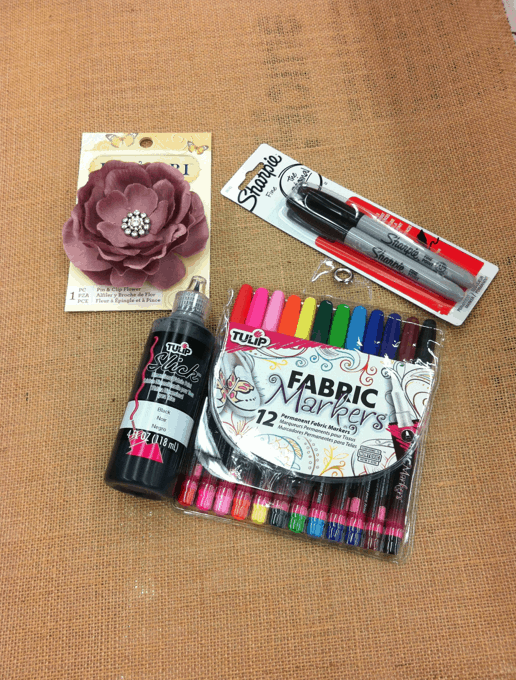 Next,  choose the side you want the design on and get creative!  I decided to freehand a cross with swirly designs around it.  Feel free to use a stencil here if needed.   If you are going to use a stencil just be sure to tape it on the fabric first and keep in mind that one inch you allowed for on the end for your stitching.  Let your design dry if you used the fabric paint option.  Fabric paint can take up to about 4 hours to dry.
Tip:  I really liked the simplicity of the Tulip fabric markers.  I found a better deal on Amazon here than at my local fabric store.  They dry fast too!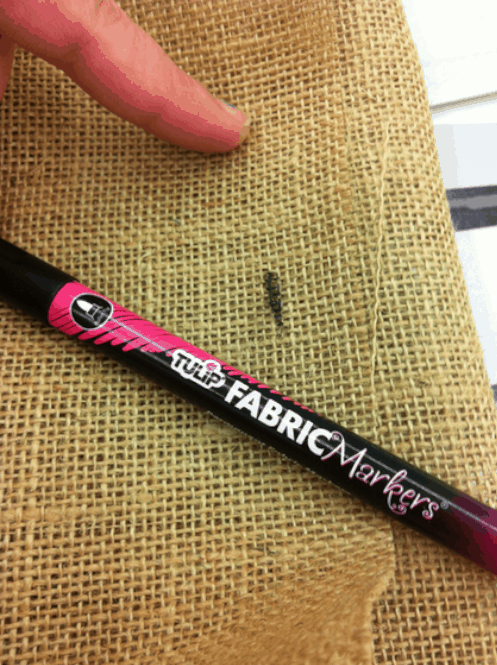 Now it's time to start sewing your pillow.  Face the right sides of the pillow together to sew it.  Leave an opening on one of the sides of the square open so you can fill it with the polyfil.   I leave about 3 to 4 inches.  Now cut off the corners of the inside of the pillow.  This will help make the points at each end of the pillow when you turn it right side out.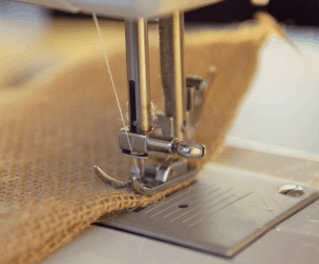 Once you've sewn the sides together, turn it right side out and stuff your pillow.  Now fold in the open end and sew that shut.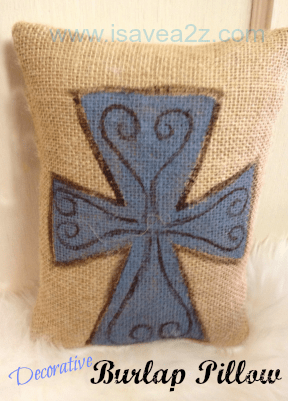 Voila!  You just created an cute "Pottery Barn" look a like for a fraction of the cost!
Enjoy