Royal Icing Recipe
This post is a follow up Royal Icing Recipe for the Easy Sugar Cookies Recipe (cookies that hold their shape) post I wrote a week ago.
Royal Icing is easy to make. The hardest part is getting the consistency right. You need a thicker consistency when you are outlining the cookie but then you need a thinner consistency when you are filling or flooding the cookie.
I've always used the Wilton Royal Icing Recipe that comes in the Wilton Meringue Powder container but I add a little corn syrup to the recipe to give my cookies a glossy look. Oh, and my favorite food coloring is AmeriColor Gel Food Coloring
.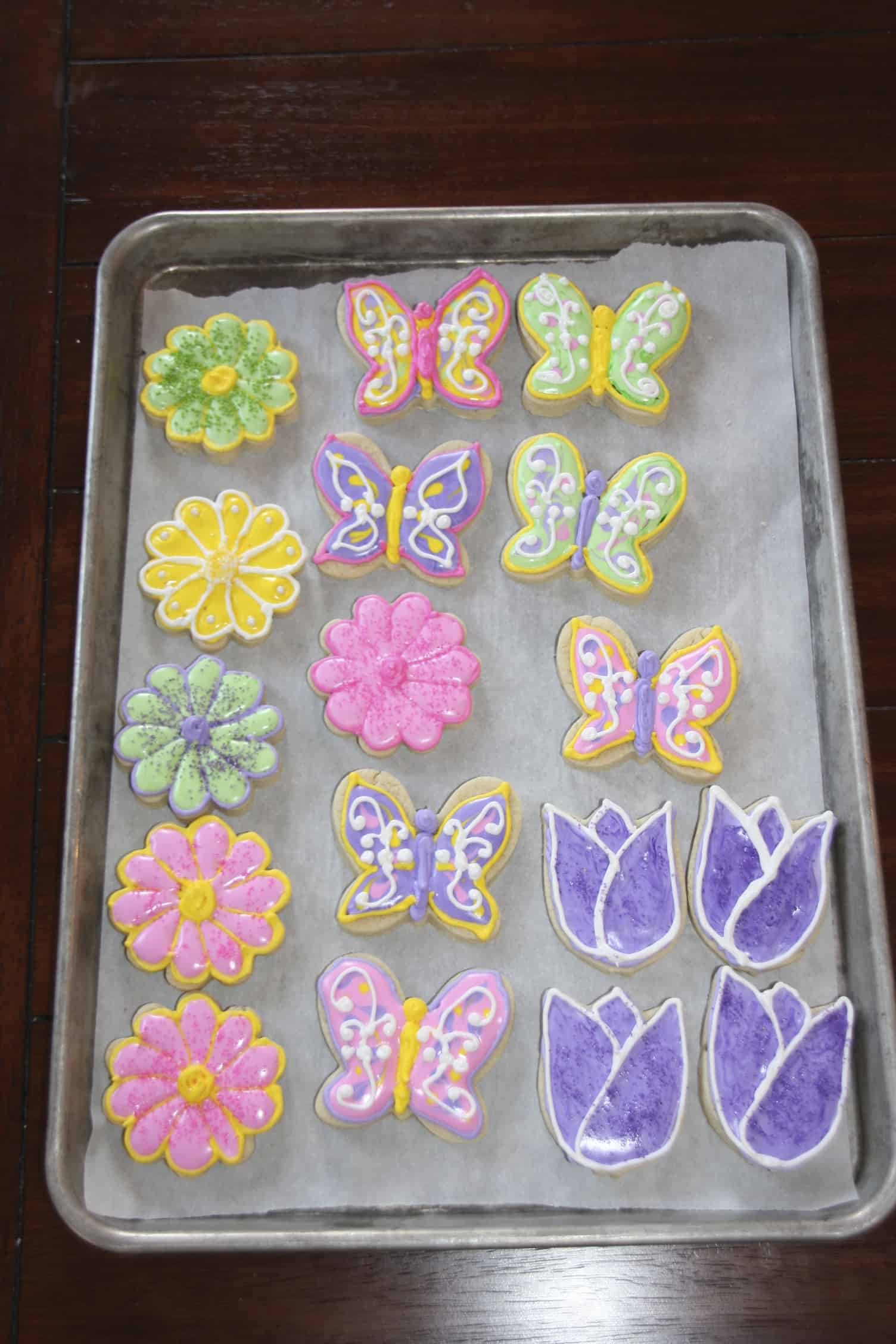 Royal Icing Recipe
Instructions
First I mix the meringue powder and water until it's foamy.

Then I add the powdered sugar (be sure to start off on low or else the powder will fly up in your face)

Once the powdered sugar is mixed completely in I add the corn syrup.

Mix about 5 to 7 minutes until a high peak is seen. (Note: Make sure the peak stands straight up. If it flops over even just a bit it's still not ready.

Immediately cover it with plastic wrap so it doesn't dry out. Make sure no air is trapped in between the plastic wrap and the icing.

Separate the icing into containers to add gel paste food color (if desired)
Nutrition facts are provided as a courtesy.
Once you make this recipe your icing is at the consistency you need to outline your cookies.
Flooding a cookie is a term used to fill in the outlined portion of the design on your cookie. Think of the thicker outline as the wall to hold in the filled icing. The inner part of the icing has to be thinner to create a nice and smooth surface. If the icing is not thin enough it will create lines in your icing.
Next, after the cookie is outlined you will need to "flood" the cookie with a thinner consistency icing. I start by adding a teaspoon of water and mixing it to get a soupy smooth texture. Then I fill the thinner icing in a sqeeze bottle (like this one here on Amazon) to flood the cookie. I add enough icing to have it reach the top of the outlined icing so you don't even see it.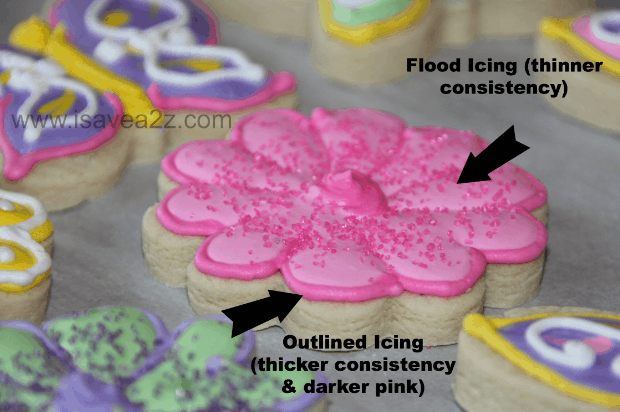 Now just let those creative juices start flowing and design some cute cookies of your own! If you need a really good Sugar Cookie Recipe be sure to check this one out here. It's one of the best recipes I've ever used and the cookies actually hold their shape! That's pretty important when you have a specific cookie you want to make.
I've let the kids decorate some cookies for Mother's Day! They had a blast! I helped outline them and they filled and decorated them. Look closely at some of them. If you add too much of the thinner icing it will flow over and you will lose your outline.
Tip: You can also use a toothpick to create swirly designs in the thinner center icing too. Just add two different colors and start to mix them in different ways. (not shown)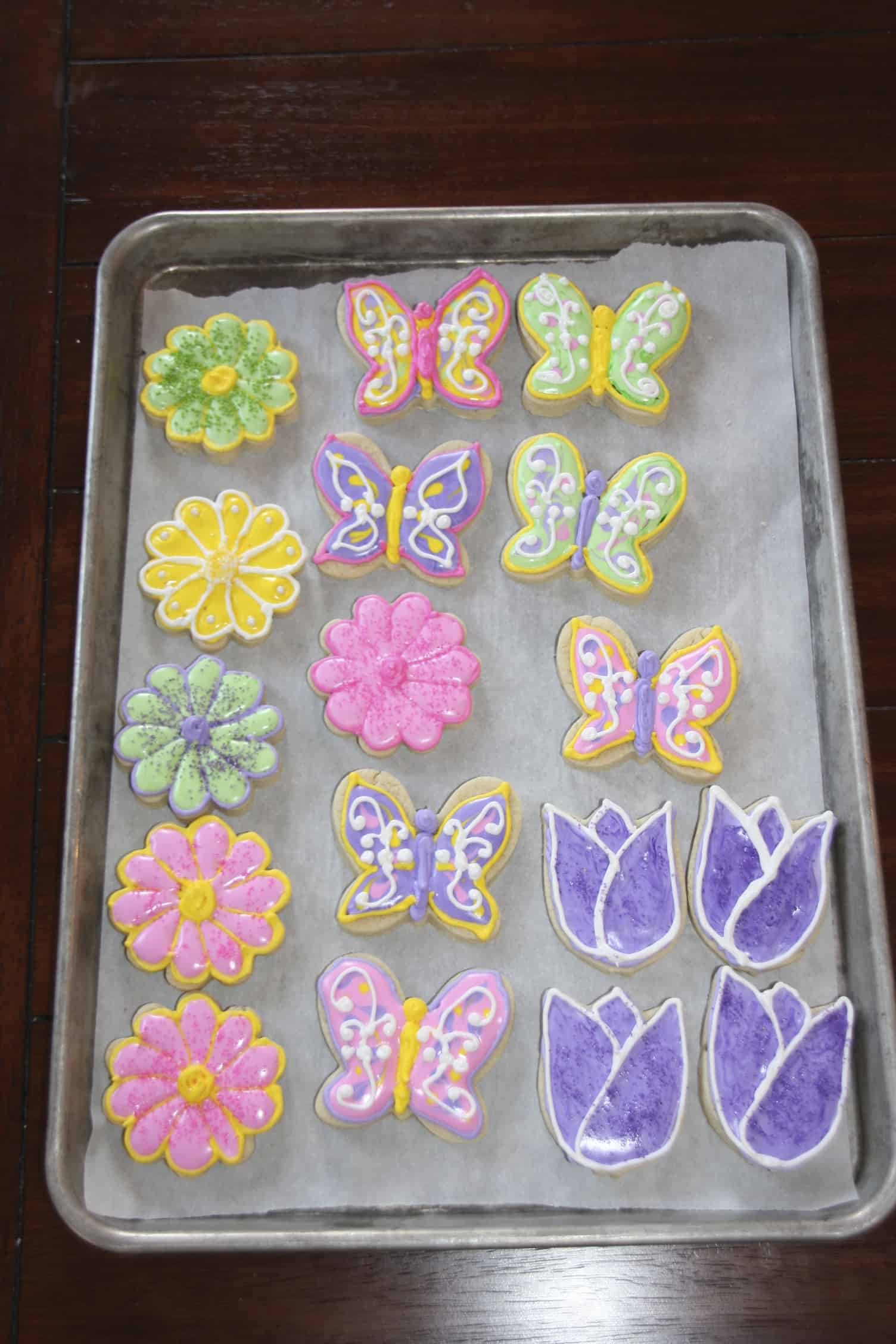 Enjoy!!!