Top Cuisinart Kitchen Deals Round Up
Top Cuisinart Kitchen Deals Round Up
I'm a huge fan of Cuisinart so it's only fitting that I give you the Top Cuisinart Kitchen Deals!  With all the cooking and baking I do I know what tools are good and which ones are not!  I'm not one to talk about the bad because I would rather focus on the good.  Below are some of my favorite Cuisinart Kitchen deals and tools that I use!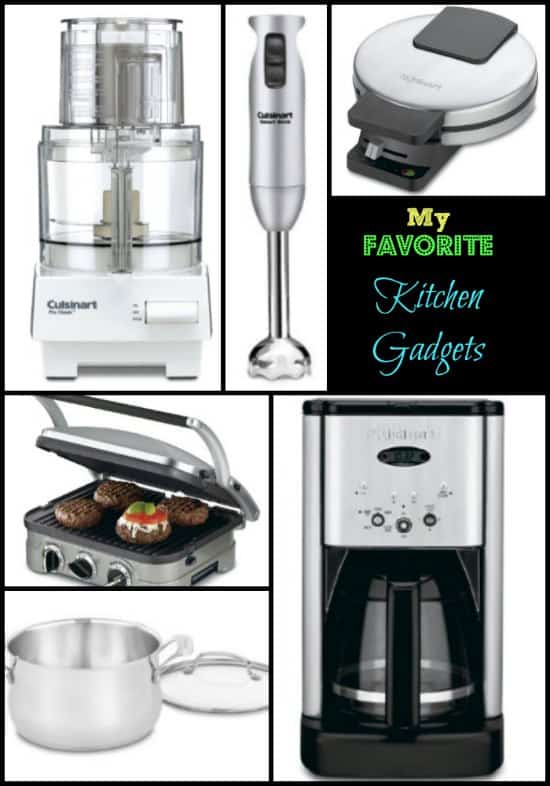 Cuisinart 2-Speed Immersion Hand Blender only $34.95 (reg $65) and it comes in many different colors.
Cuisinart Round Classic Waffle Maker
only $26.95 (reg $55)
Cuisinart  Pro Classic 7-Cup Food Processor only $99.95 (reg $180) and it's worth every penny of it's original price too. This is one kitchen tool that I cannot live without. It's makes the prep work for recipes so much easier!! I've had my Cuisinart Food processor for over 10+ years and I use it often! It's very well made and super easy to clean. I started off with a much smaller one that was way cheaper but I ended up regretting it because the bigger one will handle so much more.
Cuisinart  Stainless 5-Quart Dutch Oven with Glass Cover
marked down to only $30.24 (reg $80)!
Cuisinart 5-in-1 Griddler
This griddle will good everything from burgers to gourmet sandwiches!  Easy to clean and very sturdy!  We use ours at least once a week to make our favorite Bacon Avocado Grilled Cheese sandwiches!
Cuisinart  Brew Central 12-Cup Programmable Coffeemaker marked down to only $71.99 (reg $165) but this is not a regular cheap coffee pot. Our home seems to have the worst hard water and we used to go through coffee pots like crazy. Really! We would have to buy one at least once or twice a year. Finally after deciding to spend a few extra dollars on a decent coffee pot we are going on our 3rd year with this one! It even has a nice water filter too. It really helps. A LOT.
—>If you like Amazon Deals be sure not to miss our Top 10 FREE Kindle eBooks post!  It's updated daily with awesome freebies!
—>Oh and don't miss the FREE 30 Day membership to Kindle FreeTime for kids!  You will love it!
Be sure to check out the other Amazon Money Saving Opportunities too.  To receive savings on shipping fees, take advantage of Free Super Saver Shipping for orders over $25 or be an Amazon Mom or an Amazon Prime Member and get FREE Two-Day Shipping.
Amazon Prime Membership Details
 – This is a membership you pay for but if you tend to purchase many items. it's well worth it.  I myself am a Prime Member!  Read our full post description on the Amazon Prime Membership here.
Amazon Mom Membership Details
 – Deals exclusively for Moms!  Yay!  Love that!
Please take note that Amazon prices may change any time, make sure to check out the current price before placing your order.
Don't forget to check out my other Amazon Deals for more savings. Hurry because prices at Amazon are subject to change at any given moment.
  ———->>>Be sure to check out the Other Amazon Deals and Gift Guide and see all the gift ideas at bargain prices here!