Bacon Avocado Grilled Cheese Sandwich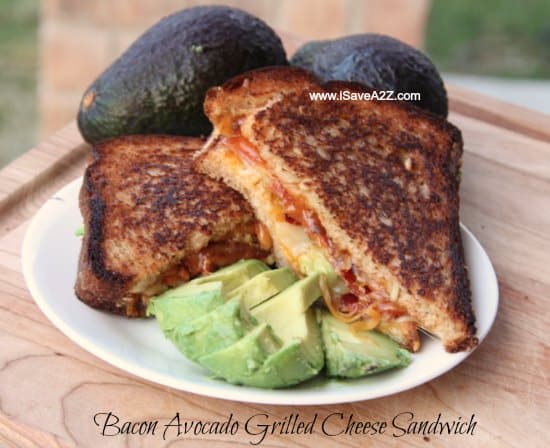 Bacon Avocado Grilled Cheese Sandwich
By Jennifer Garza, iSaveA2Z.com,
Here's a super simple recipe for a Bacon Avocado Grilled Cheese sandwich that can be whipped up in no time! Not only is this sandwich absolutely delicious but it's fast to make too! I use three different cheeses in this sandwich. I also use thick cut bacon too. Turn that usual boring Grilled Cheese sandwich into a masterpiece!  It helps that we use our Cuisinart 5-in-1 Griddler
too!
Ingredients:
– Bread (I used a 10 grain wheat bread)
– 2 strips of thick cut bacon, cooked.
– 1/2 small Avocado, sliced.
– 3 slices of your favorite cheese. I used cheddar, provolone and pepper jack.
Prep Time: 5 minutes
Cook time: 2 minutes
Yield: 1 Servings
Instructions for the Best Bacon Avocado Grilled Cheese Sandwich:
I start by cooking my bacon. You can microwave it for 3 minutes if you want the fast method. Next, I butter each side of the bread. Warm the skillet on a medium temperature. Place the bread down on the pan. Stack it with Cheese, Cooked Bacon, More Cheese, Sliced Avocado and then add the last piece of cheese before you cover it with the other slice of bread. Flip it after about a minute or until the side is golden brown. Enjoy!