Cool Whip Recipes: Ambrosia Salad
Serve up this classic ambrosia salad recipe for guests this summer! Creamy, fruity, and flavorful for sure. Ambrosia salad has been around for years and is a must make dish for potlucks, parties, and more.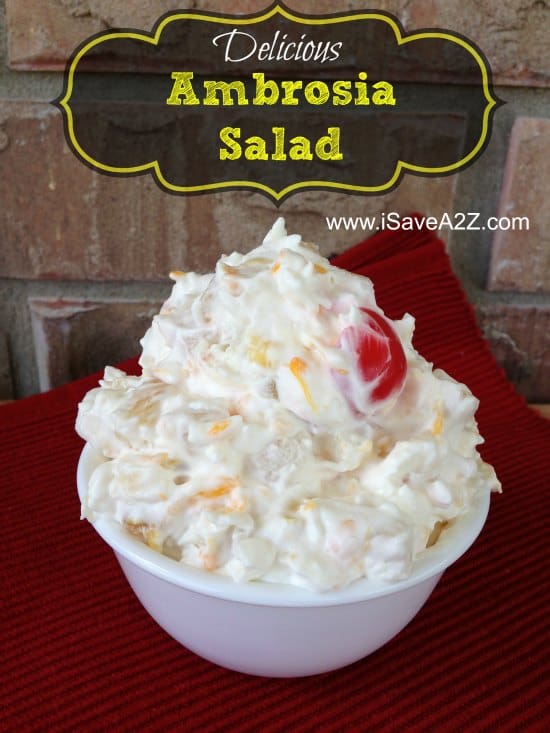 Cool Whip Recipes: Ambrosia Salad
By Jennifer Garza, iSaveA2Z.com,
I love Cool Whip Recipes in the summertime! One of my absolute favorites is Ambrosia Salad!
Ingredients:
 1 8oz container of Cool Whip
  1 16 oz container of sour cream
  1 3.5 oz packet of instant vanilla pudding
  1 15 oz can of drained fruit cocktail
  1 8 oz can of drained crushed pineapple
  1 8 oz can of drained pineapple chunks
  1 11 oz can of drained mandarin oranges
 2 cups of miniature marshmallows
  1 10 oz jar of drained maraschino cherries
 optional: 3/4 cups of shredded or flaked coconut
  optional: 1/2 cup chopped walnuts
Prep Time: 5 minutes
Cook time: 0 minutes
Yield: 12 Servings
Instructions for the Best Ambrosia Salad Recipe:
Drain all the canned ingredients first. Add the powdered pudding mix, cool whip and sour cream to the ingredients. Stir well. Add the marshmallows and coconut last. Chill and then serve.
This recipe is perfect for summer bbq's! It's usually all gone when served!