Homemade Chicken Noodle Soup Recipe
Homemade Chicken Noodle Soup Recipe
Cold and flu season is here and my family has already been hit hard and I have a homemade Chicken Noodle Soup recipe to the rescue!   You may also want to take a look at our Olive Garden Copycat Soup recipes too!  It's been very popular!
I decided it was time to break out my delicious Homemade Chicken Noodle Soup Recipe because it's good enough to share with everyone I know! A good Homemade Chicken Noodle Soup is a must have when I don't feel well. On the other hand, I'm not a master in the kitchen so the recipe also needs to be an easy one. This only has five ingredients and you'll never want chicken noodle soup from a can again!  Speaking of easy recipes, check out our top 50 Crockpot recipes!  They are all easy and delicious!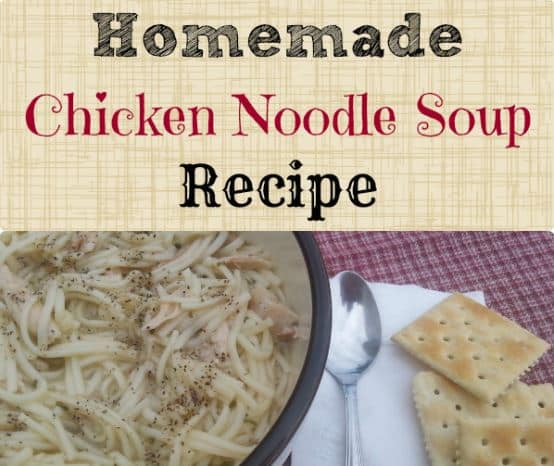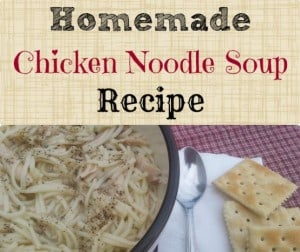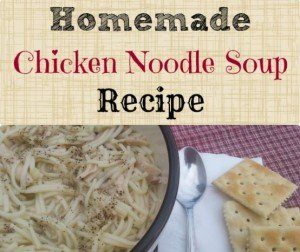 Homemade Chicken Noodle Soup Recipe
Ingredients
1

whole thawed chicken

2

or 3 chicken bouillon cubes

parsley - fresh or flakes

1/2

tsp

garlic salt
Instructions
Place your chicken in a large pot and fill with water until chicken is covered. I use an 8 quart pot.

Add bouillon cubes, garlic salt (add more or less to taste) and parsley. I use parsley flakes. I've never measured it out but I sprinkle enough to make a thin layer on the top of the water and then give it a stir.

Boil chicken and spices for 2 hours, until chicken is thoroughly cooked.

Once chicken is done, turn the heat off, remove the entire chicken and place it in a large bowl in the fridge to cool for at least 30 minutes.

While chicken is cooling, skim through your broth to make sure it is clean. I also add 2 or 3 more cups of water and simmer on low so it keeps the flavor.

When your chicken is cool, pull all of the meat off (it will be falling off of the bone) and place it in the pot with the broth.

Bring to a boil, add your noddles slowly and cook until noodles are tender.
Nutrition facts are provided as a courtesy.
While the chicken is cooling, I always taste the broth and see if I need to add more chicken bouillon or garlic salt. This preference will vary from person to person, and you can adjust it to your liking. This Homemade Chicken Noodle Soup Recipe does make a large amount so it's great if you have company over, or you can cut the ingredients down to make a smaller version. Serve it with some saltines or multi-grain crackers (these crackers are my absolute favorite – try them if you haven't already)  and enjoy!