Santa Rice Krispies Recipe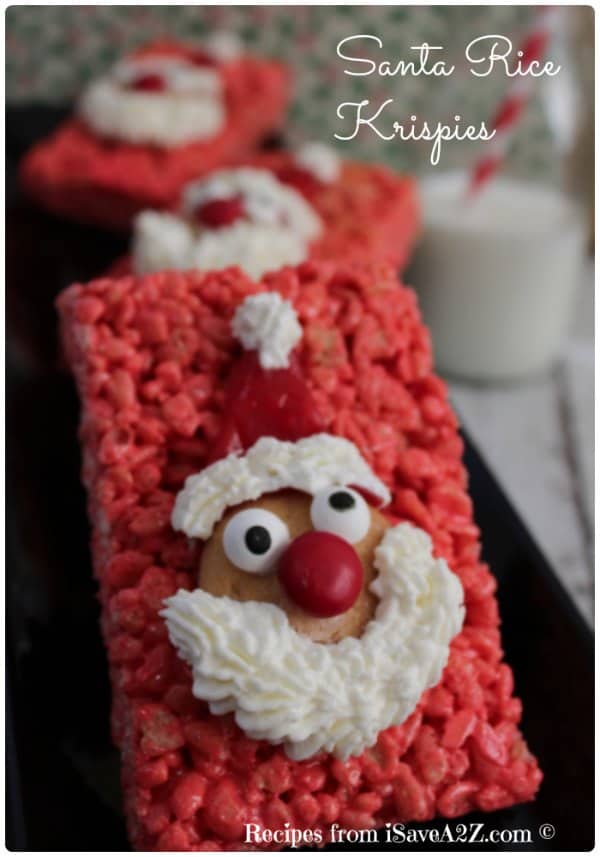 Santa Rice Krispies Recipe
By Jennifer Garza, iSaveA2Z.com,
Here's a fun recipe for the holidays! Try these super cute Santa Rice Krispies! Super easy to make and even the adults love these! Be sure to check out our other Rice Krispies Recipes made with Nutella, Peanut Butter, Chocolate, Cake Batter and more here! We love Rice Krispies!!!
Oh, and don't forget to check out some of our other Christmas treats like our Gingerbread Marshmallow Pops recipe or our Donut Snowman on a Stick!  Both are cute!
Ingredients:
– 3 tbsp Butter
– 6 cups Rice Krispies Cereal
– 10 oz Marshmallows
– Red Food Coloring
– 6 Vanilla Wafers
– 2 Red Fruit by the Foots
– 12 Candy Eyes
– 6 red M&Ms
– 1/2 cup softened Butter
– 1/2 tsp Vanilla
– 2 cup Powdered Sugar
– 1 tbsp Milk
Prep Time: 25 minutes
Cook time: 0 minutes
Yield: 6 bars
Instructions for the Santa Rice Krispies:

In a medium to large saucepan, melt the butter over low heat.
Add the marshmallows and stir until completely melted.
Stir in enough food coloring to make the marshmallows very red.
Remove from heat.
Add the Rice Krispies cereal and stir until cereal is well coated.
Using butter or cooking spray, prepare a 9 x 9 pan.
Butter a your hands or use wax paper to press the mixture firmly into the pan.
Allow to cool.
Cut into 6 bars
In a large bowl, cream the butter and add vanilla.
Mix in the sugar one cup at a time.
Beat in the milk mixing until fluffy.
Transfer icing to the corner of large size zipper bag, try to minimaize trapped air and close. Clip a small piece off the corner to pipe.
Pipe icing onto back (flat side) of vanilla wafer to act as glue and place on bar.
Pipe a dot of icing onto the back of each eye and the "m" side of the M&M and place on vanilla wafer.
Cut a 1.5 – 2 inch length of fruit roll and fold in V shape to act as hat.
Place hat on wafer and bar.
Pipe a ball on the on the tip of the hat.
Pipe a band across the edge of the hat and a beard along the bottom of the cookie.
Allow to set. Voila! That's it!