Pecan Caramel Apple with Chocolate Drizzle
Pecan Caramel Apple with Chocolate Drizzle
As I make a Pecan Caramel Apple with Chocolate Drizzle it immediately brings me back to my childhood. I mainly remember them around Halloween.  I would get in big trouble for sneaking little bits of chocolate and pecans off of the apple.  When you make your own caramel it makes a world of difference in the overall taste.  I remember buying those easy prepackage circle caramel wraps for apples and they never seem to cover the whole apple.  Even if you force them, the caramel isn't thick enough.  Well, not for my taste anyway.  I love a thick caramel that toppings can stick to.  I want that gooey goodness melting in my mouth!
This recipe is bound to bring your family together as you make and enjoy these delicious caramel apples.  They always happen to brighten up my day.  Just be easy on the kids if they snitch a bit or two.  They are hard to resist.  🙂
If you like caramel apples, then you have got to try our caramel apple cupcakes!  Anyone who loves the great taste of caramel apples will enjoy these too!  Now if you are a caramel addict, such as myself, you have got to see this cookbook! It's filled with plenty of caramel related recipes to feed your addiction!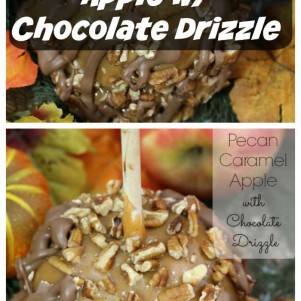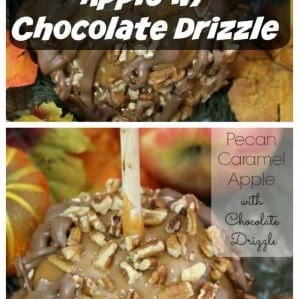 Pecan Caramel Apple w/Chocolate Drizzle
Instructions
-Line a cookie sheet with parchment paper.

-Pour the chopped pecans in a bowl placing it next to the stove top.

-Using a double boiler, pour water into the bottom half just slightly lower than when the top pot sits in the bottom half. bring water to a boil.

-Using a double boiler, put the margarine, brown sugar, corn syrup and condensed milk int the top pot bringing the heat to a med-high. Raise the temp to a boil, constantly stirring then reduce heat to med. Cook for 25-30 minutes or until a candy thermometer reads 248 degrees or when a teaspoon of the caramel is dropped into a glass of cold water it forms a firm ball.

-When this happens remove the pot from the heat stirring in the vanilla.

-Dip each apple into the caramel coating the apple and part of the wooden stick. Immediately sprinkle the caramel coated apples with the chopped pecans. Allow the apples to completely dry on the parchment paper lined cookie sheet.

Ghiradarelli Chocolate Wafers:

-Pour the bag of chocolate wafers into a microwave safe bowl setting the timer for 5 minutes turn on microwave. If wafers are not completely melted reset the timer until they have melted.

-Pour the melted hot chocolate into a container allowing you to drizzle it over the caramel pecan

apple.

Allow to completely cool.
Nutrition facts are provided as a courtesy.
Feel free to "Pin It" here for later: