Brownie Caramel Cheesecake Recipe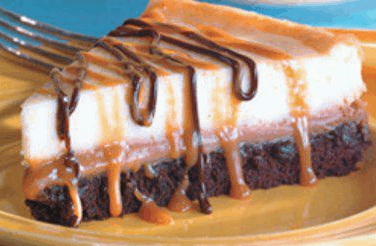 (photo credit: AllRecipes)
Brownie Caramel Cheesecake Recipe
Oh My Goodness this recipe is amazing!  Every time I make this I get tons and tons of recipe requests!!  Be prepared for it to go quickly at a party too!  If you like Turtle Cheesecake you can always add mini chocolate chips and nuts on the top of it too!  Love that!!
The trick to making this recipe pretty depends on the pan you use!  I used the Cuisinart  9-Inch Chef's Classic Nonstick Bakeware Springform Pan
just like this one on Amazon! Comes out perfect every time!
Brownie Caramel Cheesecake Recipe
Ingredients
1 (9 ounce) package brownie mix
1 egg
1 tablespoon cold water
1 (14 ounce) package individually wrapped caramels, unwrapped
1 (5 ounce) can evaporated milk
2 (8 ounce) packages cream cheese, softened
1/2 cup white sugar
1 teaspoon vanilla extract
2 eggs
1 cup chocolate fudge topping
Directions
1. Preheat oven to 350 degrees F (175 degrees C). Grease the bottom of a 9 inch springform pan.
2. In a small bowl, mix together brownie mix, 1 egg and water. Spread into the greased pan. Bake for 25 minutes.
3. Melt the caramels with the evaporated milk over low heat in a heavy saucepan. Stir often, and heat until mixture has a smooth consistency. Reserve 1/3 cup of this caramel mixture, and pour the remainder over the warm, baked brownie crust.
4. In a large bowl, beat the cream cheese, sugar and vanilla with an electric mixer until smooth. Add eggs one at a time, beating well after each addition. Pour cream cheese mixture over caramel mixture.
5. Bake cheesecake for 40 minutes. Chill in pan. When cake is thoroughly chilled, loosen by running a knife around the edge, and then remove the rim of the pan. Heat reserved caramel mixture, and spoon over cheesecake. Drizzle with the chocolate topping.
Tip: I love turtle cheesecake so I added chocolate chips and nuts to the top of it and Hmmmmmm. It's so good!!!
Enjoy!