Chocolate Graduation Cap Pops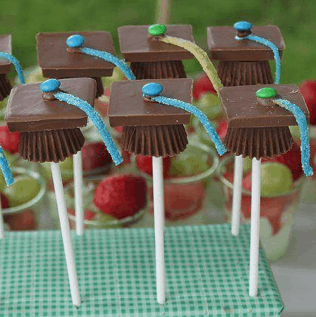 (Photo credit:  TurnerFamilyX4)
Chocolate Graduation Cap Pops
Graduation is right around the corner and it's time to start thinking about the parties!  The super cute Chocolate Graduation cap pops would make a perfect addition!
With just a few ingredients and some melted chocolate you could pull these off in no time.  I love how easy they are to put together.
Ingredients needed:
Airheads Belts Candy (whichever color you prefer)
Peanut Butter Cups
Hershey Bars or Small Godiva Chocolate Squares
Chocolate Almond Bark (melted and used as the glue)
Mini M&M's
Styrofoam block or Block of wood with holes drilled into it to display your Graduation Cap Pops
Directions:
First, place the Reese's Peanut Butter Cups in the freezer for about 10 minutes or so.
Start by breaking up the Hershey's Chocolate Squares in the actual squares.  In a chocolate bar the bar usually rectangles when you break them apart but in this case you will keep two of the rectangles together to make a small square.
Cut the Airheads Belt Candy into strips with a scissors.  Make them about an inch and half long for the Graduation Cap Pops tassels.
Next, lay out a work space with everything in a way that you almost create an assembly line.  Lay out the lollipop sticks, Reese's Peanut Butter cups, Chocolate squares, Airhead belts and M&M's.
Once your Reese's Peanut Butter Cups are nice and cold you will want to carefully unwrap them.  The freezer should have helped with this process.  I ended up eating the ones that didn't wrap as pretty as I wanted them to.  🙂  Lay them out on a tray.
Melt your Chocolate Almond Bark.  You can melt any chocolate you want for the glue but I find the chocolate almond bard to hold tighter and dry faster.  I always have some in my pantry.  Just grab a couple of squares and melt them at about 30 seconds at a time because they melt fast.
Dip the lollipop sticks into the melted chocolate almond bard and stick it in the middle of the Reese's Peanut Butter Cup and give it time to dry and stick.
Once you have completed the lollipops and they have all dried you will turn them over and stick them into your styrofoam board.  I ended up decorating my styrofoam board with some pretty wrapping paper.
Next you will place some of the melted chocolate almond bark on the Hershey's stamped side of the chocolate bar and place it on top of the Reese's Peanut Butter cup.  I do all of these before I move to the next step.
Next, I put some of the melted chocolate almond bark into a baggie with one tip cut off at the bottom so that I can glue the Graduation Cap tassel on and the mini M&M.
Let them dry and Voila!  You have a beautiful master piece!!!
Display Tip:  You can add the styrofoam board to a huge decorative bowl and cover it with the rest of the M&M's if you don't want to decorate it with wrapping paper.  Use a bit of hot glue to make this stick too.  This works really well!
Now, if you enjoyed that dessert idea, you've got to see the Graduation Cupcakes Post here because they are made of Red Velvet cake and Cream Cheese Frosting!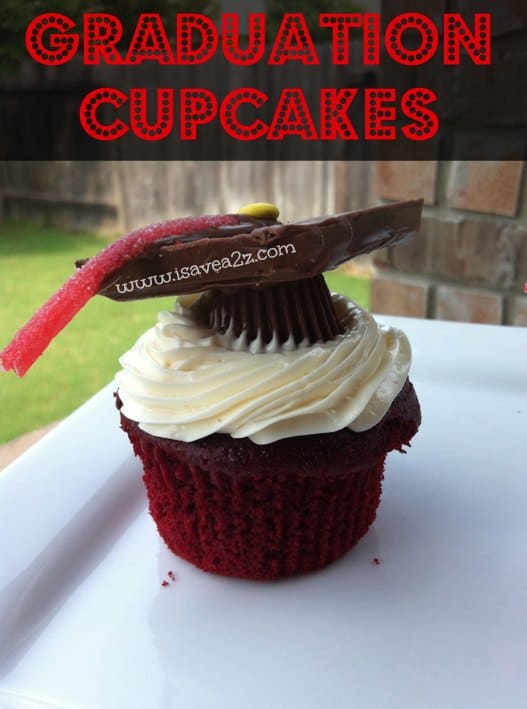 Enjoy!