Pumpkin Granola
Check out our neat and amazing recipe for our unique Pumpkin Granola! If you have been looking for some unique pumpkin flavored recipes, then you can look no further! The recipe below will bring you through all of the steps that you will need to take in order to create this amazing Pumpkin Granola! If you happened to like this recipe, then you should be sure to check our our other great recipes! Such as our Pumpkin Pie Cake, our Pumpkin Pie Bites, our Pumpkin Pie Fudge, our Spicy Pumpkin Soup, our Copycat Pumpkin Cream Cheese Muffins, our Copycat Pumpkin Spice Latte, or even our Copycat IHOP Pumpkin Pancakes recipe, and plenty of others! Whenever you are in need for a nice dessert, then you should check these out!
Are you ready for this fall? Not without some great pumpkin recipes, you're not! Check out this neat cookbook with more pumpkin recipes that will sure to widen the variety of pumpkin foods for you and your family this fall! Go check it out! Be it for Thanksgiving, Halloween, or any other special occasion, you can't go wrong when you choose any of these great pumpkin recipes! If you love pumpkin, you should also check out our Homemade Pumpkin Pie Recipe! I hope that these recipes helped you out!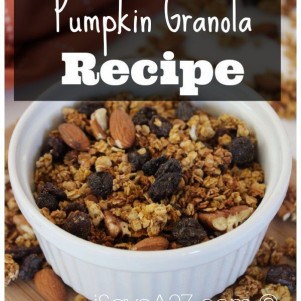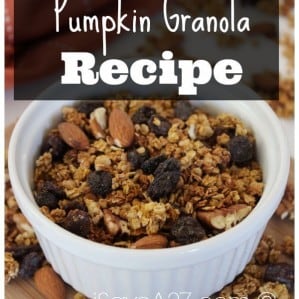 Pumpkin Granola
Instructions
Preheat your oven to 350.

Mix together the oats, maple syrup, pumpkin, oil, spice and salt.

Spread mixture out on a non-stick baking surface in a thin layer.

Bake for 15 minutes.

Break up the oats and bake for another 10 minutes.

Cool completely.

Add raisins and nuts and store in air tight container.