Teacher Appreciation Ideas – Best & Worst Gifts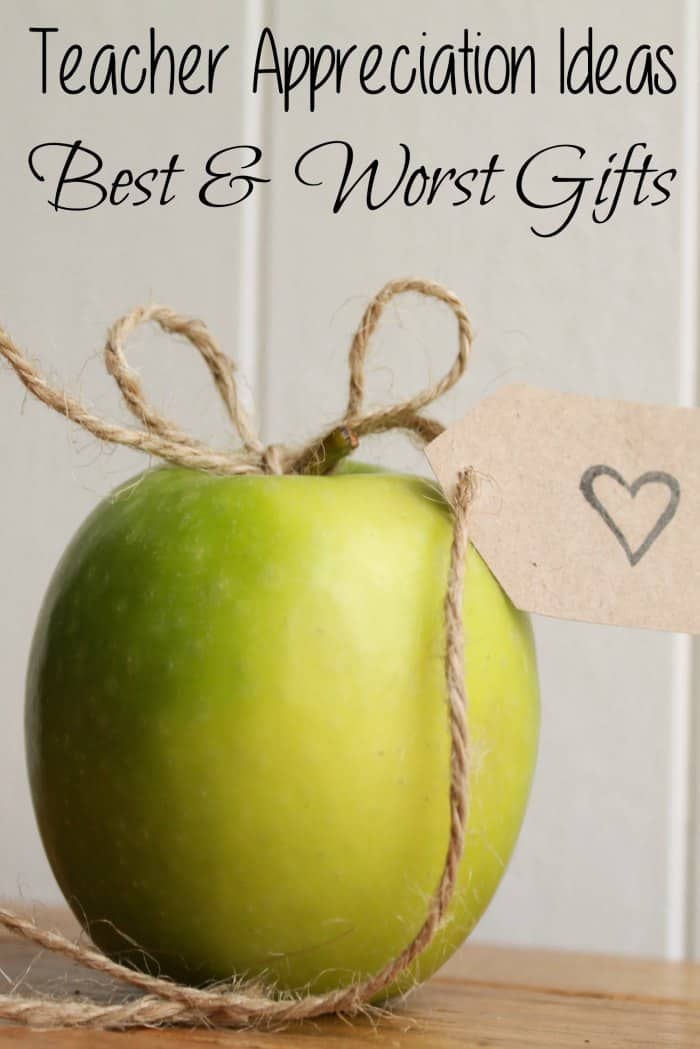 Whether it is for the holidays, end of year or the special day just for teachers, these teacher appreciation ideas are always welcomed. In fact, we've gathered some information from our teacher friends to share with you what they feel are the best and the worst gifts you can give them. This list will give you some great ideas of what to avoid, as well as what to add to your shopping list for the next time you need a teachers gift.
Teacher Appreciation Ideas – Best & Worst Gifts
We start with the items to avoid. It isn't that these gifts are not appreciated by the teachers that receive them. The problem is these gifts are either so common that they receive too many, or they are so useless that they create clutter in their classroom or home. Teachers appreciate the thought no matter what they receive, but they would love to see you give them something that is more appropriate for them.
Worst Gifts – Avoid These
Coffee Cups  – They just have too many by the end of the school year, and either have a huge cabinet at home stuffed with them or end up throwing them away.       Instead of stuffing that coffee mug with candy, give them just the candy.
Most Pinterest Teacher Crafts – Not all are bad, but there are a multitude of what may look cute, but just aren't items out there. From picture frames with your kids picture in it, to the custom coffee mug or the crayon picture frame it can be tough for a teacher to find a place to put all of the cute handmade items.
Gifts with apples on them. Yes, the classic teacher theme has been apples for many years, but unfortunately not all teachers actually like this look.       Avoid the apples and instead ask the teacher specifically what theme they do prefer.
Best Gifts – Buy these!
Gift Cards – They are not generic or without thought. Teachers are often working on a very limited income. A gift card for something they can buy that they need or want is a great choice. From grocery store gift cards to the local bath product store or even coffee shop, you can't go wrong with a gift card.       Office supply, book store or teacher supply stores gift cards are also especially helpful and appreciated.
Food – Whether it is a homemade treat or a simple bag of candy for their desk, food is almost always a great choice. You can easily ask your kids teachers at the first of the year about any food allergies or aversions they have, and buy accordingly. Nice chocolates, cookies or cakes in a jar they can throw together themselves, or even a fruit of the month club subscription can all be amazing appreciated gifts. Some teachers might even love to have their freezer filled with freezer meals you have prepared or purchased. This has been and always will be one of the best teacher appreciation ideas.
Alcohol – There are many schools where this can't be gifted at the school itself, but if you can do so, a nice bottle of wine is often welcomed. Since some teachers won't drink, this is something you need to gauge before gifting. A simple question of the teacher can help you know if this is good for them or not. If they would like this as a gift, you may do well by providing them with a gift card for a local liquor store so they can pick out what they prefer.  I once gifted a teacher with an HEB (our local grocery store) Gift Card with a note that said this was for wine because I knew she was a wine drinker.  To this day she still remembers and reminds me how much she appreciated that gift idea!  Now on the flip side, this could be a really bad gift idea if the person does not drink.
Books and supplies for their classroom – Sometimes the best way to do this is to go with a gift card, but you can also ask them for specific needs. Some teachers keep a running Amazon wish list they can share with you.       You may even want to see if they have a wish list for sources like Learning Resources or Scholastic that you can help them stock their classroom with.
Volunteer in their classroom – They truly need help and volunteers to help with everything from laminating projects to simply reading a book to the students in the afternoon while they grade papers. If you choose to volunteer your time, make sure that you mean it and will follow through. Be willing to do menial tasks like cutting out small pieces of construction paper for class projects, or even sanitizing desks at the end of the day.
These teacher appreciation ideas give you an idea of the best and worst gifts to give to your kids teachers. Instead of going with the normal gift, think outside the box and include some of the favored options on this list.  I know a lot of teachers and I know they will appreciate it.