Low Carb and Keto Chicken Alfredo Pasta Recipe
Low Carb and Keto Chicken Alfredo Pasta Recipe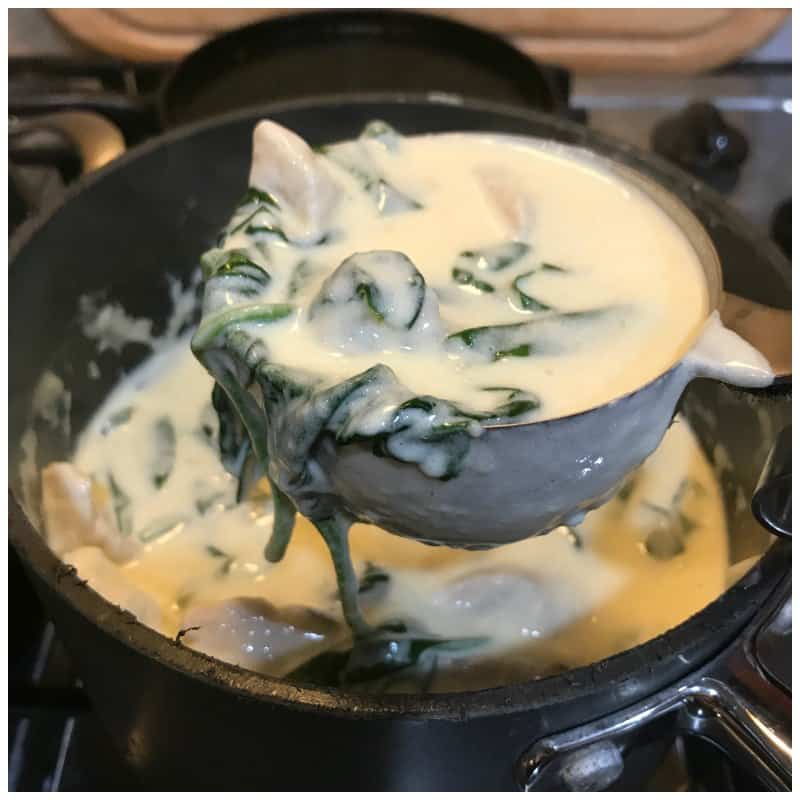 I call this my Keto Chicken Alfredo Pasta Recipe. It's a bit of a cheat because it doesn't really have pasta but I make the noodles out of zucchini and I'll be darned if it doesn't taste similar to pasta!
My family has a grading system for new recipes. They tend to base everything off of how good the Keto Friendly Easy Cheeseburger Bacon Soup recipe is.
Here are the varied responses I get:
Failed recipe: Don't make it again Mom.
Ok recipe: It's alright. Not my favorite but alright.
Good recipe: It's good Mom. Not as good as Cheeseburger soup, but still good.
Great recipe: It's as good as the Cheeseburger soup Mom!
Fantastic recipe: MOM! This is BETTER than your cheeseburger soup recipe! (this is a rare option, very rare because that recipe is at the top of the list)
This Low Carb and Keto Chicken Alfredo Pasta Recipe falls under the fantastic recipe category based on my families response! I would have to agree. It's pretty darn good.
Ok, you are about to see the frugal side of me come out a bit. I love love, love zucchini noodles. Seriously, the best especially when you are watching what you are eating. Have you seen how much they cost already packaged like this in the store? I swear it's near $5 for what seems to be a serving for 2 people! It's outrageous.
I have one of those fancy blenders (hey, I'm not that frugal with this I love) and it has an attachment option kit to make my favorite zucchini noodles (with a few other special cutting and peeling options)! I purchased this KitchenAid 4 Blade Spiralizer Set and it's been the best money ever spent for me!
Just look at how cool this thing is!!  I cut 4 zucchinis in no time!  I will never purchase precut zucchini noodles again!  I'm so excited!
This is funny!  It makes a super large noodle type in the middle and my kids actually fight over who gets that part.  LOL!
This video shows you can cut these veggies at different speeds.  I go between speeds of 1 and 2.  I haven't tried the faster speeds yet.  No need to really.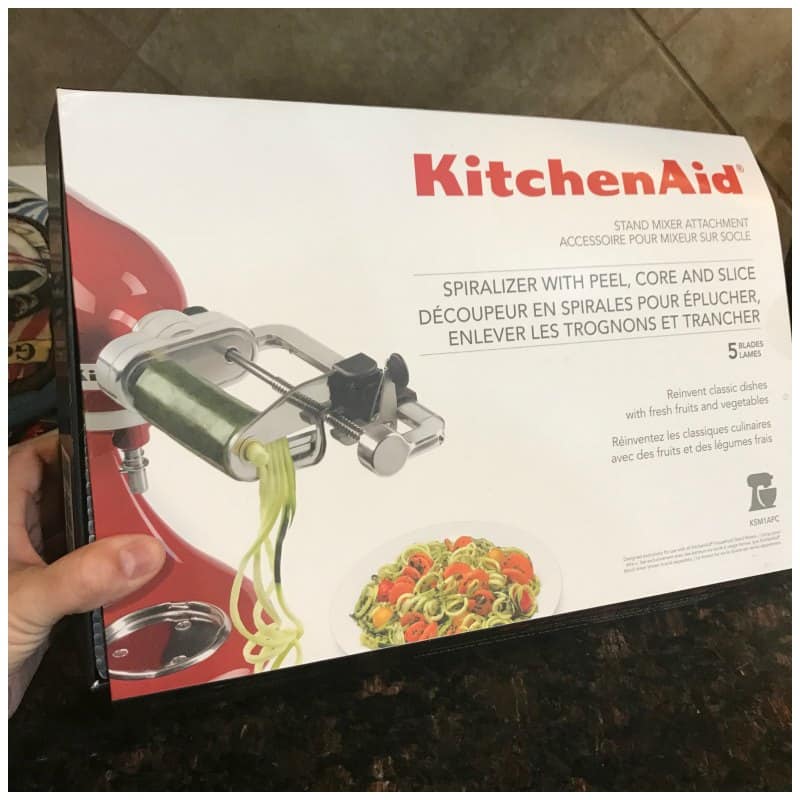 You can grab the printable version of this recipe at the very bottom of this post.
Low Carb and Keto Chicken Alfredo Pasta Recipe Ingredients
Serves 6 to 8
6 medium size zucchinis (I always count one per person)
8 oz cream cheese
3/4 cup Parmesan Cheese (shredded)
1 stick butter (or half of a Kerrygold butter block)
1/4 heavy cream
1/4 cup water
1 teaspoon minced garlic (I may have put a bit more because I love the taste of garlic)
2 handfuls of fresh spinach
sliced chicken strips (I add about 2 oz of chicken per serving)
Low Carb and Keto Chicken Alfredo Pasta Recipe Instructions
I started by cutting all of my zucchini into noodles using my KitchenAid Spiralizer.
In a medium saucepan, I added these ingredients:  cream cheese, parmesan cheese, butter, heavy cream, water, and minced garlic.
I cooked that on the stove top over medium heat until all the ingredients melted together.  I stirred in to make sure all the cream cheese melted with no lumps left in the sauce.
While the sauce was cooking, I added all the zucchini noodles to a large pan with about a cup of water and steamed them over medium heat with a lid on the pan.  The noodles only take about 5 to 8 minutes to become soft and ready to go.
I heated up my precooked chicken strips.  You can do this in the microwave or over the stove top.  (as a time saver, I always purchase the precooked frozen chicken strips for busy days)  I add about 2 oz of chicken per serving.  The Alfredo sauce can generously serve up to 8 servings depending on how much you much you add to each bowl or plate.  I prefer no more than 6 servings because we really, really like this sauce recipe.
Next, I add about two handfuls of spinach to the Alfredo sauce.  Feel free to add more or less depending on your tastes.  I plan to add more next time.  It was really good!  It only takes a minute or two for the spinach to become soft in the hot Alfredo sauce.
Next add the cooked chicken strips to the sauce.
Drain the water in the zucchini noodles.
Serve the Low Carb and Keto Chicken Alfredo Pasta by placing a small amount of zucchini noodles on a plate or bowl and then topping it with the sauce mixture.
Serve warm and enjoy!
Low Carb and Keto Chicken Alfredo Recipe Nutrition
Serves 8
Calories 317, Total C 4.1g, Fiber 0.1g, Net C 4g, Sugars 1.3g, Fat 26.4g, Protein 16.9g
Here are multiple photos we took while making this amazing dish!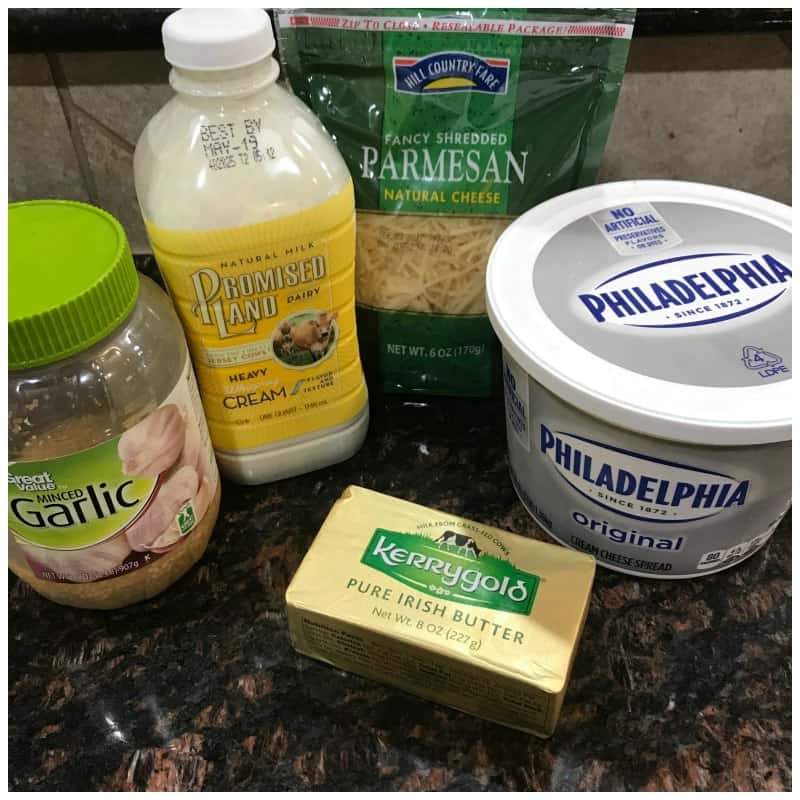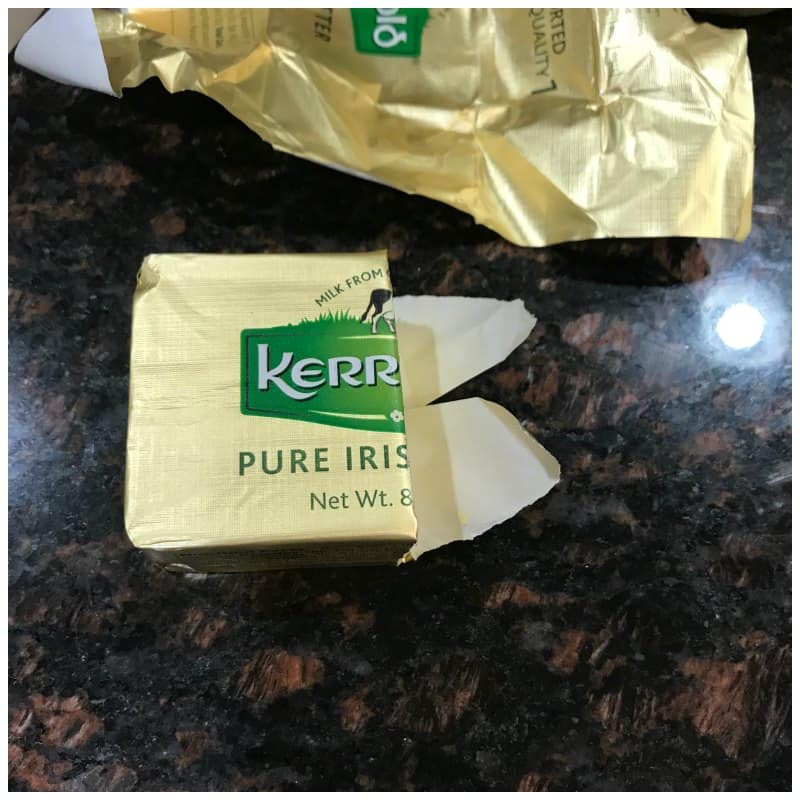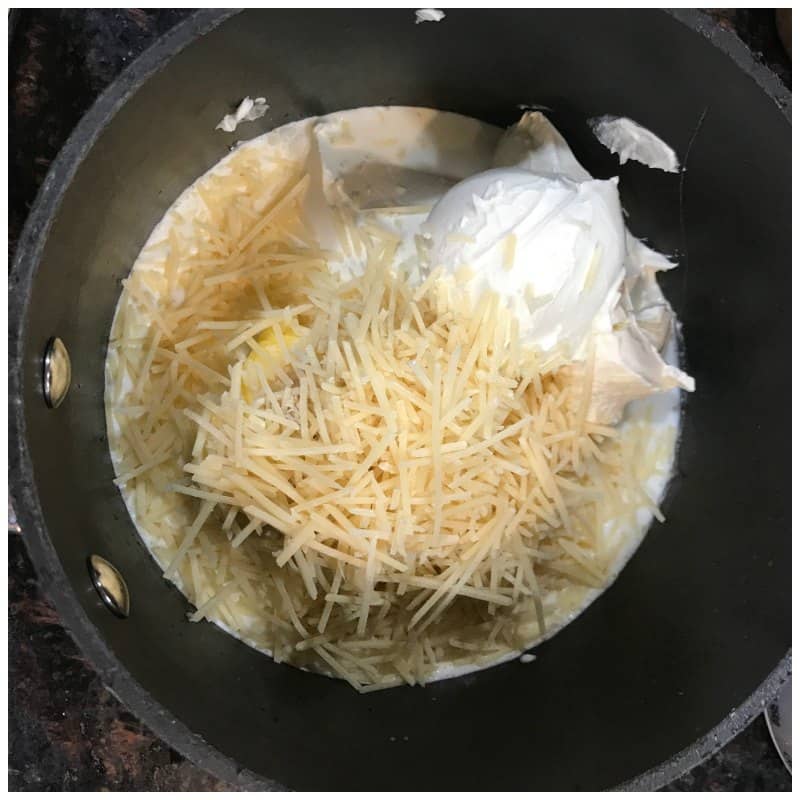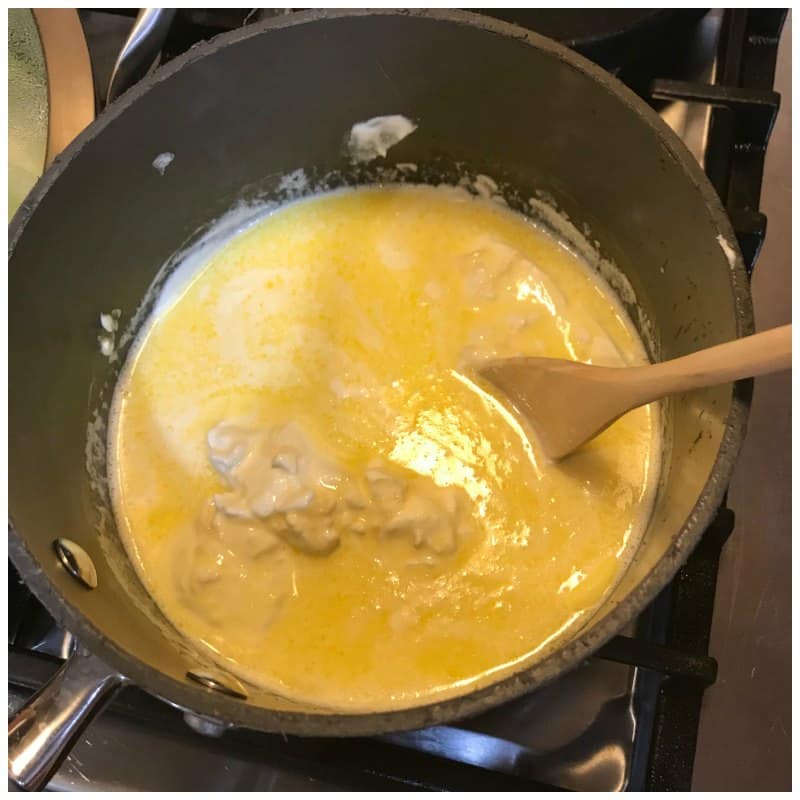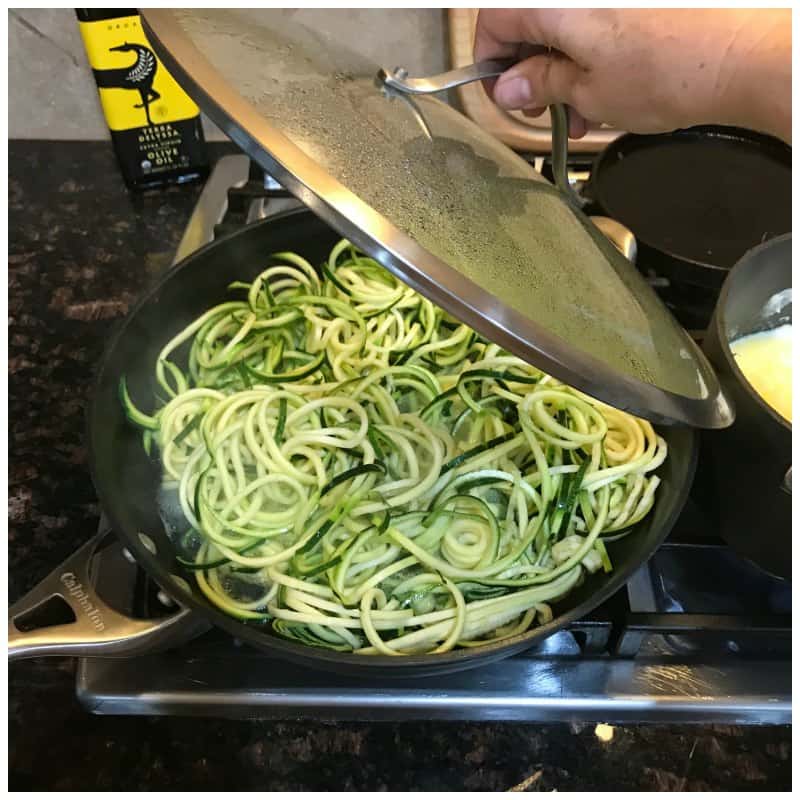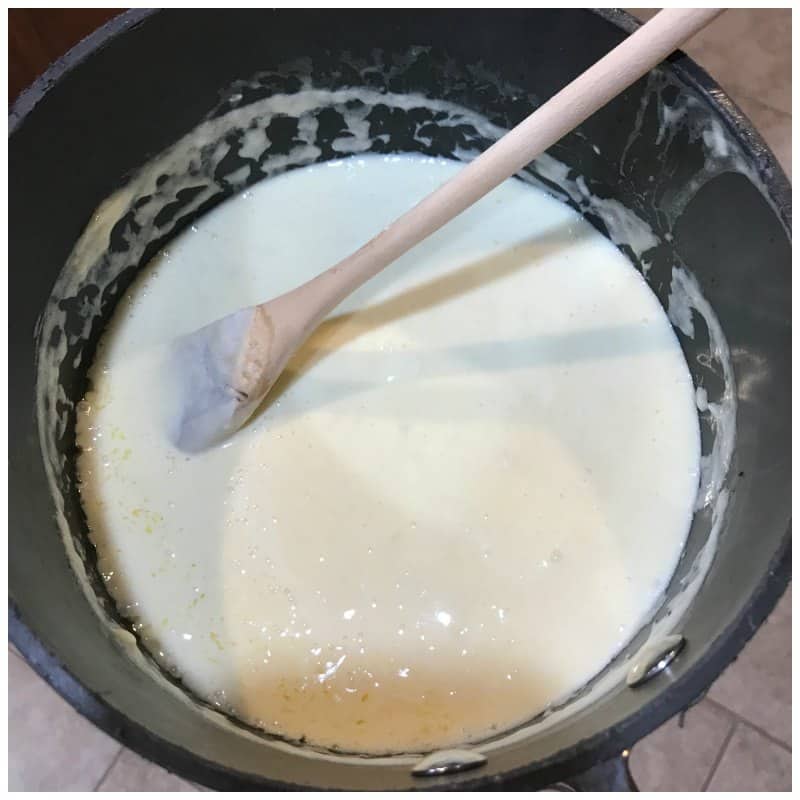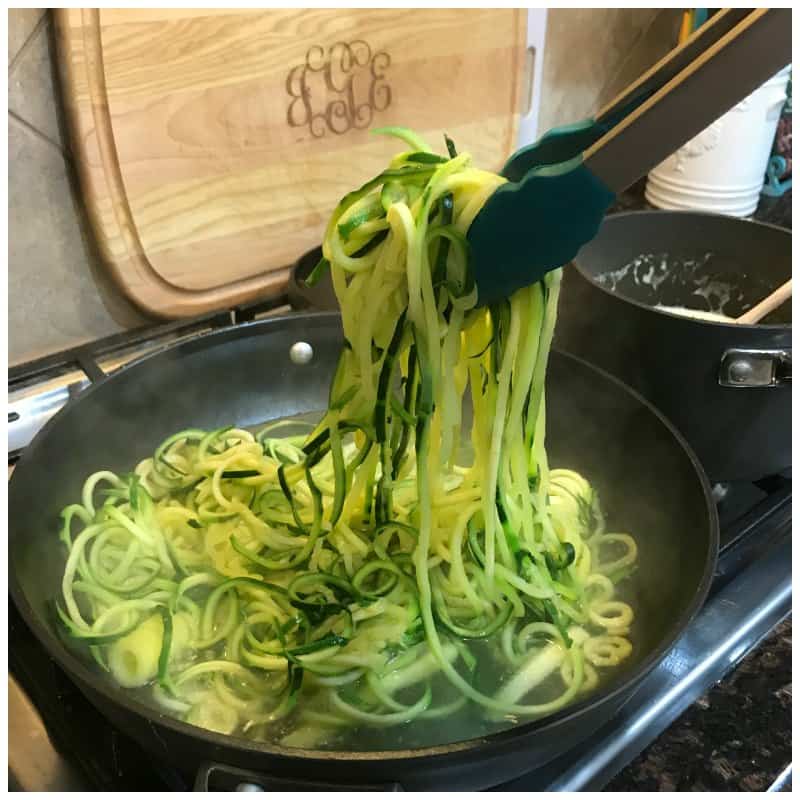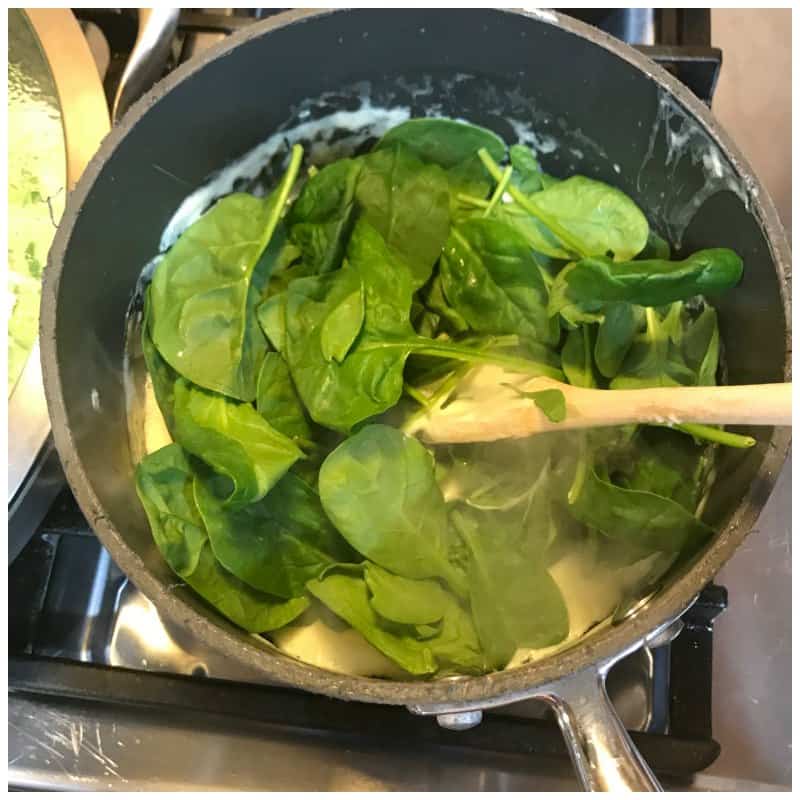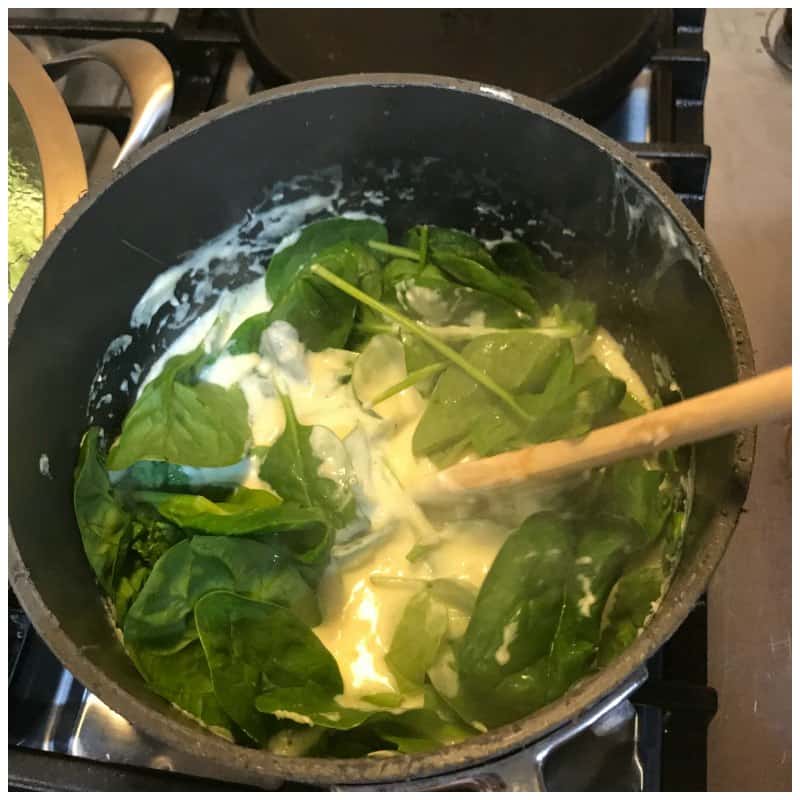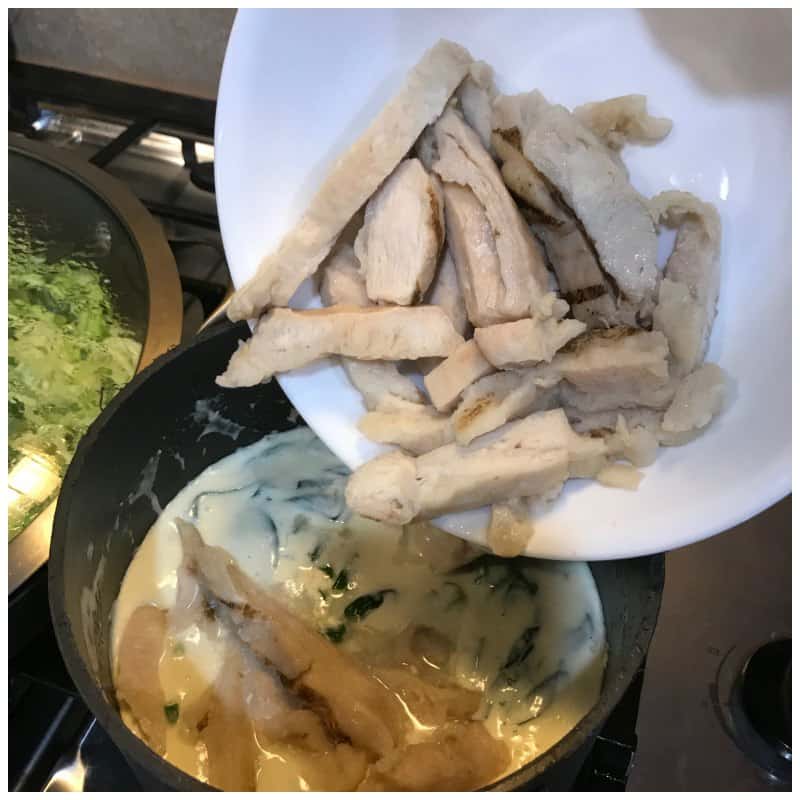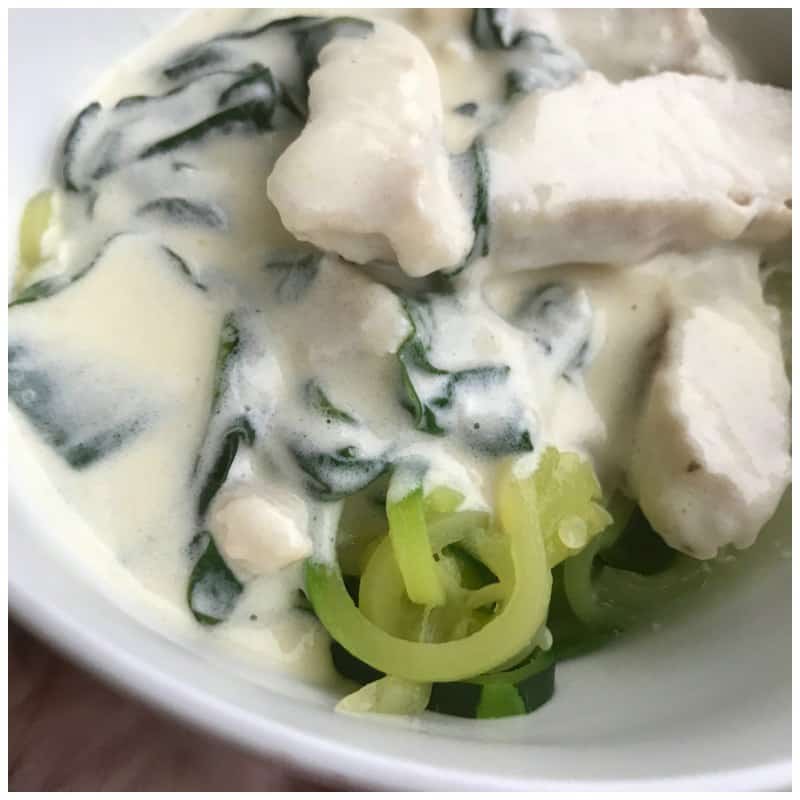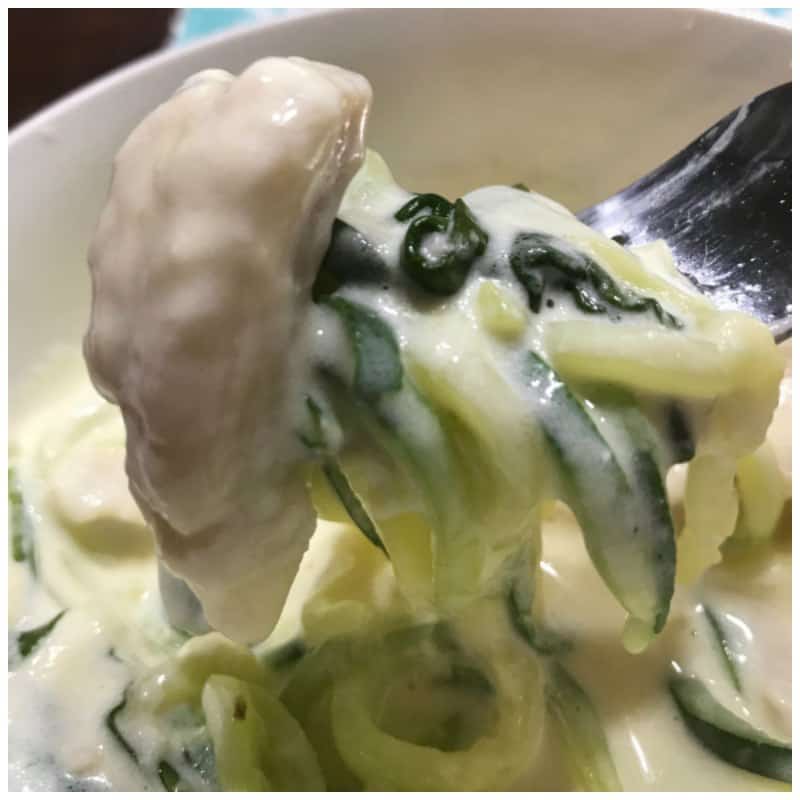 I invite you to take a minute to add yourself to our special email list so you can be included in lots of good information such as Recipes, Tips, Printables and Meal Plans! We've got some amazing information to share and I don't want you to miss out!
Sign up here:
Feel free to pin it for later here: