Salted Caramel Sauce Recipe

Our Salted Caramel Sauce Recipe is one of my favorite recipes around the holidays!  This makes an excellent homemade "gift in a jar" idea too.  This is a candy recipe that literally melts in your mouth!  Yeah, it's good!!!  This sauce thickens as it cools but you can also warm it in the microwave for 30 seconds and it thins right up!  I love eating it both ways!
We have some free salted caramel printable labels for you to use too.  Just print them out on some round label paper and cut with decorative scissors and you are all set!  We used the small 8 oz pint sized mason jars for this project.  They were super hard to find in the stores too.  I would have saved lots of time and gas just buying them online.  Next we added some decorative holiday ribbon finishes off this cute gift idea and adds that extra special touch.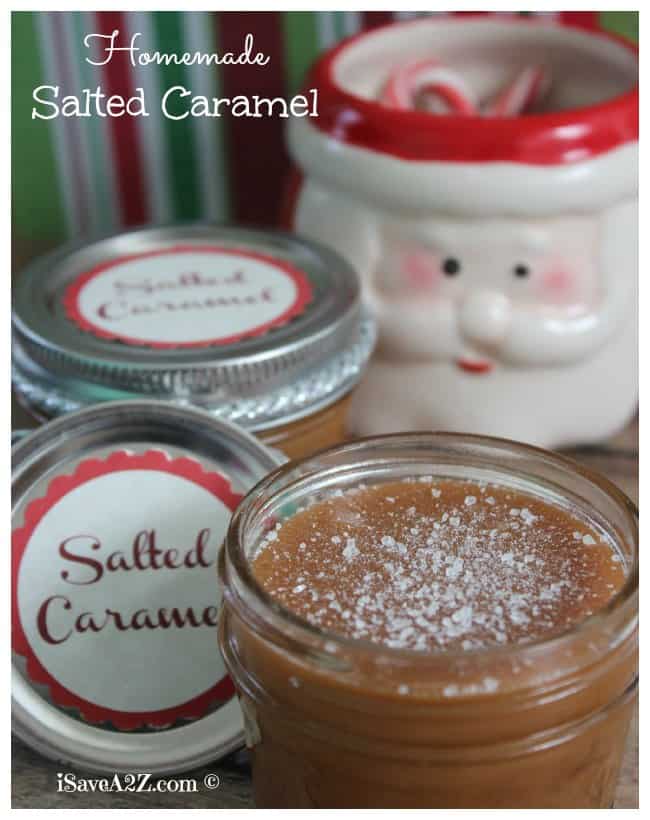 Now if you like to give homemade Gifts in a Jar, then we have a few good ideas for you to try:
All of our Sugar Scrub recipes are extremely popular and worth trying!
We also have a ton of very popular holiday recipe ideas if you are looking for something edible!  Try anyone of these:
Here's how we make our Homemade Salted Caramel Candy Recipe: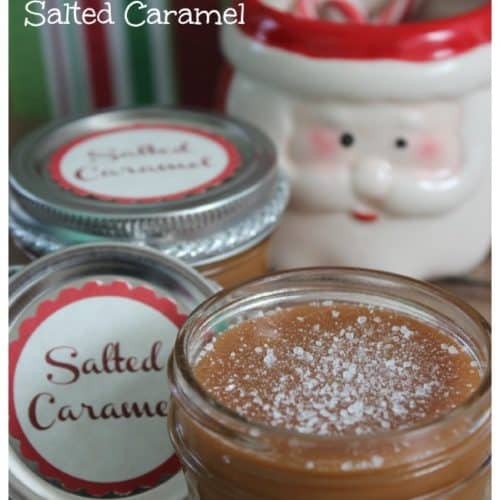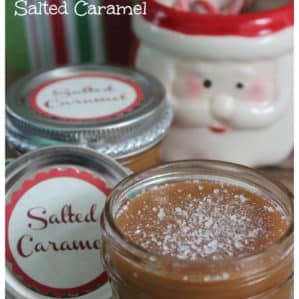 Salted Caramel Candy Recipe
Homemade Salted Caramel Candy Recipe that's perfect as a gift in a jar! This recipe makes 2 8oz jars!
Instructions
Place corn syrup in a medium pan nad heat over medium heat.

When corn syrup is heated (starting to bubble) add sugar and stir until well mixed.

Let syrup cook without stirring until it turns a golden color.

Remove from heat add butter and stir until blended.

Slowly add cream while stirring constantly to blend.

Add salt and stir until dissolved.

Optional: we topped our finish candy recipe with sea salt too.
Nutrition facts are provided as a courtesy.
Here are a few photos of our Homemade Salted Caramel Sauce process: